1990: English Baker Jailed

Baker Nigel Wild offered 182 bread buns in court in lieu of £182 of refused income tax: "People are in need of bread not bombs." He was imprisoned for 21 days.
1990: Gulf War Protested by War Tax Resisters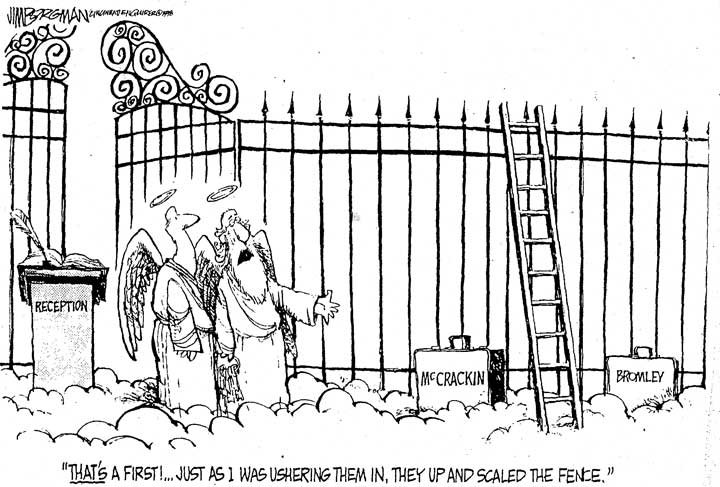 War tax resisters Ernest Bromley (78) and Maurice McCrackin (85) were arrested Dec. 29, 1990, climbing the White House fence as a protest of the impending Gulf War. Seven years later (1997) they died within two weeks of each other, prompting the Cincinnati Enquirer editorial cartoon by Jim Borgman (right).
1990: Italy
The National Campaign for War Tax Resistance delivered a check of withheld war taxes totaling 182,102,758 lire (U.S. $144,000) to the head of the office of the general secretariat of the president. They asked that this money from 4,404 resisters be used for peaceful purposes.
1990–1991: Alternative Revenue Service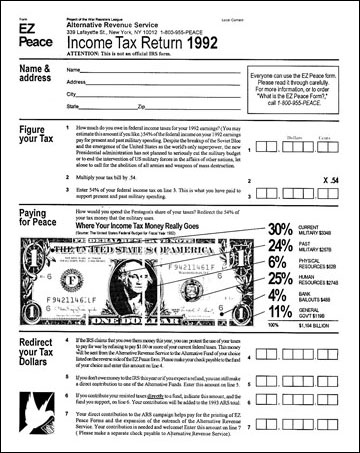 The Alternative Revenue Service campaign sponsored by War Resisters League begins. Hundreds of EZ Peace Forms were filed with the IRS.
1991: Japanese Response to Gulf War
During the Gulf War in 1991, 1,000 citizens took the government to court over tax money that was used for the U.S. and U.N. military actions.
1992: Last Issue of The Peacemaker
After 44 years The Peacemaker ceases publication. The publication was the most consistent and, during the early years, often the only source of war tax resistance news.
1993: "Pay Your Taxes"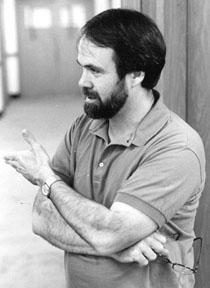 War tax resister Bill Ramsey, who was arrested in 1992 for leafleting at theIRS office in St. Louis, Missouri, spent 30 days in jail for a probation violation: refusing to pay his federal taxes. Among the terms of probation ordered by the judge was an unusual one: "file all correct tax returns and forms … pay any taxes owed." Ramsey did not accept those conditions. After much public support the case was closed in 1994.
1993: Western Massachusetts Action Ends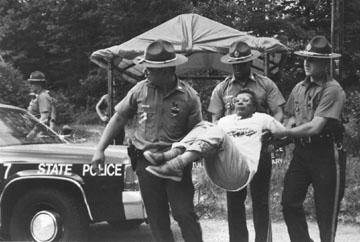 Settlement was reached on the Kehler-Cornerhouse, which had been sold at auction by theIRS, ending the continuous four-year vigil at the house by the War Tax Refusers Support Committee and associated affinity groups.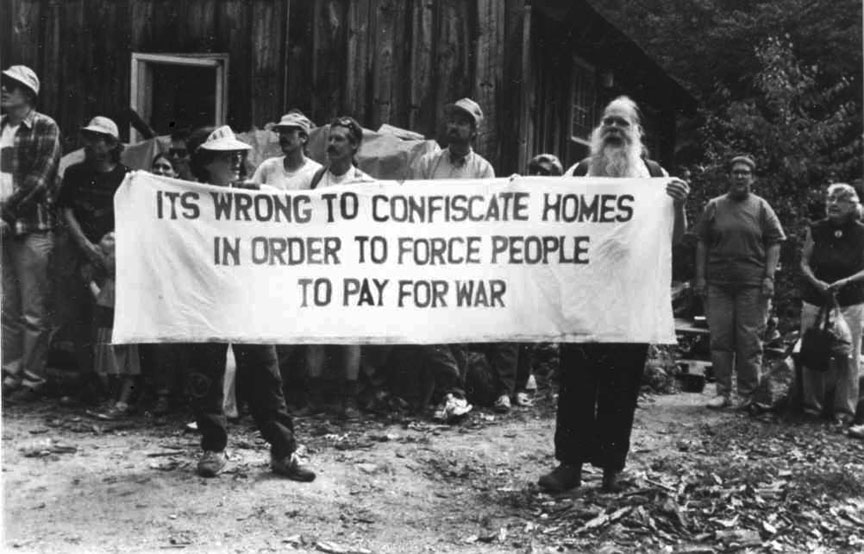 1995: "Peace Coin" Minted in The Netherlands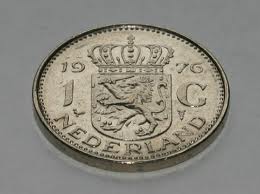 BWD (the Dutch War Tax Resistance Movement) minted and sold theGoudGulden Vrede or "peace coin," whose proceeds were given to the Balkan Peace Team. In 1997 the campaign asked people to resist a small amount of taxes and send the tax office a peace coin instead.
1995: British Resister Jailed and Bankrupted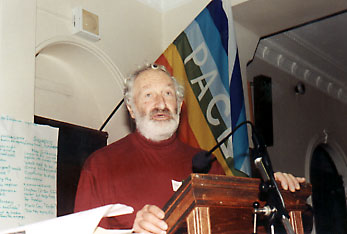 Refusing to pay taxes to avoid complicity in state preparations to commit genocide with nuclear weapons, long time British war tax resister Roger Franklin was sentenced to 28 days in Gloucester Prison (and a further 21 days in 1996). His run-ins with the tax collectors also led to bankruptcy proceedings against him.
1996: Maine House Seized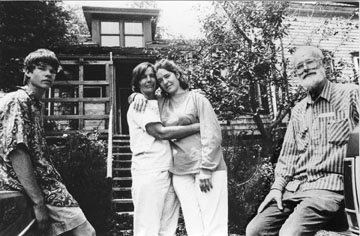 The IRS seized the Harvey-Gravalos home in Hartford, Maine. Supporters organized a series of public events in opposition to the auction.
1997: Feature Film Released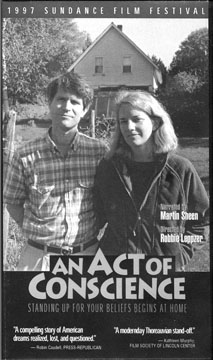 Turning Tide Productions released a full-length documentary, An Act of Conscience, about theKehler-Corner house seizure. The film toured nationally, showing at the Human Rights Film Festival in New York and on mainstream cable stations.
1997–1998: Religious Freedom Court Cases
Priscilla Adams, Gordon and Edith Browne, and Rosa Packard sued the U.S. government in three cases seeking accommodation for conscientious objectors not paying war taxes based on the Religious Freedom Restoration Act. In 2000, the Supreme Court refused to hear the cases.
1999: Fifth Amendment Upheld Again
A judge allows Ed Hedemann, Brooklyn, N.Y., to use the Fifth Amendment in refusing to turn over financial records to the IRS. For more detail about war tax resisters taken to court, see www.nwtrcc.org/convicted_wtr.php.
1999: "Grim Reaper" Stalks England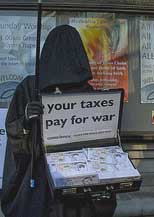 To mark the 200th anniversary of the income tax, the Grim Reaper (courtesy of Conscience, U.K.) visited the Treasury to thank the Chancellor for 200 years of killings funded by English taxpayers. The Inland Revenue began bankruptcy proceedings to enforce payment of back taxes by war tax resisters.