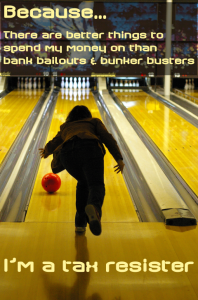 [Links on this page do not signify NWTRCC's endorsement of the linked materials or their respective organizations.]
Conscience Canada
Works to to promote a change in law to allow all Canadians the right to conscientiously object to military taxation as a right of conscience; to support conscientious objection to military taxation; and to defend freedom of conscience.
Conscience and Peace Tax International
Links to groups working on war tax resistance and peace tax issues around the world.
DMZ
Works to ease global suffering by dismantling militarism. Militarism boldly promises to resolve conflicts, keep us safe from adversaries, supply us with employment and wealth, and protect our way of life. Although we devote a substantial portion of our resources, attention, spirit, and labor to militarism, this system typically fails to deliver. Militarism also brings great suffering to the world, including physical and emotional suffering, environmental destruction, heightened conflict, lost resources, and the wrenching of our spiritual lives..
"Don't Owe Nothin'" Method
One person's research into refusing to pay for war using legal and by-the-book techniques.
United for Peace and Justice
NWTRCC is a member of United for Peace and Justice.
War Resisters League
Web pages on war tax resistance, including the "Where Your Income Tax Money Really Goes" piechart.
Links to Blogs by War Tax Resisters and/or with War Tax Resistance Content
War Tax Talk (NWTRCC's blog)
Living Nonviolence, works to inform and inspire a life of nonviolence
New South Network of War Resisters, on the ground in the Southeast
War Resisters League National Office blog
MathewCh5v9, a blog by Vickie Aldrich
The Picket Line, a blog by David Gross
Rad Geek People's Daily, a blog by Charles W. Johnson
soitgoes1984, a blog by Jason Robert Mizula
The Soapbox, a blog by Cindy Sheehan
Paul's Perambulations, a blog by Paul Sheldon
War is a Crime, a blog by David Swanson
The Prime Directive, a blog by Francois Tremblay.
Living Freedom, a blog by Claire Wolfe
Constructive Program – Building on Our Ideals, a pictorial essay about a project related to war tax resistance on the blog of Robert Riversong, Riversong HouseWright
Links to General Organizations Opposing War and Weapons