The National War Tax Resistance Coordinating Committee (NWTRCC) is a coalition of local, regional, and national groups supportive of war tax resistance.
NWTRCC grew out of a National Action Conference in September 1982 called by the War Resisters League and the Center on Law and Pacifism. War tax resistance, which had been highly visible during Vietnam War protests, was growing again with the election of Ronald Reagan and an increasing mood of militarism in the country. A network was needed to share information, coordinate actions, and develop resources for war tax resisters.
Today NWTRCC is supported by more than 45 national and local affiliate organizations along with a nationwide network of individual counselors and activists. NWTRCC has a small office and paid coordinator, and much of the work is done by volunteers. National Coordinating Committee meetings are held twice a year to discuss the needs of the movement, set program goals, determine priorities, and implement and evaluate these decisions. The meetings rotate to different parts of the country, making it possible for more local groups and individuals to be involved in the national war tax resistance network.
What We Do
Information, Referral, Support
…for new and long-time resisters to a regularly updated Network List of war tax counselors, lawyers, support groups, alternative funds, activists, and other groups involved in war tax issues.
Producing Resources
…both print and online, including brochures, books, and pamphlets describing many aspects of war tax resistance; a bimonthly newsletter that individuals and groups can subscribe to; this website; and a listserve of lively discussion devoted to general support and information sharing.
Publicizing War Tax Resistance
…especially through nationally coordinated press releases around tax day, April 15; putting reporters in touch with war tax resisters for interviews; and providing information on the movement.
Sponsoring or Supporting Initiatives and Campaigns
…including the War Tax Boycott to register resistance and redirection of tax dollars online; telephone tax resistance, and other low-risk campaigns; advertisements for signers to make public their refusal to pay for war; alternative funds to pool redirected taxes; partnership with the Global Day of Action on Military Spending; workshops and information tables at local, regional, and national conferences, demonstrations, peace fairs, anarchist book fairs, etc.
Participating in the International Network
…of war tax resisters and peace tax campaigns, meeting at conferences, sharing resources. The Conscience and Peace Tax International website helps to connect these groups and activities.
Join Us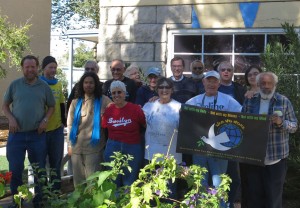 NWTRCC was founded as a coalition of organizations with an active network of individual activists and supporters.
Please join us. Click here to affiliate or endorse as a group or become active as an individual.