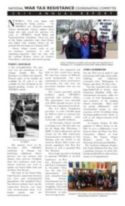 NWTRCC's 37th year began with finishing the hiring process for NWTRCC's new Outreach Consultant, Chrissy Kirchhoefer. Chrissy replaces Erica
Leigh, who had served the previous five years as NWTRCC's Social Media and Communications Consultant. Erica was part of the hiring committee that chose Chrissy and helped with training Chrissy for the position that she began on 1 January 2019.
Chrissy brings twenty years of war tax resistance experience, as well as
organizing experience from her time with the Catholic Worker, Voices for Creative Nonviolence, and many other justice groups…. Read the report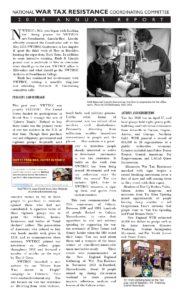 NWTRCC's 36th year began with finishing the hiring process for NWTRCC's new Coordinator, Lincoln Rice. Lincoln officially assumed the Coordinator role at the May 2018 NWTRCC Conference in Los Angeles & spent the third week of May in Brooklyn learning the ropes from Ruth Benn. In addition to some intensive training, Ruth & Lincoln poured over a multitude of files to determine what should go to the new NWTRCC office in Milwaukee and what should go the NWTRCC Archives at Swarthmore College.
The Guardian U.S. with a global reach featured an article (2/15/17) titled, "We Will Not Pay: the Americans withholding their taxes to fight Trump," leading to a burst of media attention… Read the report
NWTRCC's 35th year began with a flurry of new inquiries from distressed taxpayers facing the January inauguration of the current president. As the only national organization that offers solid information about this act of civil disobedience, our website and social media feeds were prime sources, and thousands learned a lot about war tax resistance (WTR) even if it was not their primary reason to consider not paying.
This past year, NWTRCC was proudly YELLOW! The United States funded its participation in World War I through the sale of "Liberty Bonds." Refusal to buy these bonds was… Read the report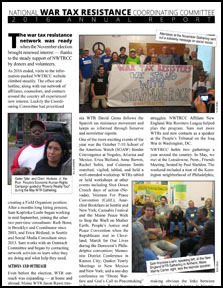 The war tax resistance network was ready when the November election brought renewed interest — thanks to the steady support of NWTRCC by donors and volunteers.
As 2016 ended, visits to the information-packed NWTRCC website climbed steadily. The office and hotline, along with our network of affiliates, counselors, and contacts around the country all experienced new interest. Luckily the Coordinating Committee had prioritized creating a Field Organizer position…. Read the report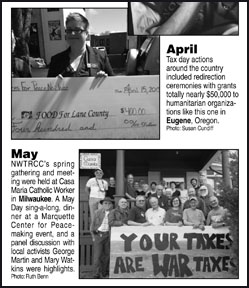 A memo to the IRS,
I won't pay a dime for this mess.
You won't get no more for weapons of war
or the empire of the US.
Picking highlights from a year of activism in the NWTRCC network is not easy. The month-by-month photos are just a sampling from a very busy year. One of the most frequent questions to NWTRCC is "how many people in the U.S. are war tax resisters (WTRs)?"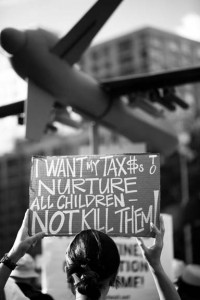 War tax resisters take seriously the message "I want my taxes to nurture all children, not kill them." We believe a world without war is possible, and we want our money and resources used to create that world.
The National War Tax Resistance Coordinating Committee (NWTRCC) exists to connect and support all the activities that are part of withdrawing support from war and encouraging others to do the same. From individual resistance to mass action, NWTRCC provides tools to strengthen and unite our message.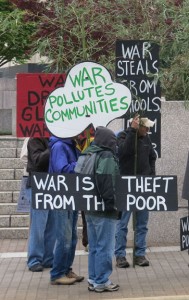 2013 set us on a path to look at our strengths and weaknesses, tactics and emerging trends to make war tax resistance (WTR) a known and viable option for more people.
Our membership survey showed the continued need to support resisters who often feel alone. It also underscored the need to look at our public presence and make sure we are staying current. Redirection of war taxes is a strength that we want to highlight and publicize. NWTRCC strives to continue much of our traditional work as a resource for the WTR community, while making changes that will help us better reach potential resisters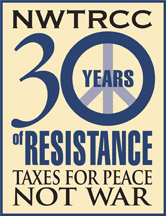 NWTRCC's 30th anniversary was celebrated at the national gathering in Colorado Springs, home to Bill Durland, one of the organization's key founders. In 1982 he headed the Center on Law and Pacifism and put out a call for groups involved in war tax resistance (WTR) to meet and discuss their duplication of efforts and overlapping interests. NWTRCC was born out of that conference. Today Bill says, "NWTRCC became the go-to group, the clearinghouse for all the others, and it certainly fulfilled my hopes."