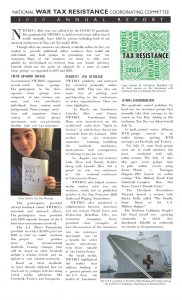 N WTRCC's 38th year was affected by the COVID-19 pandemic. The pandemic led NWTRCC to hold several events online that it would normally have held in person, including both of our national conferences in May and November 2020.
Though all of our resources are already available online for free, we worked to provide additional online resources that would aid individuals and local groups in promoting war war tax resistance. Many of the resources we chose to offer were guided by the feedback we received from our Youth Advisory Council, which was the name we adopted for a series of youth focus groups we organized in 2019 and 2020. Read the report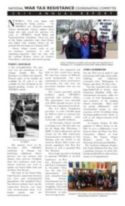 NWTRCC's 37th year began with finishing the hiring process for NWTRCC's new Outreach Consultant, Chrissy Kirchhoefer. Chrissy replaces Erica Leigh, who had served the previous five years as NWTRCC's Social Media and Communications Consultant. Erica was part of the hiring committee that chose Chrissy and helped with training Chrissy for the position that she began on 1 January 2019.
Chrissy brings twenty years of war tax resistance experience, as well as organizing experience from her time with the Catholic Worker, Voices for Creative Nonviolence, and many other justice groups…. Read the report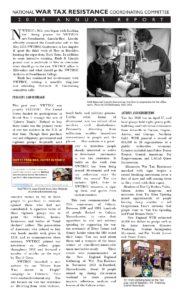 NWTRCC's 36th year began with finishing the hiring process for NWTRCC's new Coordinator, Lincoln Rice. Lincoln officially assumed the Coordinator role at the May 2018 NWTRCC Conference in Los Angeles & spent the third week of May in Brooklyn learning the ropes from Ruth Benn. In addition to some intensive training, Ruth & Lincoln poured over a multitude of files to determine what should go to the new NWTRCC office in Milwaukee and what should go the NWTRCC Archives at Swarthmore College.
The Guardian U.S. with a global reach featured an article (2/15/17) titled, "We Will Not Pay: the Americans withholding their taxes to fight Trump," leading to a burst of media attention… Read the report
NWTRCC's 35th year began with a flurry of new inquiries from distressed taxpayers facing the January inauguration of the current president. As the only national organization that offers solid information about this act of civil disobedience, our website and social media feeds were prime sources, and thousands learned a lot about war tax resistance (WTR) even if it was not their primary reason to consider not paying.
This past year, NWTRCC was proudly YELLOW! The United States funded its participation in World War I through the sale of "Liberty Bonds." Refusal to buy these bonds was… Read the report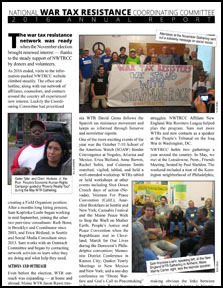 The war tax resistance network was ready when the November election brought renewed interest — thanks to the steady support of NWTRCC by donors and volunteers.
As 2016 ended, visits to the information-packed NWTRCC website climbed steadily. The office and hotline, along with our network of affiliates, counselors, and contacts around the country all experienced new interest. Luckily the Coordinating Committee had prioritized creating a Field Organizer position…. Read the report