NWTRCC Podcasts
Podcast #7: "Why and How I Became a War Tax Resister" A series of interviews with people who started their war tax resistance in the year after the 2016 election. First, we speak with Caitlin, a Seattle-area war tax resister for whom Trump's border wall plan was the final straw. Next, Sarah Mueller on her decision to resist and her conviction to redirect taxes toward community organizing led by people of color. Finally, Lauren von Bernuth and Orane Sharpe from the independent media website Citizen Truth.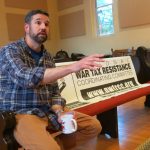 Podcast #6: "Matthew Hoh: From the Military to WTR" Former State Department official and Marine Corps officer Matthew Hoh speaks to the May 2017 NWTRCC gathering in St. Louis, MO. Matt talks how he got into the military, how he eventually left the State Department when he no longer believed in the Afghanistan war policy, his journey to war tax resistance, and what he learned along the way. Matt is an advisory board member of Veterans for Peace and has been a war tax resister for the past three years. (show notes; video of talk)
Podcast #5: "War Tax Resisters Abroad" We hear from two war tax resisters who have recently traveled overseas to work with other war resisters and learn more about the real impacts of US warmongering. Jason Rawn has traveled to Asia twice in the past year, visiting Okinawa in Japan and Jeju Island in Korea to organize with local resisters against US military bases. We'll cover some of the history around Okinawa and Jeju Island, and interview Jason Rawn about his experiences. Dana Visalli had planned a trip to Syria, but the Syrian government denied his visa. Instead, he spent time in Lebanon with Syrian refugees, and also learned about the history and creation of the nation we call Syria. He reads two of his essays. (show notes)
Podcast #4: "Talking with Shane Claiborne" In 2011, Shane Claiborne, Christian author and speaker and founder of the Simple Way community, announced his war tax resistance. In this interview, learn the surprising way the IRS responded to his resistance and more about the ideals that led Shane to live on a low income and to resist and redirect war taxes.
Podcast #3: "Reflections of Experienced War Tax Resisters" features a collection of interviews of longtime resisters who share their histories of resistance and their motivations for taking this path of nonviolent direct action.
Google Hangout #2, Beyond the Rally. Video or Podcast or transcript
Presenters from NWTRCC, the Center on Conscience and War, and the National Campaign for a Peace Tax Fund
Google Hangout #1, War Tax Resistance for a Better World. Video or Podcast or transcript
Ari, Katherine, and Shaolida discuss why and how they refuse to pay for the war machine
More WTR Videos
Veterans for Peace advisory board member Matthew Hoh's talk at the St. Louis, MO gathering, May 2017
Activist Cindy Sheehan's talk at the Asheville, N.C., gathering, May 2013
San Francisco attorney J. Tony Serra's talk at the war tax resistance gathering in Oakland (May 2011)
NYU Student Video with interviews of War Tax Resisters (Dec. 2009)
NWTRCC's Ed Hedemann on GRITtv with Laura Flanders to talk about war tax resistance and redirection. (April 2009)
Other Short Videos of War Tax Resisters as they explain why they refuse to pay for war, how they do it, dealing with fear of the IRS, and the empowerment of resisting taxes for war from 2005 plus bonus clip of Joan Baez in 1964 announcing her refusal to pay for the Vietnam War.