Maggie Martin of the Poor People's Campaign has rightly stated: "Militarism has spread far beyond the armed forces, to our national borders, police departments, schools, and deep into our culture. The struggle against militarism is both a concrete fight to reclaim the people's resources and a deeper struggle to reclaim our humanity." Particularly in the wake of the police killing of George Floyd, the systemic problems of racism inherent in American policing have come to the fore. With the protests against American policing that followed, many people witnessed the militarization of police that has occurred over the past 20+ years. Perhaps the most obvious sign of this has been the use of tanks by many police departments.
1033 Program

"1033 Program," is named for the section of the National Defense Authorization Act (NDAA) of 1997 that granted permanent authority to the Secretary of Defense to transfer defense "material" to federal and state agencies for use in law enforcement. The program began slowly, but increased significantly after the events of 9/11 were employed as a reason to further militarize the police.
This program has allowed the U.S. military to transfer military-grade weapons to local police departments for decades. The Department of Defense has transferred more than $7 billion worth of military equipment to more than 8,000 law enforcement agencies around the country. This is done at almost no cost to local law enforcement agencies.
The 1033 Program has contributed to police violence and increasingly aggressive police tactics. Military-style equipment has been used for everything from no-knock searches to intimidating protesters. The militarization of police is a facet of structural racism that contributes to the devaluation and loss of Black lives. The Pentagon's 1033 program has sent billions of dollars of surplus military equipment including tracked and armored vehicles, drones, rifles and rifle sights, grenade launchers, and night-vision goggles, among other items, to law enforcement agencies all over the country.
It is not just military equipment that is being transferred to police departments, but members of the military are given priority in the Vets to Cops program of the COPS Hiring Program. Often, soldiers return from combat bearing the harms of war and then are handed the very weapons of war when joining law enforcement.
Federal Grants for Policing
Over 20% of local police funding comes from federal grants. Federal funds are the second largest funder of policing after local taxes and fees.
Over the last 25 years, tens of billions of dollars has been granted to local police departments through it various granting mechanisms. For example, the 1994 crime bill created the Community Oriented Policing Services program (COPS), which has granted $14 billion to police departments since its inception. In 2020, the COPS granted nearly $400 million to 597 police departments to hire 2,723 police officers. President Biden has expressed his continued support for this program and has pledged to budget at least $300 million in grants to local police departments in 2021.  In addition, the Byrne Justice Assistance Grants were created as part of the Anti-Drug Abuse Act of 1988, which distribute an average of $435 million per year to police departments.
The Department of Homeland Security also provides grants to local communities to aid them in "terrorism prevention." In 2020, they granted nearly $2 billion to local communities, with local communities agreeing to allocate at least 25% of the grant toward funding law enforcement. Even the Department of Agriculture provides grants for local law enforcement. Though their grants are limited to towns with a population under 5,000.
Barry Friedman, director of the Policing Project at NYU Law, is critical of the Justice Department's law enforcement grants: "They do not insist on compliance with data reporting," he says, and "DOJ has a strong law enforcement perspective, rather than a community safety perspective."
Take Action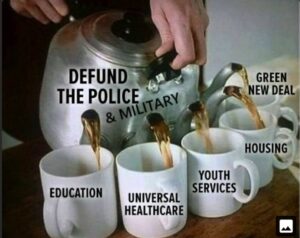 You might decide that it's a violation of your conscience to pay taxes to a government that spends money on funding the police. You might want to pressure the government through tax resistance on this issue. Or perhaps other motivations apply.
In any case, you probably have questions about how to carry out your convictions! Fortunately, the National War Tax Resistance Coordinating Committee (NWTRCC) has been supporting people who resist taxes for war and militarism since 1982. Among the affiliates and individuals in our network, we have thousands of years of experience resisting taxes, with experience in all the risks, consequences, and rewards of this act of civil disobedience.
How do I resist?
The main methods for resisting federal taxes geared toward funding the police are:
Refusing to pay some or all of the income taxes you owe (an act of civil disobedience with certain potential consequences)
Living below a taxable income level (a legal option to refuse to pay taxes)
We recommend reading more about your options to decide what method and amount of resistance will work best for you.
If you are owed a refund at tax time in 2021, the government already has your tax dollars for this year – you won't be able to resist paying. Consider changing your W-4 withholding so that you give less or no money to the government out of each paycheck. When you owe money at tax time next year, it's your choice to refuse or not. But if the government owes you money, you don't have a choice.
If you owe money in 2021, the choice to refuse to pay some or all of it is yours. Keep in mind that resistance is an act of civil disobedience – it has its risks and benefits, and not all of those are 100% predictable!
And you can redirect your resisted taxes to people who are directly affected by and working to end police militarization. Redirection is a powerful way to show what is possible when taxes are used for justice and peace. In the 2017 tax season, many war tax resisters collectively redirected taxes to immigrant communities and organizing efforts led by people of color.
How much of my taxes should I refuse to pay?
Many resisters resist an percentage of their taxes equal to the percentage of federal income tax dollars that fund war (including police militarization – War Resisters League estimated the total percentage at 47% for the 2021 fiscal year). They might want to pay for other government expenditures, like housing and education, but want to refuse the percentage that goes to war.
Others resist all income taxes. Those who resist everything often do so because they can't pick and choose what programs are funded by the taxes they pay. They feel any payment to the government could be used for war.
And still others choose to resist a small or symbolic amount of their taxes. For example, you could resist $19.84 (in reference to George Orwell's novel 1984 portraying a surveillance state), or a token amount like $10.40 or $50. The choice is yours.
If you earn below a taxable income, or want to work toward low-income tax resistance, see our pamphlet on this subject.
Whether or not you owe taxes, you can take action.
If you are unwilling to support the use of federal tax dollars to fund police militarization, NWTRCC can provide knowledge and support.
If you file a return this year, consider enclosing a letter explaining your objection to paying for militarism both here and abroad.
Share that letter with your local newspapers, blogs, friends, family, faith community, and other networks.
Speak out in support of people refusing to pay taxes for war and police militarism.
Get connected to a local war tax resistance group, or consult a war tax resistance counselor, for support.
If you start a new #DefundThePolice tax resistance movement in your community, please consider endorsing NWTRCC or becoming an area contact or affiliate!
Consume some Media: newsletter, blog, podcasts, interviews, and articles – and then share them on Facebook or Twitter!
Learn about our programs, including Tax Day activities, gatherings, and more.
Contact the NWTRCC office.
Police militarization is likely to continue no matter who is President of the United States, so let's organize for the long haul.
Updated 2/1/21