NWTRCC promotes tax day actions every year, collecting a list of actions around the U.S. and sending out a press release widely in early April.We encourage individuals and groups to begin outreach in January when the IRS releases new tax forms and starts their "pay your taxes" promotion.
Find links here to materials, action ideas, resources, and reports from previous tax day actions, or contact the NWTRCC office for connections in your area and help with promotion.
Days of War Tax Action 2016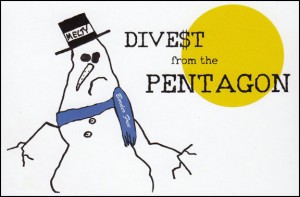 Tax Day is Monday, April 18,2016.
Click on "Melty" for information about the call for Days of War Tax Action 2016: Invest in People, Divest from the Pentagon!
See the calendar listings and email us or use the form on the calendar page to submit information for your public events, large or small, between now and Tax Day.
Organizing and Reports from 2015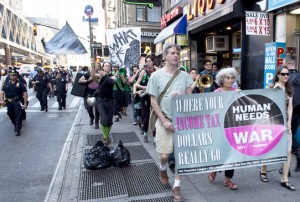 Let us know what you are doing — any time of year — and we'll post your war tax resistance actions and events on our website.