NWTRCC promotes tax day actions every year, collecting a list of actions around the U.S. and sending out a press release widely in early April and posting reports on our website and on our Facebook page. Look under our Media link above for "articles" and "podcasts" for recent news items.
Tax Season 2017 • Tax Day is Tuesday, April 18
Press Release: Refusing to Pay for the Trump Agenda (Feb. 1, 2017)
List of Tax Day Actions around the country is growing on this page
2017 Collective Redirection to Black, Brown, and Indigenous Resistance!
Be a public war tax resister – add your name to the sign on statement and also see our War Tax Boycott sign on list.
See the list of local and regional war tax resistance workshops, or fill out this form to request a presentation or workshop.
---
Previous Years: Days of War Tax Action 2016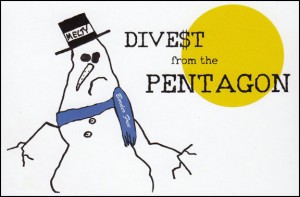 Click on "Melty" for reports and photos from actions around the country around tax day: Invest in People, Divest from the Pentagon! Also, see the Global Days of Action on Military Spending – NWTRCC is a partner with this worldwide effort
Reports from 2015
Let us know what you are doing — any time of year — and we'll post your war tax resistance actions and events on our website.