War Tax Resisters held virtual demonstrations this year in April 15th throughout the US. Individuals shared their opposition to devoting money to war at a time when human needs going unfunded were difficult to deny. Beginning on the day previously known as tax day (April 15), members of NWTRCC and the wider public shared their opposition on  social media under the hash tag #NoTaxes4War and #NWTRCC.  Others posted signs in their yards and traveled to the IRS.   NWTRCC shared some action ideas for Tax Season 2020.  While not able to physically distribute the War Resister's League Pie Chart for FY 2021 it continues to be an invaluable tool to educate and engage the public that close to half of federal income taxes  (48% for Fiscal Year 2020) is allocated to military related  expenditures.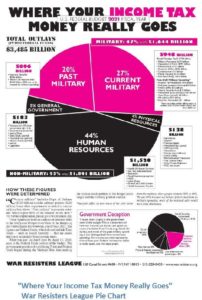 Included here is report backs from various communities making these connections. As with every year, War Tax Resisters employ new, creative tactics to raise awareness of federal spending as well as refusing to participate and redirecting tax monies to their local community needs. The campaign continues…
Here is a sampling of some of those actions:
---
FACEBOOK POSTS
New York
"Did you know: 47% of the US federal budget goes towards military spending. Imagine what this country would look like if we redirected these resources into healthcare, education, and other life-affirming investments.
If you think that's unacceptable, you're not alone: take a look through these images from NYC War Resisters League
and National War Tax Resistance Coordinating Committee (NWTRCC)
's virtual protest yesterday. Join year-round movement building resistance to the war machine.
#NoTaxes4War
-War Resisters League New York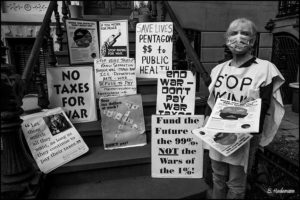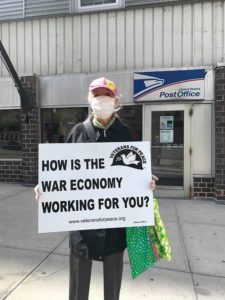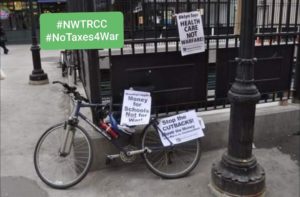 "Now is about the time we'd be grabbing our signs and heading to our vigil at the IRS in Manhattan on a "normal" April 15 tax day. So here's virtual tax day! Hopefully we'll be out on the street July 15 and days before then. Meantime, people have more time to ponder the scandalous use of tax dollars for war instead of for…..well, so many things, but so obviously healthcare right now. And after pondering…..if taxes are owed, make a protest by resisting some or all or what is owed and redirecting it to groups doing good things (see nwtrcc.org for details). Meantime, I'll have to make do with a Brooklyn stoop vigil." -Ruth Benn #NoTaxes4War #NWTRCC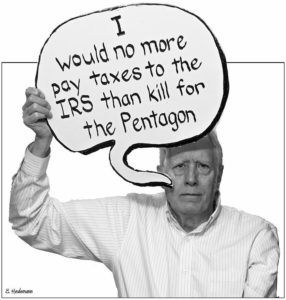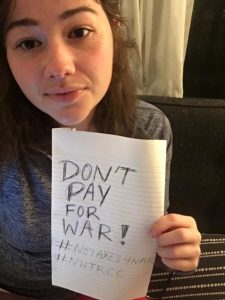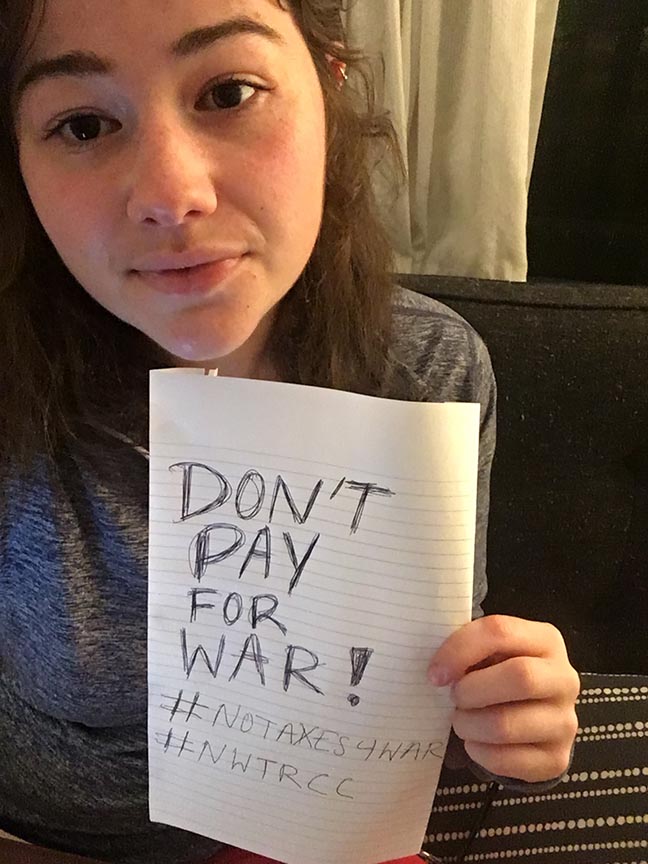 "Normally, on this "traditional" deadline date to file taxes, I'd be in front of the IRS with signs and leaflets (yes, even though that deadline has been pushed to July 15) focused on the government's spending habits. But something happened and I find myself in my apartment instead. Hmm.
Nevertheless, that's not going to stop some of us cranky contrarians complaining about all the money now being spent on endless U.S. wars instead of things that would really help people. Urgent healthcare immediately springs to mind but also housing, food, education, jobs, protecting the environment, among other basic needs would benefit with a dramatic reassignment of government funds.
However, I'm afraid I have little faith in Congress and the Executive Branch doing the right thing anytime soon, so I'm openly going to reassign my federal taxes to programs for the common good. Resistance and defying the government to create a better world. IRS sanctions be damned."- Ed Heddemann
#NoTaxes4War
#NWTRCC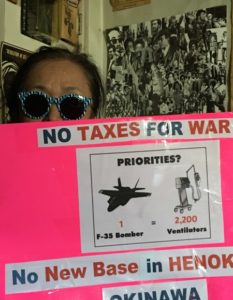 "April 15th is tax day (new corona virus epidemic, but this year has been postponed until July 15th). A huge amount of tax is used for military expenses, and it's been a long time since I've been in the middle of a long time, and I'm going to Is going on, but this year is a virtual appeal campaign. I want a selfie stick."  -Hideko Otake
#NoTaxes4War
#NWTRCC
#NoNewBaseInHenoko
"On this "traditional" deadline day to file income taxes, we invite you to join in the Global Days of Action on Military Spending and the War Resister's League in a virtual demonstration to protest the obscene amount of U.S. tax dollars being spent on the Pentagon and U.S. wars around the world while people have inadequate or no health care, go without meals, are homeless, are out of work, lack educational opportunities.
When 47% of our income tax money goes to the military, something is seriously wrong in our nation's priorities.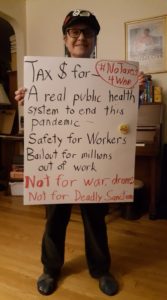 "On this "traditional" deadline day to file income taxes, we will be conducting a virtual demonstration to protest the obscene amount of U.S. tax dollars being spent on the Pentagon and U.S. wars around the world while people have inadequate or no health care, go without meals, are homeless, are out of work, lack educational opportunities.
#NoTaxes4War
and
#NWTRCC
-Long Island Alliance for Peaceful Alternatives
"Tax $ for A real public health system to end this pandemic, Safety for workers, Bailout for millions outnof work
Not for war and deadly sanctions!
#NoTaxes4War
-Alice Strum Sutter
WAR TAX RESISTANCE DAY 2020
MAKE RESPIRATORS NOT BOMBS
"We can build a better nation and better world if we would prioritize life over death. #NoTaxes4War #NWTRCC -Brian Lothridge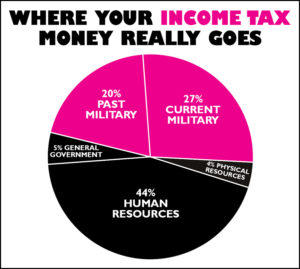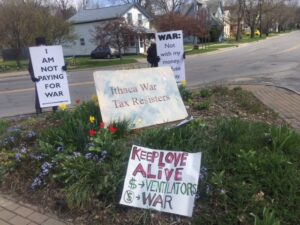 California
-San Diego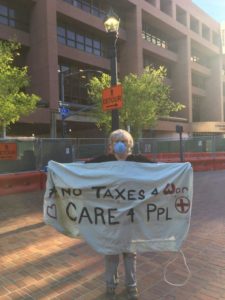 o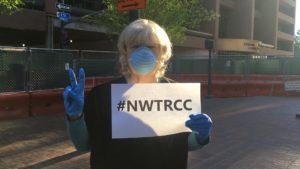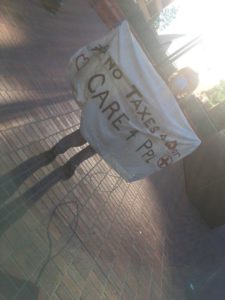 "Today is (War) Tax Day. I will pay for peace; ain't gonna pay for war.
outside the IRS downtown after a drop-off of medical scrubs & masks at a hospital in dire need of PPE. PS- we gave one of our masks to the security guard "guarding" the building cuz she did not have one. she took it & wore it." – Anne Barron
-Los Angeles
"I woke up thinking about this – now is the perfect time to to redirect federal income tax dollars to the WHO.  Figure the percentage of our tax dollar that goes into public health and deduct that amount (or more) for redirection – make public where we want our tax dollars to go by sending them there. What a better way to vote for what we really want than to passively participate in petition signature drives or even elections: vote with our money."-Cathy Deppe #NoTaxes4War #NWTRCC
Texas
-Austin
Today is the traditional Tax Day. I've been a war tax resister for 34 years, and I'm not going to stop now. Was it ever more obvious that investing in healthcare and planet care rather than warfare is our true protection? #NWTRCC #NoTaxes4War  Susan Van Haitsma,
Heidi Bumgardner Turpin posted a video where she had canisters with coins showing funding for health care and war. She dumped all the funding from war into the health care canister.
You can follow this link to see some of the posts on Facebook  including one from East Coast, Revolutionary United Front, who posted a video burning a w-4 form
Marilyn White posted It's tax day! What if, instead of spending half of our tax dollars on weapons and war, we spent a bit more on healing the earth and its people? #NWTRCC #NoTaxes4War
-Houston
#ShoutOut to my fellow WTRs doing the awesome work of building a new world free from war and war profiteers! NWTRCC.org/ #WarTaxResistance #TaxDay2020 #NotPayingForWar Lincoln Rice, Chrissy A. Kirchhoefer, Ruth Hedebenn much love & solidarity with all of you! ❤️ Jerry Maynard
Oregon
"This Earth Day, I demand my tax dollars not be used to fund the US military and fossil fuel industrial complex but be reallocated to public services that address people's immediate needs including health care, education, housing, green energy, and environmental restoration!
The government of the United States set its $1.426 trillion budget for 2020, with $738 billion allocated for the Department of Defense. The US military is the primary driver of environmental devastation in the world today with its excessive consumption of fossil fuels and toxic chemical dumping poisoning land, air, and water. With resource extraction and access to markets still the primary driver of war, environmental activists continue to be targeted for their role in resisting militarized land grabs. As increasing amounts of people are forced to leave their homelands due to increased militarization, displacement from corporate land grabbing and extreme weather catastrophes caused by the climate crisis, the situation of forced migration is becoming increasingly more dire with governments and multinational corporations prioritizing profit over people.
We need a just transition towards a pro-people system and away from a fossil-fuel dependent economy, financialized public services, and a militarized foreign policy. Put workers and frontline communities in charge of economic and political decisions and provide safe and dignified opportunities for working-class youth that do not fuel the military-industrial complex and war!
We invite you to :
1. Participate in our social media rally by posting a photo of yourself with a sign that reads "I would rather have my tax dollars fund (fill in the blank) than the US military and fossil fuel industrial complexes"
2. Attend our first educational webinar "The Military-Fossil Fuel-Industrial Complex: How Our Taxes Fund A Double Crisis" on MAY 9TH at 1 pm. Register here:
https://bit.ly/us-military-fossil-fuel
3. Unite to fight the military-industrial complex and the climate crisis by joining our Earth Day to Tax Day anti-war and climate justice coalition!
-Shared by Jessie Braverman and Cody Urban
-Eugene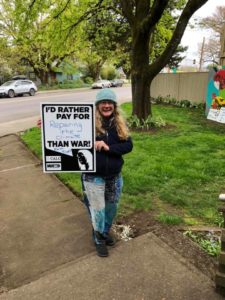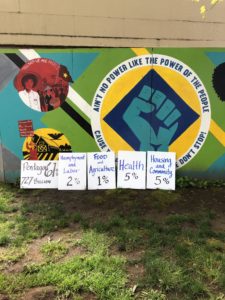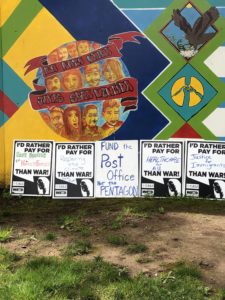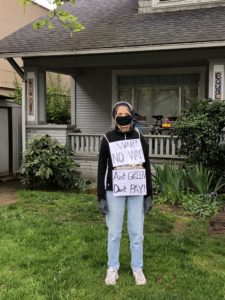 -Portland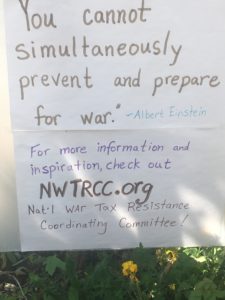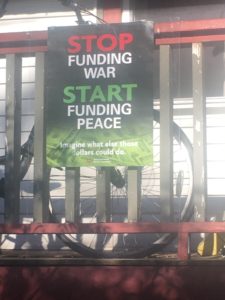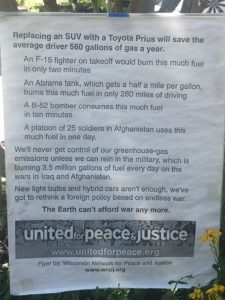 TWITTER POSTS
#NoTaxes4War and #NWTRCC
Mentions from:
Milwaukee WLRs
Peace Action of NY State
Western New York Peace Center (Buffalo, NY)
NYC folks – Ed H, Ruth, Hideko, Gloria Brandman
Long Island Alliance for Peace Alternatives
FOR USA
Ed Agro
Ellyn Stecker
Lindsey Britt – with dog pic in Philadelphia
Richmond, IN – Earlham School of Religion
St. Louis – Reese Forbes
NYC Gloria Brandman