Tax Day was Tuesday April 18, 2023 and folks throughout the US gathered around this date to raise awareness that close to half of federal income taxes are directed toward war. They also encouraged others to resist paying taxes and redirect money to community needs. You can use these links to find the 2023 press release as well as recent articles and interviews.
---
Arizona
Tucson
In the early morning of Tax Day, April 18, Tucson activists held signs and banners outside of Raytheon Missiles & Defense as workers arrived, in a protest to say, "Not in our name, Not with our tax dollars."
At Tucson's Raytheon plant, Standard Missiles, Star Wars "kill vehicles," hypersonic glide bombs, AMRAAMs, Javelins, Mavericks, microwave crowd control beams, drones, cluster bombs, nuclear-armed cruise missiles and more are made. Report & Photos from Felice Cohen-Joppa.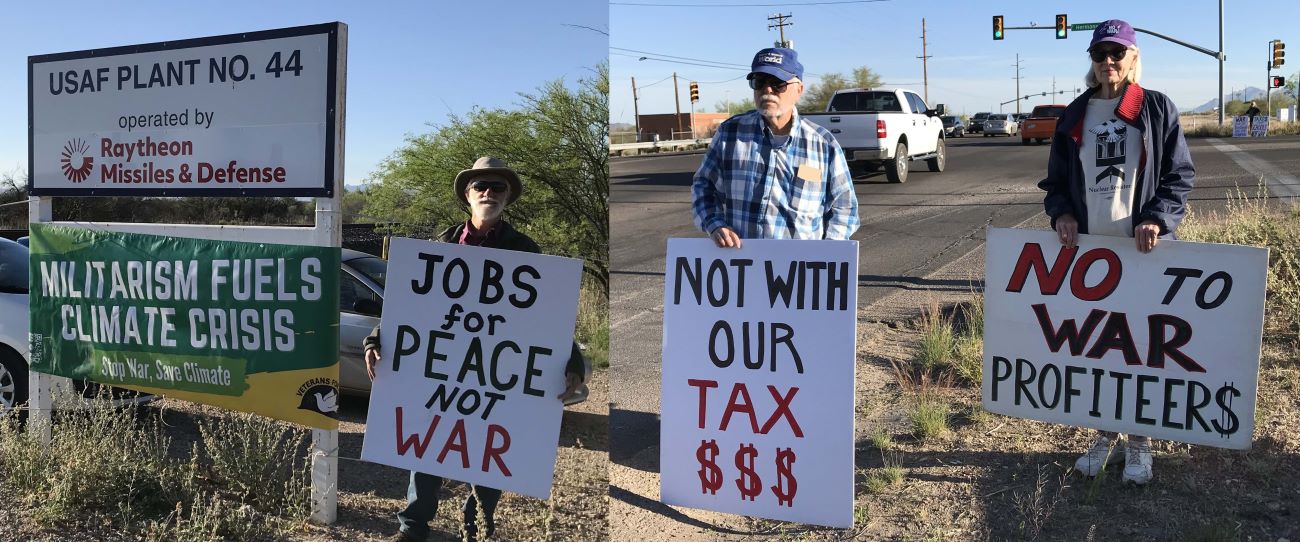 ---
California
Berkeley
Northern California War Tax Resistance commissioned local artist David Solnit to create War Tax Resistance posters that are meant to be wheatpasted in public spaces. In addition to pasting these posters locally, they also made them available for other WTR groups leading up to Tax Day.
Chico
On Tax Day, volunteers from the Chico Peace Alliance leafleted with the WRL tax pie chart for four hours. There was less foot traffic into the post office than in past years, but we reinforced old community connections and had long conversations with some folks with opposing views. Report from Chris Nelson.
---
Colorado
Colorado Springs

At a busy downtown intersection over the noon hour on Tax Day, we hosted a penny poll, holding signs, and leafletting. We had a good response to our penny poll. Report by Mary Sprunger-Froese. Photos by Annaken Mendoza-Toews.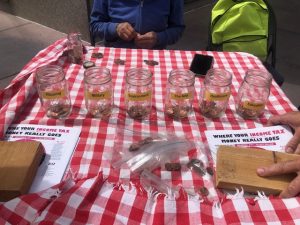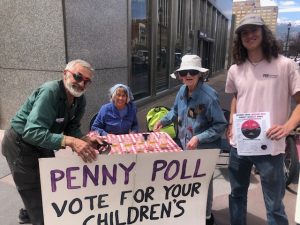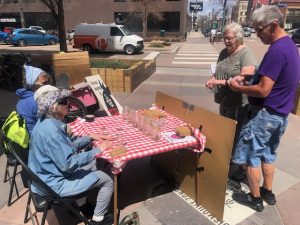 Penny Poll Results:
Education – 52 pennies
Healthcare – 52 pennies
Environment – 41 pennies
Housing  – 38 pennies
Arts – 35 pennies
Military – 12 pennies
---
Indiana
South Bend
Michiana War Tax Refusers normally gather the Monday before Tax Day, but were rained out this year. Instead, they went out the following Monday April 24 as part of Global Days of Action on Military Spending and vigiled from 4:30 to 5:30p across from the Federal Building. Report from Peter Smith.
---
Iowa
Cedar Falls
After the April 16 service, the Cedar Valley Unitarian Universalist Social Justice Committee sponsored a "penny poll" in which people who participated each got 20 pennies to distribute as they wished in 13 categories of the federal budget. Although not a scientific study, the purpose of the exercise was to raise consciousness about how spending and budgeting is complicated in a way that makes household budgeting look like a breeze. The War Resisters League pie chart was available in the fellowship hall for anyone interested. All seven of the Unitarian Universalist Principals present challenges to making war.
Penny Poll Results: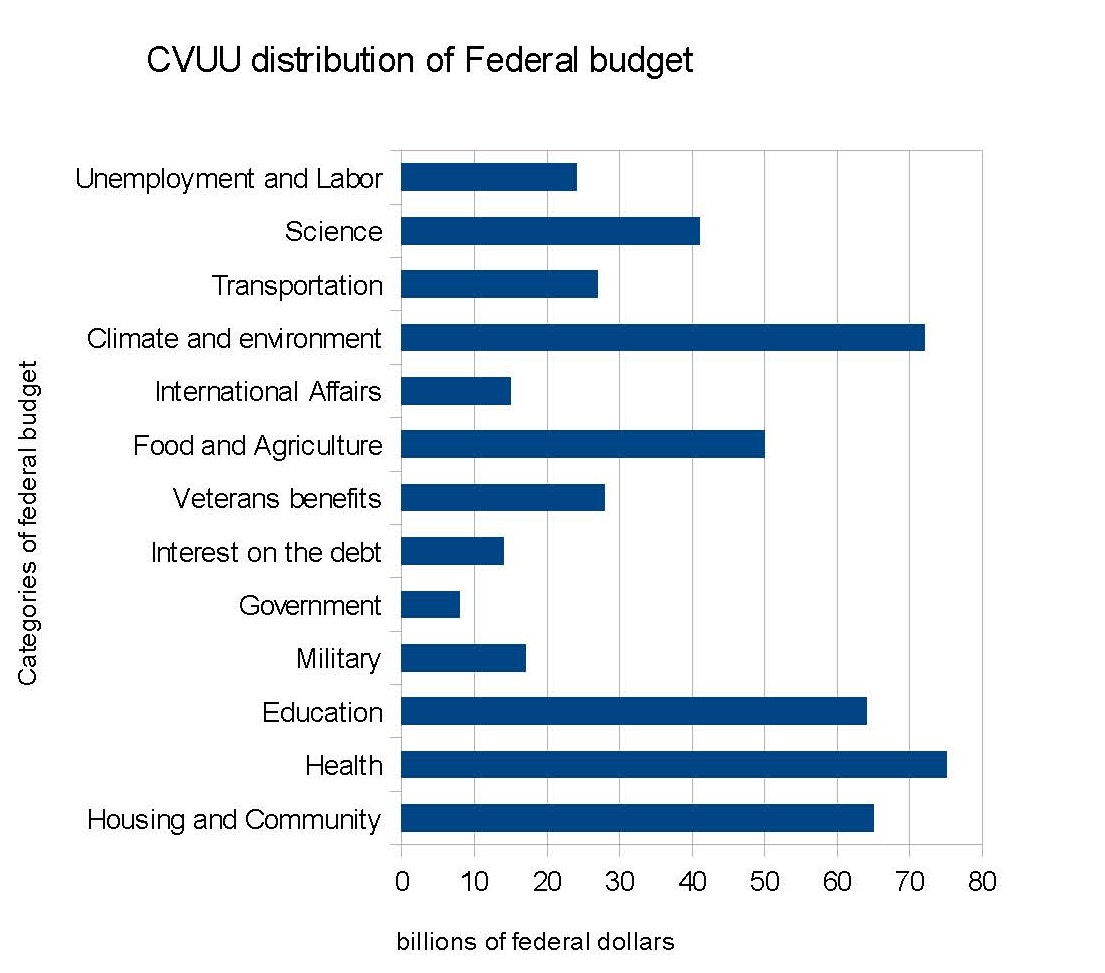 Photos and Report from Shirley Whiteside.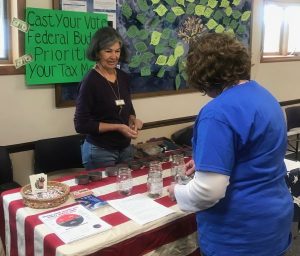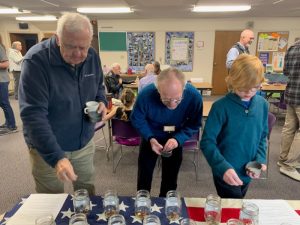 ---
Maine
Portland
Peace Action Maine held a tax day vigil on Tuesday April 18 at 10a at the local post office on Forest Avenue with handouts speaking to the federal budget priorities. Report from Peace Action Maine.
---
Massachusetts
Boston
Massachusetts Peace Action sponsored a "Tax Day Rally for Peace and our Future" on Saturday April 15 at noon in Downtown Crossing, Boston and on Greenfield Common. Speakers included State Representative Mike Connolly, Rev. Savina Martin, co-chair of the Mass. Poor People's Campaign, Michael Kane, Mass. Alliance of HUD Tenants, Lady Lawrence Carty, Housing=Health, and music from singer/songwriter Ben Grosscup. Report from Massachusetts Peace Action.

Northampton
Taxes for Peace New England tabled at the Unitarian Society on April 6. We had a very blustery day, which sent a few flyers down the street and hopefully into the hands of interested folks. The wind also inspired a future project to create a fabric banner to replace the paper one which was torn by the wind–silver lining! Report and Photo from Lindsey Britt.
---
Missouri

Saint Louis

Tax Day in St Louis began with leafleting on Saturday April 15th at a farmers market. We were able to engage with those present to share the War Resisters League's pie chart as well as sharing information about how much taxpayer money could be invested in our local needs as opposed to spending on the Israeli military. On Tuesday April 18th, we held signs at a post office in a business district around lunchtime. People were really appreciative of the information that we shared and engaged in lively conversations. Later that day during rush hour we shared information at the same location and distributed information at the nearby park.
The coalition that came together for tax day actions held a teach-in on May 15 to recognize International Conscientious Objector Day and Nakba Day to raise awareness of people opposed to war and the many forms it takes. We discussed war tax resistance, the situation in Palestine and Israel and the war in Ukraine and Russia, and extending the conversation about where US taxes go beyond the April 18th deadline. Report & Photo Chrissy Kirchhoefer.
---
New Mexico
Albuquerque
Ginny Schneider reserved a tabling space outside the University of New Mexico Student Union for the Wednesday before War Tax Resistance Day (10am- 3:30pm). She spoke with over 200 students, faculty, and staff about their support for war. Most of the day, the majority of people who passed the table did not support war. During the last hour, about 10 people said they supported war.
While she was on campus, there was visible military recruitment at another outdoor station. Also, a number of students were dressed in military uniforms.
She learned that there are a lot of events on campus such as the international food fiesta and a sustainability day. Any outside organization can apply to table at these events. She also noticed that there was a place on campus with higher volume foot traffic between the student union and the library. She will try to set up tabling opportunities at events and at the latter location in the future.
Three people provided their contact information, which was the same number as last year when she tabled with another WTR at the Santa Fe food co-op. She did not return to the co-op because they do not allow tablers to reach out to passersby. On campus, outreach is allowed. One graduate student was interested in working on further outreach. She will contact him about tabling with her in the future. Report & Photo from Ginny Schneider.
---
New York
Manhattan
Tax Day (April 18th) – the last day for rushing taxes to the Pentagon – meant the NYC War Resisters League with other peace and justice groups appeared, once again, in front of the IRS to call attention to the huge percentage of the budget allocated to U.S. wars and militarism.
Rising Together Guerrilla Theater further dramatized that crime against humanity with a short skit highlighting the effects such spending has on society and the world.
Meanwhile, the rest of us were "singing songs and carrying signs" – particularly NYC Metro Raging Grannies who lyrically converted popular tunes into antiwar ditties – and "handing out flyers" (sadly, not part of the song) with WRL's annual "pie chart" analysis of the budget. Many were accepted, a few were ignored.
Though it was unusually cold, it wasn't a "field day for the heat," a half dozen of whom showed up to keep an eye on us. No one was taken away. This time. Report & Photo by Ed Hedemann.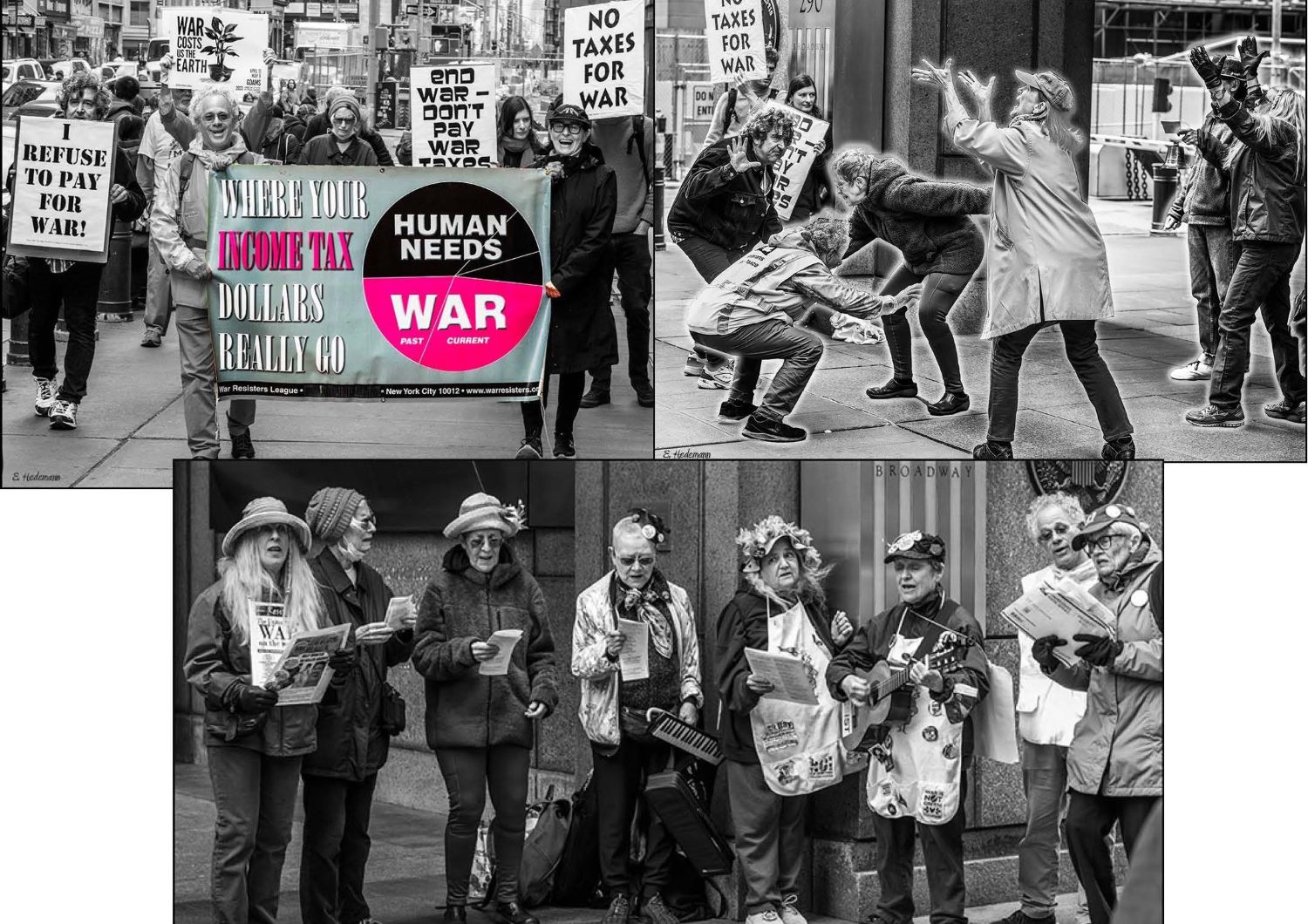 Ohio
Cleveland
Three members of the Cleveland Nonviolence Network (Michael Fiala, Michael Melamphy, and Maria Smith) spoke to the Cleveland City Council concerning a "Resolution to Eliminate U.S. Militarism and the U.S. Pentagon Budget." It was an hour or so after a public reading of Dr. King's Breaking the Silence speech. It is a national project that Cleveland Peace Action ordered locally.
This event is the culmination of two years of monthly meetings (and sometimes more). CNVN isn't done yet. It will continue to urge our friends, neighbors, and representatives to have a local conversation about the gargantuan military budget and local needs and aspirations. Report from Maria Smith.
The event was covered by the local media: https://signalcleveland.org/contractor-problems-a-non-violence-resolution-and-support-for-veterans-cleveland-public-comments/
---
Oregon
Eugene
Planet vs Pentagon and Taxes for Peace Not War decided to table at the Eugene Public Library this year. It didn't rain, which was unusual, but it was cold and windy. 42 people did the penny poll and one passerby thanked us profusely for being there and gave us a $50 donation. A few new people signed up to get emails from us and we had some good conversations. If Eugene folks were running the country the amount of money going to the military would be far less than the $ 2,297 billion (at least 43% of the  Federal budget) currently being spent.
At the Library today we gave penny poll participants ten pennies they could then put in one of the following five jars:
Military: 26 – 6.19 %
General Government: 46 – 10.95%
Human Resources: 190 – 45.2%
Environmental Protection: 133 – 31.6 %
Interest on the National Debt: 25 – 5.95%
Our Penny Poll results were also published in the local paper: https://eugeneweekly.com/2023/04/20/slant-277/
Report and photos from Sue Barnhart.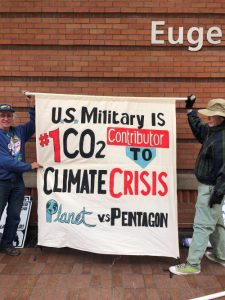 ---
Portland
On April 18th, nine of us held signs on two bridges on a chilly day for the morning commuters, including lots of bicyclists! LOTS of thumbs up and supportive honks! The messages were about bloated military spending and the runaway military budget. Report and photos from Kima Garrison.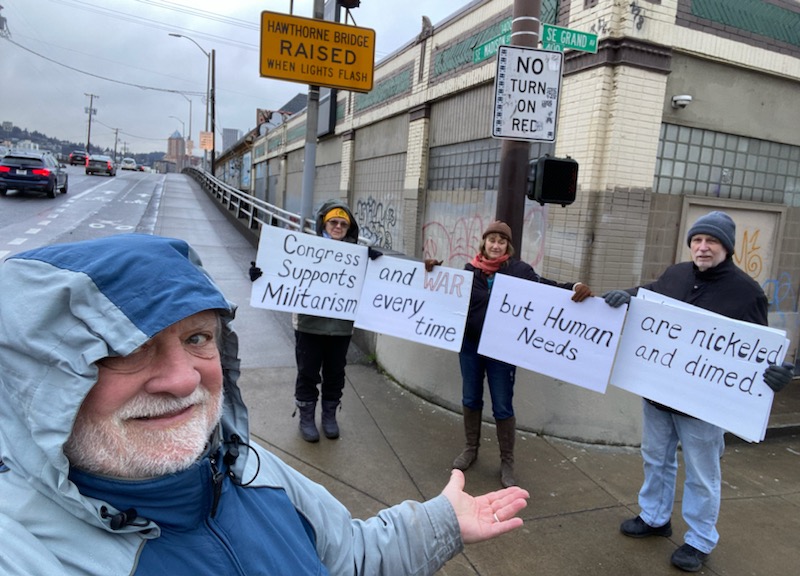 ---
Pennsylvania
Lancaster
Over the noon hour on Saturday April 15 in Lancaster's square, I operated a Penny Poll with a couple Peace Action Network of Lancaster colleagues. In anticipation of last Tuesday's Tax Day, we gave passersby opportunities to vote on how they would like their federal tax dollars spent by putting 10 pennies into any of ten categories. Eighty-four passersby participated with the following results:
Agriculture – 7%
Diplomacy – 5%
Education – 17%
Environment (Green Energy) – 14%
Health – 18%
Housing – 11%
Mass Transit/Roads – 5%
Military/Homeland Security – 10%
Veterans – 11%
Other – 2%
Total – 100%
Report and Photos from H. A. Penner.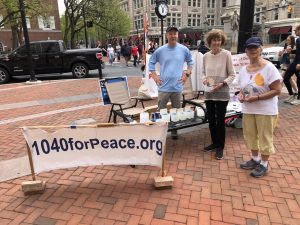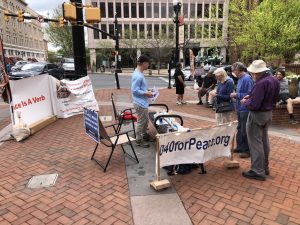 Penny Poll in Lancaster
---
Vermont
Brattleboro
On Tax Day members of Taxes for Peace New England tabled at the Brattleboro Food Co-op from 10am-5pm. We gave out cookies, talked with people about war tax resistance, and shared that NWTRCC is a great resource for more information and assistance. A lot of people were supportive and, unrelated to WTR, seemed hungry for connection with other people and just happy to share a conversation. Report and photo from Lindsey Britt.
---
Virginia
Harrisonburg
We had a group of about 40 people show up by the downtown farmer's market on Saturday April 15 for a public re-direction of $700 in resisted war taxes, plus an additional $2,100 in solidarity donations to 6 organizations (three local nonprofits as well as Mennonite Central Committee, the National Campaign for a Peace Tax Fund, and an alternative fund organized by the Mennonite Church USA.
There were thirteen households that donated money, four of which were resisting and re-directing a portion of their federal income tax. I also presented on WTR at the local Mennonite High School on Friday the 14th.
The event was covered on the WHSV evening news on Sunday evening. Here's a link to the brief piece that aired.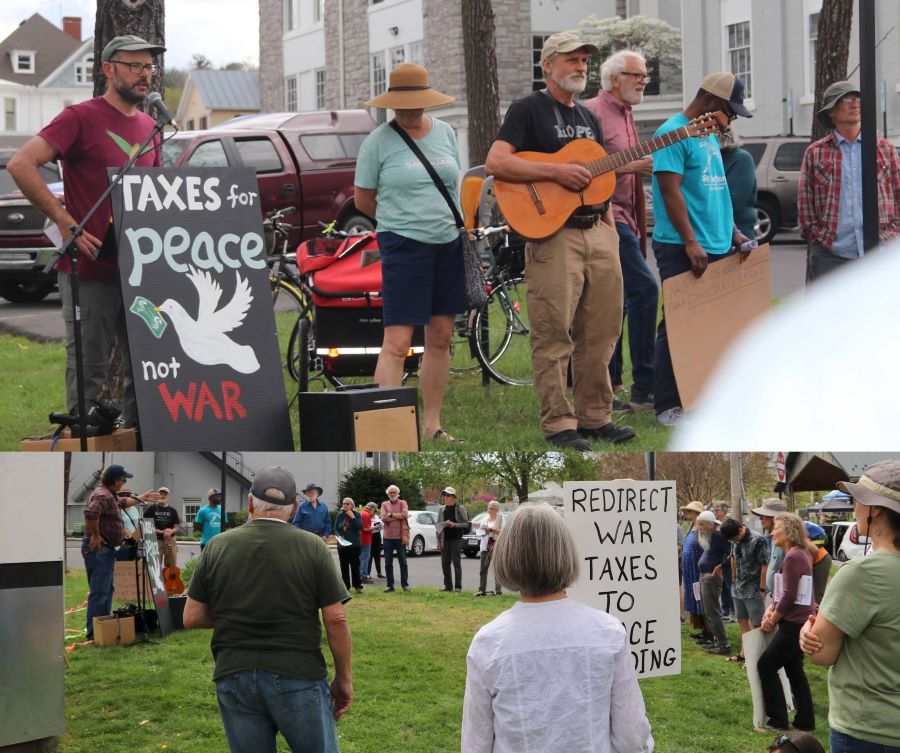 Report from Tim Godshall and photos from Stan Godshall.
---
Wisconsin
Milwaukee
Casa Maria Catholic Worker and Milwaukee War Tax Resisters held a vigil to protest federal tax dollars for war and environmental harm the Saturday before Tax Day. On April 15th, we vigiled outside the U.S. Army Reserve. We also organized a "Bake Sale for Military Victims" and raised $200 for the Ukrainian Red Cross. Report by Lincoln Rice. Photos from Lincoln Rice and Michael Komba.