Tax Day for many in the US was extended to May 17, 2021. Throughout the US people gathered around April 15, the traditional tax day to raise awareness that close to half of federal income taxes go towards war and to encourage others to resist paying taxes and redirect money to community needs. You can find the 2021 press release as well as recent articles and interviews.
Arizona
Tucson
Vigil was held at  at Davis-Monthan Air Force Base to raise awareness tax payer money to fund wars and occupations, the profits made by Raytheon and to remember those lives lost to drones and other instruments of war. Felice Cohen-Joppa wrote "What if they gave a war and nobody paid? Tucson peace activists with Veterans for Peace, Women's International League for Peace and Freedom and the Nuclear Resister were at a Tax Day demo this morning at Davis-Monthan drone/Air Force base." Photo and report from Felice Cohen-Joppa
California
Berkeley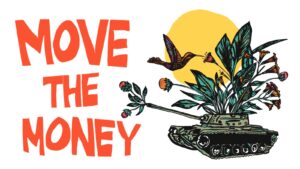 The People's Life Fund  hosted a redirection ceremony to invest $61,000 in 25 different community organizations addressing needs in the Bay Area.  A spokesperson from each group gave a brief intro to their mission and their work in a small group zoom chat with other recipients. Members of the People's Life Fund who contributed to the fund shared a bit of their motivations in redirections through personal reflections, poems and other mediums but largely centered the work of the organizations.  The annual gathering exhibited the adaptivity required of these times and encouraged building community amongst all in attendance.  You can find a list of recipients here
San Diego Area
Local groups gathered on Tax Day for a program Move our Money from Death to Life.  A vigil was held on April 15 to mourn deaths, pain, and suffering caused by U.S. policies at the U.S.-Mexico border and to demand "Free them All" of those detained.  tax day vigil   Anne Barron with NWTRCC and the Peace Resource Center of San Diego spoke to the role of US taxpayers in militarizing the US southern border, "Spring is Tax Season, also known as War Tax Season. The Federal Income Tax was originally created as a war tax – to pay for our endless wars. What would you spend your tax dollars on? We believe – Taxes are best used to lift up all peoples, support ALL our communities, protect our Earth." For a link to the the press release click here
Report and photos from Anne Barron
Indiana
South Bend
Michiana War Tax Refusers held vigils on April 12th and May 17th outside of the Federal building to raise awareness that close to 50% of US federal  tax dollars go to fund war. The long established community handed out pie charts, engaged with community members and encouraged people to question how tax money is spent with their many signs. Photo and report from Peter Smith
Maine
Brunswick
A rally on the Green at the Brunswick Mall with speakers and open mic on May 17th. Sponsored by ME Veteran for Peace, Peace Action Maine, PeaceWorks of Gr. Brunswick, Poor People's Campaign Maine, & Maine Women's International League for Peace and Freedom. For more information, See flyer at PeaceWorks Brunswick.
Massachusetts
Statewide  
A Tax Day Like No Other: Teach In. "As we move into the post-pandemic, Biden era, it's time to change what we buy with our tax dollars. The pandemic and the resulting economic crisis illuminated glaring inequalities and the human costs of budget priorities that enrich the wealthy and left people unable to protect their health, hungry and homeless, while the military-industrial complex drowns in super-profits and paves the way for new and dangerous Cold Wars. Trillions have been spent chasing demons abroad and "bad hombres" at our borders, but Covid-19 bring us to our knees. This Tax Day, stand with us and demand that your tax dollars be spent on the PEOPLE and on the PLANET, and not on the profits of corporations and wealthy individuals." You can watch the tax day webinar hosted by Mass Peace Action and New England War Tax Resisters  here.  
Boston
On May 17th a rally 'Pressing for our Budget Priorities amid Pandemic, Economic and Climate crises, and New Cold Wars' Rally was held outside the O'Neill Federal Building. There were over 17 speakers and 12 organizations sponsoring the event. A report of the event from Mass Peace action with links to some of the speeches can be found here.
Our Call:
Make the Rescue Plan's safety net provisions permanent
Fund housing, healthcare for all, and education – forgive college loans
Pass the job creating, GREEN infrastructure bill
Tax the 1% and big corporations; create a wealth tax so everyone pays their fair share
Repeal the Trump $2 trillion tax cuts
Cut the Pentagon's gargantuan budget to pay for what we need
Defund new nuclear weapons, cut F-35 and B-1 bomber
Photos and reports from Craig Simpson and Cole Harrison
New York
Manhattan
April 15th vigil and leafleting outside the IRS office. "On this cold, soggy, "traditional" final day to file income taxes, 25 to 30 "hard core" antiwar activists stood in front of the IRS building in Manhattan. Even though the deadline this year has been pushed to May 17, we thought it worth reinforcing the message that too much money — desperately needed for health care, climate issues, jobs, housing, education — was being spent on war and the military." Post and photos from Ed Hedemann
A Rally was held at the military recruiting center in Times Square followed by a march to the General Post Office. Both Tax Day events were sponsored by NYC War Resisters League, Veterans for Peace/Chapter 34, Brooklyn For Peace, Peace Action New York State, Granny Peace Brigade, Peace Action of Staten Island, Manhattan Project for a Nuclear Free World, Catholic Worker, Kairos Community For more photos and videos of the vigils go to the NYC War Resisters League Facebook Page
Ohio
Cleveland
April 1oth online discussion on Dr. King's words on racism, militarism and excessive materialism with war tax resister Frida Berrigan. The event was cosponsored by the Cleveland Nonviolence Network, Cleveland Peace Action, Northeast Ohio Sierra Club, and the Inter Religious Task Force on Central America and Colombia.
Oregon
Eugene
Over tax season we went to the farmer's market twice and held banners and talked with shoppers. We also held up banners at the federal building in Eugene that houses the IRS office, and has a lot of traffic going by, on the traditional tax day and on the tax day for 2021. We got lots of waves, honks and peace signs. We also did public education to environ
mentalists at a 350 event and a Sunrise event by unrolling our long banner that shows a graph of the federal budget and how much goes to the military, with a sign explaining how the military is the biggest contributor of the climate catastrophe, and handed out some fliers.  We also had an op ed piece in the local daily paper and a letter to the editor in the weekly paper. Report and photos from Sue Barnhart
Pennsylvania
Akron
On Tax Day eve, April 14th, 1040 for Peace hosted an online Service of 'Lament & Dedication." Participants lamented the portion of federal taxes that support the military and dedicated letters of dissent to the U.S. government as well as conscientious objector contributions to peacebuilding organizations (perhaps in lieu of paying that portion, or symbolic amount, of the current federal tax levy that underwrites war and militarism).
On May 12th 1040 for Peace hosted  an online gathering with Attorney Peter Goldberger. The discussion explored the feasibility of taking war tax resistance/redirection through the courts given what appears to be a more conservative judicial system that might be more amenable to religious freedom issues. 1040 for Peace sees this session as a continuation of his November 8, 2014 "What Does the Supreme Court's Hobby Lobby Decision Mean for War Tax Resisters?" which was presented at one of NWTRCC's national conferences. You can watch Peter's talk here: https://youtu.be/SXJFpEVlriE

Philadelphia
​The Granny Peace Brigade held May Tax Day Event – Grannies ask passers-by near City Hall where they want their tax dollars spent! Passers-by are given coins which represent their tax dollars spent – they choose where their tax dollars should go – education, health or military. Count shows Philadelphians want their taxes used for helping people. Three TV stations – 3, 5 and 7 – showed up to see what was happening.  Report and photos from the Granny Peace Brigade Philadelphia
Wisconsin
Milwaukee
Casa Maria Catholic Worker and Milwaukee War Tax Resisters held a vigil to protest federal tax dollars for war and environmental harm outside the U.S. Army Reserve on Saturday April 10th. Photos from Lincoln Rice
Vermont
Brattleboro
On Monday May 17th members of the Pioneer Valley War Tax Resistance tabled outside the Brattleboro Lindsey Britt wrote "Had a great time sharing information with folks in the Brattleboro, VT area (masked except for when we took these pics). We got their answers to the question "What do you want your taxes to pay for?" and then put them on the flower petals until we had a full flower!" You can also find Lindsey Britt's letter to the editor published in the Brattleboro Reformer here.  Photos and report from Lindsey Britt