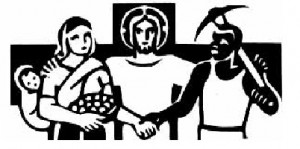 Since I joined the war tax resistance movement, I've had many opportunities to get to know friends in the Catholic Worker houses around the country, including in New York City, Milwaukee, and Las Vegas. Catholic Worker houses offer a place to sleep, meals, and/or support for those in need, which may include homeless, poor, mentally ill, or refugee persons. Some houses run farms or cottage industries.
Recently I learned that the actor Martin Sheen is a Catholic Worker supporter. I've been reading Los Angeles Catholic Worker Jeff Dietrich's book Broken and Shared: Food, Dignity, and the Poor on Los Angeles' Skid Row, a compilation of Dietrich's essays in the Catholic Agitator over 40 years. Martin Sheen wrote the foreword. Sheen ate meals at the New York City Catholic Worker while he was a struggling young actor in the early 1960s, and has been a supporter of Catholic Workers ever since. He even played Peter Maurin in a film about the early days of the Catholic Worker movement, Entertaining Angels: The Dorothy Day Story (preview).
But of course Martin Sheen's support of the Catholic Worker is not the real story here, just a hook (maybe one you can use to start a conversation about war taxes with Catholic friends).
Part of the Catholic Worker's focus on personalism and decentralism stand includes a refusal to handle bureaucracy. Most Catholic Worker members adopt a life of voluntary poverty, which means earning a very low, non-taxable income. Most Catholic Worker groups have also refused at the organizational level to comply with the IRS or to apply for 501(c)3 status. As Dorothy Day described in a May 1972 essay:
One of the most costly protests against war, in terms of long-enduring personal sacrifice, is to refuse to pay federal income taxes which go for war. The late Ammon Hennacy, one of our editors, was a prime example of this. He earned his living at agricultural labor, always living on a poverty level so as not to be subject to taxes, though he filed returns. Another of our editors, Karl Meyer, recently spent ten months in jail for what the I.R.S. called fraudulent claims of exemption for dependents. He ran the C.W. House of Hospitality in Chicago for many years, working to earn the money to support the house and his wife and children. Erosanna [sic] Robinson, a social worker in Chicago, refused to file returns and was sentenced to a year in prison. While in prison she fasted and was forcibly fed. It will be seen that tax refusal is a serious protest. Wars will cease when we refuse to pay for them (to adapt a slogan of the War Resisters International).

The C.W. has never paid salaries. Everyone gets board, room, and clothes (tuition, recreation included, as the C.W. is in a way a school of living). So we do not need to pay federal income taxes. Of course, there are hidden taxes we all pay. Nothing is ever clear-cut or well defined. We protest in any way we can, according to our responsibilities and temperaments. [links added]
This stand against war taxes brought the early Catholic Worker many meetings with the IRS and threats of property confiscation and fines. However, they stood firm against the bureaucracy and prevailed in one case over $300,000 of back taxes.
My favorite Dorothy Day quote is, "Our problems stem from our acceptance of this filthy, rotten system." Thanks to Catholic Workers for their work that shows we don't have to accept this system, whether we are focusing on poverty, militarism, or spirituality.
To hear more about the Catholic Worker and war tax resistance, check out these resources:
Post by Erica