Family related activities got me out of New York City a week ago and into Milwaukee, Wisconsin. Given the timing of my flights I realized I could fit in a visit or two with people in our war tax resistance network, so I made some contacts and set up a couple meetings. We are very lucky to count among the friends of NWTRCC, Phillip Runkel, an archivist with the Special Collections and University Archives at Marquette University. I made an appointment to visit Phil at the Archives in Raynor Memorial Library.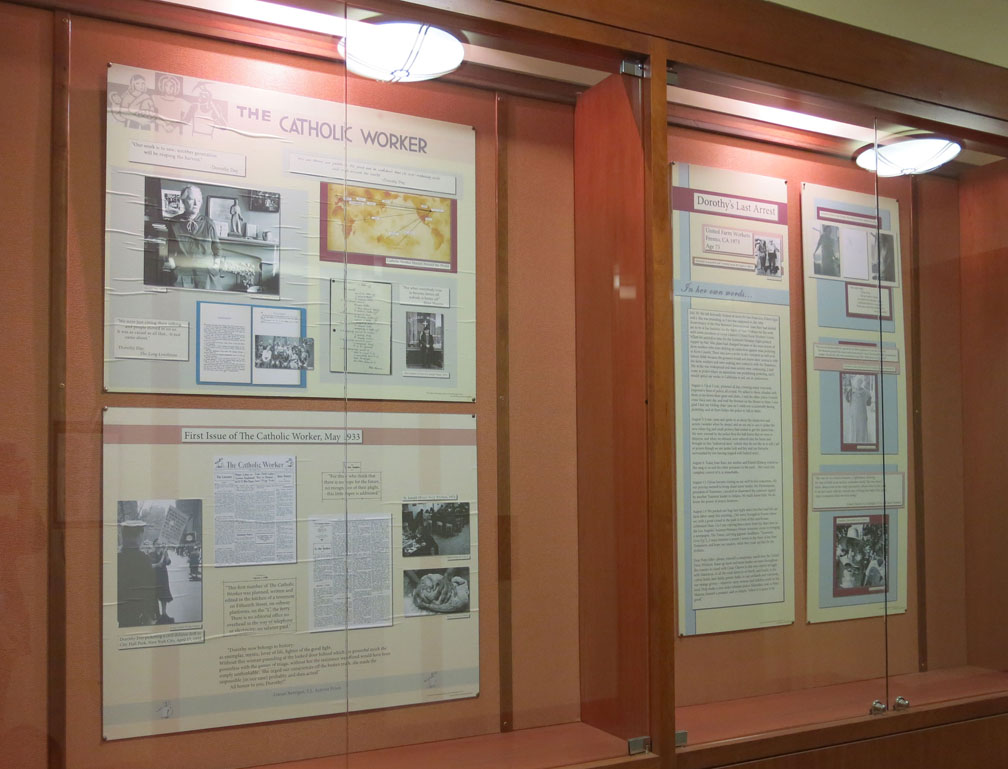 Thanks to my name being on a visitors' list, I cleared the front desk and headed to the archives. First I ran into a display on Catholic Worker and Dorothy Day in the hall outside the archives entrance. Special Collections holds the Dorothy Day – Catholic Worker Collection. You can see a complete list of holdings on their website, but I was lucky to get a more personal overview from Phil. We joked a bit about working with the papers of Dorothy Day and those of Joseph McCarthy, but Phil noted it makes for interesting visitors across the political spectrum. It's the J.R.R. Tolkien collection that requires extra security to protect them from Lord of the Ring fanatics.
Phil had laid out some papers that were especially relevant to war tax resistance, mostly about Ammon Hennacy that are part of the Day/Worker collection. I wasn't there for research purposes and didn't have a particular task in mind, so I just got to enjoy spending a couple hours reading through original letters written by Hennacy to Dorothy Day, the IRS, and friends, along with articles about his "one picket parade" at locations around the country.
The August 8, 1950, account in a Phoenix, Arizona, newspaper referred to Hennacy as "one of the city's most persistent lone wolf pickets," and went on to tell the story of Internal Revenue Department officers seizing his "Income Taxes Pay for Bombs" signs "as partial payment for back income taxes."
A Thanksgiving 1944 letter to Dorothy Day included this, originally all in capital letters:
"We should commence a campaign of civil disobedience by refusal to pay any taxes — for these taxes go to build up militarism and destroy our youth. I know that nine out of ten pacifists will still think it is o.k. for Gandhi to do this but will shrink when we are called upon to do something."
Flipping through folders of letters I ran into one from Emma Goldman to Hennacy dated "Toronto 1939." She was writing to thank him for a birthday greeting from months before. Hennacy had apparently included some greetings to her from some Catholic activists, and in her letter she comments, "I confess that is a new one on me for I have never known Catholics to be radical."
In the war tax resistance network we are glad to know many Catholic radicals, and I was also lucky to meet with two of them, Lincoln Rice and Don Timmerman, both associated with Casa Maria Catholic Worker, the base for Milwaukee War Tax Resistance, a NWTRCC affiliate. The group mostly takes action around tax day (check out their 2014 action) , and they had many stories to tell about action and reaction to their protests in Milwaukee. Similar to other groups in our network these days, Milwaukee WTR does not meet regularly, but in talking with Lincoln and Don it was clear that they are in touch "as needed" with many resisters in the city.
From Hennacy's earliest war tax refusal to now, this act of civil disobedience waxes and wanes, but is unlikely to die out until war is no more. Through the NWTRCC network we try to connect our "lone wolf pickets" and strengthen the protest. I guarantee you will find the encouragement to carry on by looking up war tax resisters — past and present — on your travels too.
—Ruth Benn