Tax weekend actions, April 2018
• How to set up a Penny Poll and other action ideas • Chants for tax day •
For workshops and presentations around the country, see the gatherings page.
Read about and participate in Collective Redirection — see pp. 9 and 10 of our newsletter for info about Collective Redirection and a reporting form.
---
Nationwide Spring Actions • End the Wars at Home and Abroad! Rallies and marches around the country. Ask NWTRCC for palm cards or other literature to hand out in your community. (See Minnesota & NYC below also.)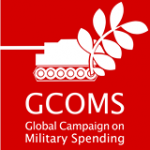 Also, see the Global Days of Action on Military Spending — US information and events list. NWTRCC supports this worldwide effort. International actions are listed here.
State By State NWTRCC network listings
Arizona
Tucson
Monday, April 16, 10 a.m.–1 p.m. Women's International League for Peace and Freedom & Tucson Raging Grannies will be handing out War Resisters League "Where Your Tax Money Really Goes" Pie charts in front of the Wilmot Library. We and we will be talking to folks as they come and go from the library, and the Raging Grannies plan on singing a few songs at noon. Murphy-Wilmot Library, 530 N Wilmot Rd., 85711.You are invited to come for all or part of the time. Bring friends who may be interested. Email for more info.
Tuesday, April 17, 7–8 a.m. Tax Day vigil at Raytheon Missile Systems, Hermans Road entrance to the plant (3rd traffic light south of Valencia on Nogales Highway, the extension of South 6th Avenue).  Join the Raytheon Peacemakers as we demonstrate against war and those who profit from it.  Survival demands better ideas, not better weapons. Park off Nogales Highway, between railroad tracks and highway at the Hermans Road entrance.  Signs provided, or bring your own! Contact Nuclear Resister or (520) 323-8697
California
Berkeley — Contact No. Calif. War Tax Resistance/People's Life Fund, (510) 842-6124, Email
Sunday, April 15, 6 p.m. — People's Life Fund public potluck and awards ceremony at the BFUU Fellowship Hall: 1924 Cedar St. Berkeley CA. (Near North Berkeley BART). The People's Life Fund is looking forward to redirecting a record breaking $65,000 in resisted war taxes to local peace and justice organizations this year! The evening is always a joyous and inspiring evening, and you are encouraged to come out! See the group's Facebook page for updates and more information.
Los Angeles
Friday, April 13, 7–9 a.m. Southern California War Tax Resistance (SCWTR) will give the introductory reflection on war tax resistance at the Friday Forum of the Interfaith Committee for Justice & Peace (ICUJP), Immanuel Presbyterian Church, 3300 Wilshire Blvd. 90010. Contact SCWTR for more info: (408) 206-7992.
San Diego
Tuesday, April 17, Noon–2 p.m. A Bake Sale for the Air Force? Hosted by the Peace Resource Center of San Diego envisioning a time when "schools have all the money they need and the air force needs to hold a bake sale to buy a bomber or the Border Patrol a border wall. No time like the present to make this a reality! Join us as we sell baked goods* and show people just what their federal taxes are buying!! Meet us on the sidewalk outside the Internal Revenue Service, 880 Front Street in San Diego, 92101.
* no money raised will actually be given to the Air Force or to Trump's wall
Colorado
Boulder — Rocky Mountain Peace & Justice Center, (303) 499-9456 or Email
April 13–16, midday. Flyering on the downtown mall. Look for Gary Erb leafleting with war tax resistance materials.
Illinois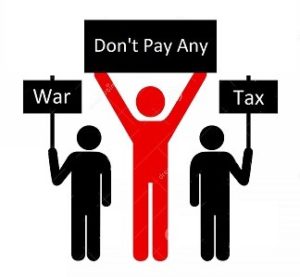 Chicago — War Resisters League, Chicago Chapter
Monday, April 16, 11 a.m.–1 p.m., Pay No War Tax Demonstration with speakers and leafleting at Federal Plaza, Dearborn + Adams Streets. in downtown Chicago. Participate in the "penny" poll using "democracy dollars" to show where you want your money to go. For more information contact:
Charles Paidock, (312) 714-7790 or Brad Lyttle, (773) 324-0654.
Indiana
South Bend — Contact Michiana War Tax Refusers
Monday, April 16, 4:30–5:30 p.m. Vigil to catch folks leaving work  outside the Federal Building in downtown South Bend.
Iowa
Des Moines — Iowa Peace Network, (515) 255-7114
Tuesday, April 17, 5 p.m. Join others to protest the huge inequities in how our tax dollars are used—a bloated military budget while human needs go unmet. Meet at Cowles Commons, 221 Walnut Street.
Louisiana
New Orleans
Tuesday, April 17. Leafleting with the "where your income tax really goes" pie chart on a busy corner. To check time and exact location contact Pax Christi New Orleans, (504) 522-3751.
Maine
Statewide — Contact Maine WTR Resource Center or by Email or (207) 558-5758. Download and print a list of these actions here.
Tabling and leafleting at locations around the state.
Mon., 4/2, 2–4 p.m. Southern Maine Community College Campus Center
Sat., 4/7, 10 a.m.–2 p.m., Belfast Coop
Tue., 4/10, 11 a.m.–2 p.m. Bates College Commons, Lewiston, ME
Wed., 4/11, 10 a.m.–3 p.m. University of Southern Maine, Portland, Student Union, with polar bear!
Sat., 4/14–Mon. 4/16 Table and workshop "Organizing Against Militarism in your Community" at Resources for Organizing Social Change's Youth Activism Gathering, Pine Tree Camp, Rome, ME
Sat., 4/14, 11 a.m.–3 p.m. Blue Hill coop
Sat., 4/14, 11 a.m.–1 p.m., and Tue., 4/17 11 a.m.–1 p.m. Damariscotta post office (PO)
Tue., 4/17, 11 a.m.–1 p.m., Unity College student union lobby
Tue., 4/17, 8 a.m.–5 p.m., Lobsterman Park outside Nickelodeon Movie Theater, Portland, with Downeast band Fire in the Commons and speakers from Noon to 1 p.m.. (rain location: Portland Media Center, 516 Congress St.)
Tue., 4/17, 10 a.m.–2 p.m. UMaine, Farmington, student union
Tue., 4/17, 11 a.m.–1 p.m. Brunswick PO sponsored by PeaceWorks
Tue., 4/17, 11 a.m.–1 p.m. Unity College student union lobby
Tue., 4/17, time TBA, Bowdoin College
Tue., 4/17, 11 a.m.–2 p.m., UMaine, Orono, student union
Tue., 4/17, 11 a.m.–1 p.m. and Wed., 4/18, 11 a.m.–1 p.m. UMaine, Machias, Torrey Hall next to the library
Dates TBA — College of the Atlantic; Ellsworth, ME; USM, Lewiston; University of New England Earth month; Bethel.
Contact the Resource Center if you would like materials for leafleting or a literature table.
Massachusetts
Boston — Sponsored by Massachusetts People's Budget Campaign, Veterans For Peace — Boston, Smedley D. Butler Brigade, Massachusetts Peace Action, American Friends Service Committee. Click on the graphic download the outreach flyer (4 pp).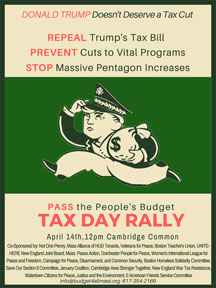 Saturday, April 14, Noon–2:30 p.m. — Cambridge Common, Garden St. and Massachusetts Ave. President Trump's tax bill is ensuring billions of dollars in profits to large corporations and peanuts to working people. His Pentagon spending will lead to more wars, kill a lot of people, and make us less safe. Cuts in essential programs from Climate protection to Medicaid, Housing, Social Security and Medicare are in the offing. We must turn around Washington's budget insanity. Join us on Tax Day to call attention to these dangers while promoting our budget priorities to fund the programs we all need. At AFSC, contact Paul Shannon.
New England War Tax Resistance will have a table, penny poll, and announce grants from resisted taxes alternative fund. Contact NEWTR to participate with them.

Minnesota
Minneapolis
Sunday April 15, 1:30 p.m. "A Call to End Endless U.S. Wars" rally and march initiated by Minnesota Peace Action Coalition with many co-sponsors including Minnesota War Tax Resisters. Meet at Lagoon and Hennepin in Minneapolis at 1:30; march steps off at 2 p.m. See paying4peace on Facebook; for more info see the Facebook event.
New York
Kingston
Tuesday, April 17, Noon–1 p.m. Cut War Spending — Fund Human Needs. Vigil and flyering during lunch hour with Tin Horn Uprising marching band in front of Congressman Faso's office, 721 Broadway, Kingston (next to Broadway Lights Diner). Sponsoring organization: Rise Up Hudson Valley. Email Rise Up for more info.
New York City
Sunday, April 15, 2 p.m. "End the Wars at Home and Abroad!" Herald Square, 34th Street & 6th Ave. followed by a march to Trump Tower. NYC War Resisters League & war tax resisters will meet at 33rd & 6th Ave., NE corner at 2:30. Rally with speakers including Medea Benjamin of Code Pink, Ajamu Baraka of the Black Alliance for Peace, Chris Silvera, Secretary Treasurer of Teamsters Local 808 and many others. Initiated by the Coalition Against U.S. Foreign Military Bases with many endorsers and similar actions in cities around the country. See Spring 2018 Actions. More info: Springactions@gmail.com or call (518) 281-1968.
Tuesday, April 17, Noon–1 p.m. Vigil and leafleting outside the IRS office, 290 Broadway at Duane Street, across from the Federal Building. War tax redirections may be announced. Sponsored by NYC War Resisters League, Sponsored by NYC War Resisters League, Granny Peace Brigade, Catholic Worker, Kairos, World Can't Wait, Veterans for Peace/Chapter 34, NYC Metro Raging Grannies, Brooklyn For Peace (list in formation). Click "going" on the Facebook event page or for more info call (718) 768-7306.
North Carolina 
Asheville 
Tuesday, April 17. Leaflets will be passed out downtown. Contact Jim Stockwell for information: (828) 675-5448
Oregon
Portland — Sponsored by War Resisters League of Portland/Oregon Community of War Tax Resisters. Contact Kima at (503) 249-6343 or John Greushow.
Saturday, April 14, 11 am.  Annual "Burma Shave" style signs on the bridges demanding no taxes for war. Meet at the east end of the Burnside Bridge and MLK Blvd.
Eugene — Contact Taxes for Peace!

Sunday, April 15, 1–3 p.m. Rally and tabling at EWEB then march to the old Federal Building then on to the new Federal Building and then loop back to EWEB. Speakers, music, Spanish and sign language interpreters, penny poll, and a "bar graph" along the march route showing folks how much of their tax dollars goes to military versus education, environment, etc. Stops along the route will mark points on the graph — showing how far you walk to fund people & planet vs. military. Music and speeches and giving away resisted tax money at the end. Sponsors include Eugene Taxes for Peace!, Community Alliance of Lane County,Indivisible Eugene, and more. See the Facebook event.
Pennsylvania
Philadelphia
Tax Day Demonstration — Granny Peace Brigade Philadelphia
Tuesday, April 17, 11 a.m.–1 p.m.. Join the Granny Peace Brigade and WILPF at the Broad and Sansom Street Post Office, Center City. We will be polling passersby regarding how to spend our tax money. GPBP sends the poll results to local leaders. Don't miss the photo opportunity with our own Uncle Sam!!!! Cosponsored by Brandywine Peace Community.
Lehigh Valley — Lepoco Peace Center
Tuesday, April 17, all day, various locations. Help Distribute "Where Your Income Tax Money Really Goes" flyers from the War Resisters League at local post offices. Call LEPOCO (610) 691-8730 to choose your location & time. This is important!
Tennessee
Knoxville — Oak Ridge Environmental Peace Alliance or see the Facebook event
Tuesday, April 17, 11:45 a.m.–1 p.m.. Meet at Market Square where Uncle Sam will be asking passers-by to take their tax dollars and "vote" for their spending priorities by placing them in the train car—education, environment, health care—that they want to fund. Sadly, their tax monies will be swept up by "Senator Alexander" and used to fuel his UPF BOMB PLANT EXPRESS. At 12:45 we will depart Market Square, taking the whole train over to Alexander's office to ask for answers to a simple question: why are you spending our tax dollars on a bomb plant when we need raises for teachers, housing for the homeless, affordable health insurance for hundreds of thousands of uninsured Tennesseans, protections for the environment…????
Texas
Austin— Austin Conscientious Objectors to Military Taxation
Sunday, April 14, 4–5:30 p.m.. "Bridge Action" — I'd Rather Buy ______ than War! We will invite passersby to tell us what they'd rather buy than war. On the Pfluger Pedestrian Bridge over Lady Bird Lake, downtown just east of the Lamar Bridge, Austin. For more info: Susan Van Haitsma, (512) 467-2946 jeffjweb@sbcglobal.net
Vermont
Brattleboro — Contact Pioneer Valley War Tax Resistance or call (802) 387-2798
Tuesday, April 17, 10 a.m.–3 p.m. War tax resistance literature and counseling, plus music appropriate for these times. Outside the Brattleboro Food Coop, 2 Main Street. See the article in the Valley Post.
Virginia
Lynchburg
Tuesday, April 17, 7 p.m.–10 p.m. Screening The Pacifist, a feature-length documentary film about Larry Bassett and his massive war tax resistance journey. The film follows his personal progress, reasons and decisions about refusing to pay for war, but the greater themes and messages of the war tax resister movement are front and center.  On that day, Larry's tax resistance total will come to almost $200,000. At Riverviews Artspace. Free and followed by a Q&A with Mr. Bassett and the film's producer/director, Alex Zhort. For more info see the Facebook event.
Washington
Seattle — Veterans For Peace Chapter 92
Tuesday, April 17, 11 a.m.–1 p.m.. Tax Day Action at the Federal Building (915 2nd Ave.), organized by Veterans For Peace, Chapter 92.
Wisconsin
Milwaukee— contact Milwaukee War Tax Resistance & Casa Maria Catholic Worker
Tuesday, April 17, 5–6:30 p.m. Tax Day Vigil at the Downtown Milwaukee Post Office, 345 W Saint Paul Ave.. For more information email or call Lincoln Rice — (414) 342-1911.
---
Add Your Event