The National War Tax Resistance Coordinating Committee's November Conference will kick off with a social hour to connect with folks in the network on November 5th. The full schedule is here as well as information on how to register. Saturday will feature a panel discussion with tax resisters from Europe including speakers from Money Rebellion, a project of Extinction Rebellion UK and the Antimilitarist Tortuga Grup in Spain. Both groups advocate withholding taxes as a political tool. The conference will also be taking place as people gather in Europe for the UN Climate Change Conference of the Parties (COP 26) in Glasgow from October 31 to November 12. World Beyond War has circulated a petition to Stop Excluding Military Pollution from Climate agreements. 
Over the past year, the Extinction Rebellion has experimented with withholding taxes as a way to exert pressure on governments to implement changes to address the climate crisis. The Antimilitarist Tortuga Grup has been in existence since 1999 and has been advocating for people to utilize the personal income tax declaration to expose the immorality of war and withhold 1 Euro to protest spending on the military. It is reminiscent of some war tax resisters in the U.S. stating that it would be more powerful for 1,000 people to resist $1 than one individual resisting $1,000 for military spending.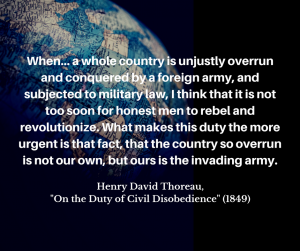 Henry David Thoreau expressed a similar sentiment in On the Duty of Civil Disobedience, "If a thousand men were not to pay their tax-bills this year, that would not be a violent and bloody measure, as it would be to pay them, and enable the State to commit violence and shed innocent blood."  Thoreau wrote the pamphlet after giving an impassioned speech in 1848 motivated by his disgust of slavery and U.S. imperialism, especially related to the Mexican-American War (1846-1848).
Fort Jefferson at the Dry Tortugas

In 1846, the U.S. military embarked upon building the largest fort in the Western Hemisphere, Fort Jefferson at the Dry Tortugas. The outpost on Garden Key, west of Key West, Florida, was under construction for over 30 years and was never completed. Enslaved people, Irish indentured servants, and soldiers laid over 16 million bricks of walls 8 feet deep and surrounded by a moat. The outpost in the Gulf of Mexico held prisoners of war and war resisters during the U.S. Civil War. The most famous person to reside on the island was Dr. Mudd, who treated John Wilkes Booth and later was pardoned after saving many lives during the pandemic of the day.
The seemingly remoteness of the island served as a pivotal point of access for the early colonizers of the Americas with Ponce de Leon's arrival in 1513. The abundance of tortugas, or sea turtles, allowed for many voyages across the sea with the turtles kept alive on the ship providing sustenance to the crews. The fort was established to protect and safeguard U.S. shipping routes and defend the Gulf of Mexico. 
After the Civil War, construction continued at Fort Jefferson, but hurricanes and yellow fever finally led to a halt in pouring more resources into the structure. In 1888, it was a national quarantine station for many years as well as a coaling station. In 1908, it was designated a wildlife refuge and became Dry Tortugas National Park in the early 1990s. Unlike many former military bases that become SuperFund sites, the keys around Fort Jefferson are abundant with life including dolphins, man of wars, stingrays, and tortugas. It also hosts the last known living coral reefs in the U.S. 
The Beauty of Turtle Island
There have been many paths that have brought people to Turtle Island, as it is known by the people indigenous to these lands.  Some came here out of economic necessity, some to avoid wars, and some against their will. While it is often difficult to acknowledge all of the harm caused on these living lands and our culpability in these harms, it is in seeing the beauty that abounds that we can truly claim these lands and our role in mitigating further harm.
It is difficult to look upon any military structure, and this one in particular, and not wonder and lament what could have been created from all of these resources and human labor that could benefit authentic human needs and ensuring a livable planet. I think of war tax resisters as the brick layers of a brighter future. One brick at a time.
Post by Chrissy Kirchhoefer