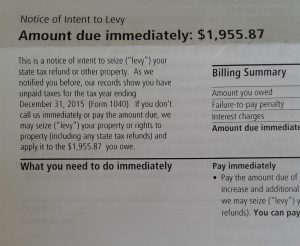 Over the past few weeks, several resisters in the NWTRCC network have reported getting unusually swift Notices of Intent to Levy by certified mail from the IRS. (A Notice of Intent to Levy is the last letter the IRS must send you before they can begin collection action, assuming you don't dispute their tax assessment or pay up. For a quick guide to some other common IRS letters, see this blog post.)
Ruth Benn reports getting a certified letter for the first time in years. (She had refused to sign for other certified letters in the past. As a result, for a while the IRS sent her Notices of Intent by regular first-class mail.)
Larry Bassett reports: "I have come to routinely expect the IRS to send out four letters before they send out the certified notice of intent to seize six or more months after tax day. This year there was only one letter and the notice to seize arrives just a little more than two months after tax day. Only time will tell if this small variation on the theme really means anything."
I recently received a Notice of Intent to Levy by certified mail, after only one prior letter about my unpaid 2017 taxes. In past years, I have received this notice after two or three other letters.
Here's what our very helpful resource, Practical War Tax Resistance #3: How to Resist Collection, Or Make the Most of Collection When It Occurs, says about the typical order of operations:
"After assessment, the IRS sends the tax resister several computer-generated payment notices. These escalate in severity of tone, trying to persuade the resister to pay up. If they don't produce payment, the IRS will send by certified mail a "Final Notice," [the Notice of Intent to Levy referred to above] and if you do not pay within 30 days, they may seize your bank assets, wages or other property. Though they can begin enforced collection 30 days after mailing the Final Notice, it often takes several months, or longer, before they get around to active collection attempts."
Click the link above to read more about what the IRS typically does (and what they're allowed to do) when trying to collect unpaid taxes from war tax resisters.
Are you a current resister? Have you experienced a shift in how the IRS communicates with you this year? Let us know in the comments or contact the NWTRCC office.
Post by Erica Leigh