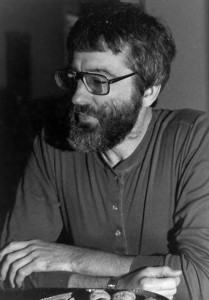 In 1985, the IRS took war tax resister and NWTRCC staff member Larry Bassett to court. Bassett had refused to pay any income taxes since 1980, and had refused the federal excise tax on telephone service since the early 1970s. The IRS wanted to compel him to give up information about his financial accounts so the agency could collect his refused income taxes.
The case began very quickly, with a January 21 Order to Show Cause, requiring Bassett to appear for a January 31 court date. He wrote to the judge on January 22, stating his intent to appear as ordered, and noting:
"I am not opposing taxation; I have paid the self-employment tax to support the Social Security system….

"I have not benefited financially from my war tax resistance. I have redirected all of my resisted war taxes to groups working for peace, justice and to organizations meeting basic human needs. I have shared this information with the IRS and other public officials.

"Since I have refused to voluntarily pay my federal income tax money because more of taxes would go to support militarism than everything else combined, I will not cooperate by giving information that will allow forcible collection."
(In 1981, 63% of every income tax dollar, or $431 billion, went to the military. Although the percentage of the total budget is much lower in 2017, with 44% of every dollar, now $1,357 billion goes to the military.)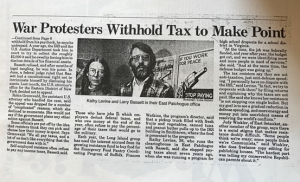 After the January 31 appearance, Bassett and the other NWTRCC staff member at the time, Kathy Levine, assembled a legal team (including, at various times over the course of his case, Harry Kresky, Cora Glasser, Jay Rosner, Peter Goldberger, Vicki Metcalf, and Mitchell Gittin) and a legal defense fund. On March 5, US District Judge Jack Weinstein ordered Bassett to comply with the IRS and provide financial information. He would face potential jail time on contempt of court if he did not comply. Bassett noted, in a letter to supporters, that the legal attention he was receiving is unusual for war tax resisters:
"I want to emphasize to those of you who are thinking about becoming war tax resisters or who are war tax resisters that it is most unlikely that you will ever reach a situation as a war tax resister where jail is possible unless you want it to be possible. [emphasis in original] Jail or even court is extremely unusual in war tax resistance."
After a few more months of legal wrangling, continuing to refuse to give financial information even at the risk of jail time, Bassett appeared in court on June 5. His legal team argued that,
"I should not be compelled to assist government collection of conscientiously resisted federal income taxes…

"We are not challenging the right of the government to tax but asserting that the government must accommodate the conscientious beliefs of citizens…

"We are also arguing that I should be 'protected by a valid privilege under the Fifth Amendment Self-Incrimination Clause.' I have been asked to give the government information which could eventually be used to criminally prosecute me."
On June 14, Judge Weinstein dismissed the US government's case against Larry Bassett on Fifth Amendment grounds (before the legal team was able to additionally argue the case on the basis of international law). Before and since Bassett's case, other war tax resisters have won their cases due to the Fifth Amendment, including Robin Harper, Margaret Haworth, and Ed Hedemann. In a few other cases, the IRS withdrew the Order to Show Cause once the resister cited Fifth Amendment rights.
This case was an important victory for Bassett and raised the profile of war tax resistance and the National War Tax Resistance Coordinating Committee (just a couple of years after its founding in September 1982).  To learn more about the progress of the case and the support and publicity Bassett received for taking a stand for peace, read these collected primary sources in two parts, with additional letters of support (courtesy of Larry Bassett).
Post by Erica