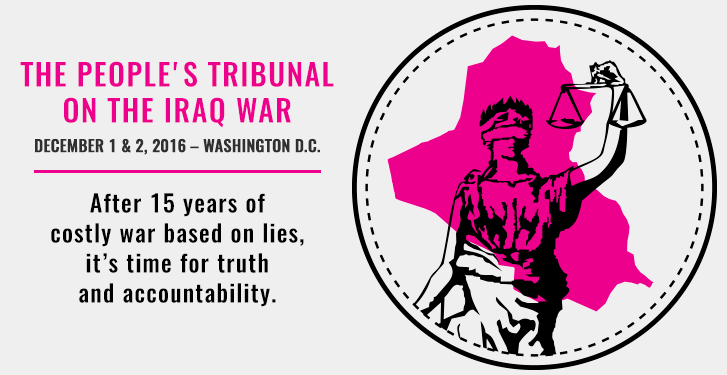 The People's Tribunal on the Iraq War is taking place tomorrow, Thursday, and Friday, December 1 and 2.
Tune in 9:30 AM – 4:00 PM Eastern time, December 1 and 2, through the Iraq Tribunal page , or watch directly on TheRealNews. Participate in the conversation via the Facebook page and on Twitter by following @IraqTribunal and using the hashtag #IraqTribunal.
More about the tribunal:
Organized by CODEPINK and supported by dozens of other groups, the tribunal is an opportunity to gather a great deal of testimony and experience in one place. CODEPINK says:
After 14 years of costly war based on lies, it's time for truth and accountability. The People's Tribunal on the Iraq War will unify the global anti-war/peace movements with other justice movements by uplifting testimonies of the costs of this war—and war itself. The Tribunal will bring the lies that created the war on Iraq into public awareness, while demanding Obama act on them. It will build and inspire the anti-war movement that we will need after the inauguration of the next administration in 2017. It will be a tool that all groups can use to build, inspire, and enliven their organizations and communities.
The major demand of the tribunal is for President Obama to form a truth and reconciliation commission to evaluate the costs, lies, and repercussions of the Iraq war. Although the the Iraq war is officially over, US troops are back in Iraq, participating in the war against ISIS. And as the witnesses will remind us, the costs of the Iraq war are continuing today, and the lies that were told continue to affect political decisions and discourse today.
Many war tax resisters are participating in the tribunal as witnesses, including Matthew Hoh and Kathy Kelly on Day 1 and Dana Visalli and Sam Koplinka-Loehr on Day 2. (You can also hear Sam talking about the #IraqTribunal and war tax resistance on Monday's episode of Clearing the FOG radio.) Witnesses will recount personal experience and/or community knowledge about the costs and lies of the Iraq war.
Other Day 1 witnesses include Chris Hedges, Cynthia McKinney, Noam Chomsky, and Vijay Prashad; Day 2 includes Bill Fletcher, Glen Ford, Chase Iron Eyes, and Darakshan Raja. Both days have dozens of witnesses, and everyone's names are listed on the Iraq Tribunal page.