Refusing to pay federal income taxes is an act of civil disobedience with a long history in the United States and around the world. America's most well-known war tax resister was Henry David Thoreau.
Born on July 12, 1817, Thoreau's bicentennial year is being celebrated in 2017. Thoreau is usually remembered as a transcendentalist author, exploring themes around nature, the self, and the meaning of life. However, his words have also inspired multiple generations and different communities to resist injustice, including war and slavery.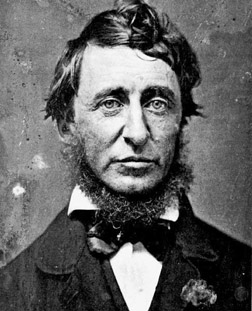 From 1841 to 1848 (except for 1843 when he was out of state), Henry David Thoreau refused to pay the annual $1.50 ($36 in 2010 dollars) Massachusetts poll tax because of his disgust for slavery and then the Mexican-American War (1846-1848). He saw withdrawing one's own support for evil was a necessary prerequisite for beginning to consider plans for good. His July 1846 arrest and the night he spent in jail was recorded in his essay, "On the Duty of Civil Disobedience." Against his wishes, his aunt paid the tax the next morning, which resulted in his release, according to Sam Staples, the tax collector and Thoreau's jailer (interviewed by Samuel Arthur Jones, The Islander, Ann-Arbor, MI, 1898).
Many war tax resisters look toward Thoreau's powerful essay, "Civil Disobedience," as one of the inspirations for their resistance. In the bicentennial of his birth, we celebrate the spirit of disobedience in his writings and urge people to consider their own acts of resistance against government-sponsored violence and wars.
Articles and Links
Thoreau's work is still relevant by David Gross (with response by Lawrence Rosenwald)
The Theory, Practice and Influence of Thoreau's Civil Disobedience by Lawrence Rosenwald, Professor of English and of Peace and Justice Studies, Wellesley College
Tax Refusal as Conscientious Objection to War  by Melvin D. Schmidt. Originally published in The Mennonite Quarterly Review, July, 1969
On Being a Very Public War Tax Resister and On War Tax Resistance by Lawrence Rosenwald. Essays by a war tax resistance influenced by reading Thoreau.
MLK inspired by Thoreau's civil disobedience Blog post with quotes from King
Also see, Pioneers of the Modern American War Tax Resistance Movement, and take note of the entries for A.J. Muste, who would send the government a bible and a copy of Thoreau's Civil Disobedience in lieu of his tax return, and for Dorothy Day, who wrote "'Render to Caesar the things which are Caesar's.' Yes, and we have heard too much of that. [I]n these days it would be desirable to go even further, as did Thoreau, to refuse even the taxes which were to be used to pay for the means to kill our fellow man."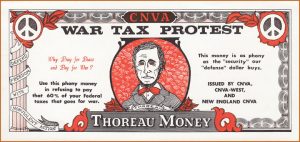 Thoreau Money Protest — The bills were designed by Markley Morris in 1966 during the Vietnam War for the Committee for Non-Violent Action (CNVA). Markley is still active and involved in antiwar activities today. The story of Thoreau money can be read here.
Have an idea for a redesign for today? Email us!
Available from NWTRCC
Thoreau and His Heirs: The History and the Legacy of Thoreau's "Civil Disobedience" — a National War Tax Resistance Coordinating Committee Study Guide and Kit
Read and download online
Order the kit from our store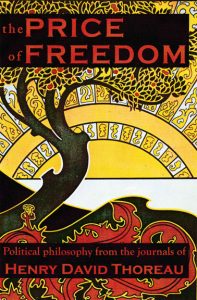 The Price of Freedom: Political Philosophy from the Journals of Henry David Thoreau  edited by David M. Gross (Picket Line Press, 2008, 250 pp.) Order the book from our store.
Civil Disobedience
Henry David Thoreau's famous 1849 essay about being jailed for refusing to pay a poll tax that supported slavery and the Mexican-American War. From the A.J. Muste Memorial Institute Essay Series. Order the pamphlet from our store; order bulk copies from the Muste Institute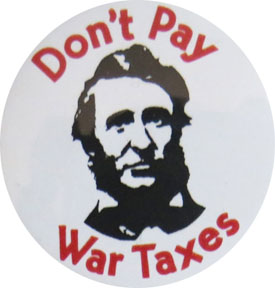 "Don't Pay War Taxes" 1¾″ button with Thoreau image. Order from our store.
---
For information about other activities during the bicentennial year, see the Thoreau Bicentennial website or the Facebook page.