The bright red slices of pie on War Resisters League's new "Where Your Income Tax Money Really Goes" flyer have shrunk well below 50% this year. For years we've been demanding a budget that prioritizes humanitarian and social needs over military spending. It almost makes us want to celebrate…almost.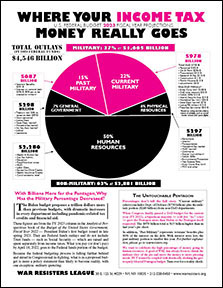 Biden's budget proposal for FY 2023 totals a trillion dollars more than previous budgets with dramatic increases in every department, including tax credits that have really helped the poor in recent years, pandemic relief, big jumps in the Department of Education, food and housing programs, pandemic-related relief, infrastructure and other positive programs.
But — isn't there always a but — before we pop the champagne, there's more to consider than just a glance at the pie and percentages.
Ed Hedemann and I analyze the budget and write the pie chart for WRL, and it is a project that becomes more challenging as the federal budget process gets more and more dysfunctional. The President is supposed to release the proposed budget in early February, and Congress is supposed to debate and pass a new budget by the start of the federal fiscal year each October 1.* However, it was not until March 10, five months into the current 2022 fiscal year, that Congress finalized and passed a budget.
Because it takes so long for real spending to be reflected in the published budget, what we see year after year is a proposed budget that is more a policy statement than likely to become reality, with one exception: military spending.
You may recall that the FY2022 budget that Congress just passed included even more for the Pentagon than military or Biden requested, a whopping $730 billion. And, that's just for the Pentagon; it does not include all those other agencies that we list under current military that have "security" functions. And Congress added another $13.6 billion for the Ukraine, about half of which is military aid. (At the same time, they took out the Covid aid package and, of course, had already refused to pass legislation to address climate change and invest in child care, health care and education.)
So, while the pie itself looks better than most years, percentages don't tell the full story. On this current flyer, the $978 billion total is $13 billion higher than our analysis last year. It's obscene.

data from DoD "National Defense Budget
Estimates for FY 2022," August 2021, table 6.3
It's no time to celebrate. It's certainly no time to stop resisting!
— Post by Ruth Benn
* National Priorities Project has a good outline of the process and more budget explanations on their website. They also have a glossary that explains the difference between "mandatory" and "discretionary" spending, both of which add up to "where your income taxes go." The WRL pie chart includes both. Many other organization show percentages based just on discretionary spending.
P.S. In the course of posting this blog suddenly a rather large word mix-up in the flyer headline jumped out at me (online versions are getting fixed). With thousands printed, we'll have to live with it — and the embarrassment that we and proofers didn't catch it. Oopsie…