"Can the IRS" was one of my favorite actions at the IRS. It was organized by John-Ed Croft, a homeless artist with a creative, activist mindset.
This was the fall of 1987, and John-Ed was living in a squat at the time, but had also spent many a night in an unused building in Central Park and a lot of time in what he called a "cardboard condominium" in midtown Manhattan.
John-Ed came by the War Resisters League office where I was working to ask for support for his latest campaign. The IRS was after him for more than $11,000 in back taxes, and he had decided to pay them "in the currency of the homeless." He was organizing the "Can the IRS Rally" to collect cans from far and wide and deliver them to the IRS with a message that money was needed for homes, not the military.
One year of today's $740 billion Pentagon budget would build roughly 70,000 five-story, 50-unit apartment buildings. That's a lot of housing over the 33 years since John-Ed canned the IRS. (And that's just the base Pentagon budget, not including all the money for nuclear weapons and weaponized programs in other government agencies.)
As I was thinking about John-Ed recently, I did what we all do if we want to find out about someone we have not seen in years — search his name online. Sadly the first thing that popped up was his obituary. He died of Covid-19 last April in a New York hospital during the height of the pandemic here.
The National Priorities Project tells me that for one year of that Pentagon budget we could instead have:
24 million people receiving $600 weekly unemployment insurance payments, or
20 billion Coronavirus tests, or
217 billion N95 respirator masks.
And maybe a down-payment on health care for all.
I am glad to see that John-Ed did make it to a pretty ripe old-age of 85 despite some years of tough life on the streets. But we know that every day more and more are made homeless by the disastrous priorities of the U.S. government, and not just here in the United States.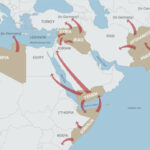 The Cost of Wars project  notes: "The U.S. post-9/11 wars have displaced at least 37 million people in and from eight countries: Afghanistan, Iraq, Pakistan, Yemen, Somalia, the Philippines, Libya, and Syria."
The ramifications of militarized U.S. policies are rarely connected to the constant news about "hordes headed to our borders." We can be hopeful about changes in policies like the Biden order to end the "former guy's" travel ban from several countries, but it is long past time to get to the heart of the problem. Demilitarize and redirect the thinking, policies, and the budget so that everyone can live where they want to live with a roof over their head. We can demilitarize our own tax dollars by refusing to give them to the IRS and redirecting our own resources to services for the homeless — and so many other underfunded, life-supporting causes.
— Post by Ruth Benn
Addendum: I have now learned from a friend who knew John-Ed that he did live in an apartment over the last several years. He continued his painting and had shows at community-created art spaces in the East Village. At the time of the rally the IRS responded that they had no provision for accepting payment in cans.