When NWTRCC originally reached out to members of Code Pink to share a report back from their recent delegation for our May meeting in Washington DC, we could not have been fully aware of the timeliness of the situation in Iran and the rapidly changing US policy. Code Pink, co- founder Medea Benjamin shared her reflections of the 28 member delegation in March. She shared stories of some of the 80 million Iranian people who have been suffering under increasingly crippling sanctions as well as an increasing threat of war.
As NWTRCC members were wrapping up our gathering in Washington DC and joining in support of some members of Code Pink at the Venezuelan embassy, the USS Abraham Lincoln carrier strike group was arriving to the US Central Command in the Persian Gulf even though US intelligence officials stated 2 days earlier there were no indications of any increased threat posed by Iran. The aircraft carrier, B-52 bombers, patriot missile interceptor and naval firepower to the Gulf region had left the Virginia area on April 1st as part of a "routine operation." But on May 5th, National Security Advisor, John Bolton announced the new deployments to the Persian Gulf area as part of a "troubling and escalatory indications and warnings" from Iran. It appeared that the US was sending a strong message to Iran.
Later that week on May 9th, Patrick Shanahan was nominated to Secretary of Defense by President Trump on Twitter. The former executive with 30 years with Boeing, had faced a month long Pentagon ethics investigation to inquire if he had acted improperly in discussing military contracts and would hinder his experience as the top Pentagon chief. On the day of his nomination, Mr. Shanahan presented an updated plan to send up to 120,000 troops to the Middle East.
The revisions were ordered John Bolton who has long advocated for regime change in Iran (as well as Venezuela, North Korea, Syria, Libya, Cuba, and Yemen) The troop deployment to the Middle East would lock in 10% of the 1.2 million active US military to a region in which US presidents have been attempting to remove troop presence.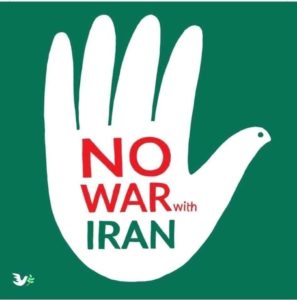 The following week began with attempts to link Iran with damage to four oil tankers in the Strait of Hormuz.  Many have been making the connections not only to the Shock and Awe campaign of the second Gulf War but also to the Gulf of Tonkin that led to the escalation of the war in Vietnam. Although it seems as though there is a new sense of secrecy in US military plans as Trump stated when asked about increased "We have information that you don't want to know about."
There have been so many new development with Iran in recent weeks that have resulted in increased pressure on the ordinary people of Iran as well as policies between the US and Iran. The Revolutionary Guard of Iran has been deemed a "terrorist" organization, one of the key sanctions waivers for Iran to sell oil was not renewed by the US in a surprise move and yet the Defense Department has said that the sanctions on Iran are working better than they imagined.
Iran has been completely compliant in the Joint Comprehensive Plan of Action, the Iran nuclear deal, which has been deemed by some as one of the most comprehensive nuclear agreements. The US pulled out of the deal May 8, 2018 yet Iran remains engaged with no promise of any incentive.
When Secretary of State, Mike Pompeo unexpectedly met with some of the signatures of the Iran Nuclear Deal last week in Brussels, he was urged by members of the that the US exercise maximum restraint in dealing with Iran. Many in the international community have recognized that it has been the US government that has pulled out of the agreement while Iran has been completely compliant.
So often it seems easy to get caught up in the rhetoric of policy makers and lose sight of the people most impacted by the policies. Yet Medea reminded us that many of the people distinguish between the people of a country and their policies. In her parting words, she shared a quote from someone she met in Iran. "It seems as though the wars in the Middle East have been going on for so long that the people in the US have become immune to them and lost their ability to feel and have compassion for us. But this community is filled with compassion and we must figure out how to stop these next 2 wars with Iran and Venezuela."
Medea's words were quite powerful and I would encourage you to listen to her talk and suggestions for actions in preventing a war in Iran. Some suggestions for action were to educate yourself and others on the situation, to reach out to members of Congress to have them lift the sanctions against Iran and Venezuela, require that Congress invoke the war powers act and to advocate for the US to rejoin the Iran Nuclear Deal.
As War Tax Resisters, refusing to pay for war is a crucial step in our complicity to war making. There is renewed interest in WTR; I would encourage you to share your story with others. You never know who may catch courage and it may help show the people of Iran that we not immune and we do have compassion.
Post by Chrissy Kirchhoefer