Getting out of bed on a chilly and windy Sunday, about the last thing I wanted to do was go out to a rally and march that afternoon. I had to give myself an extra kick. After all, it was April 15 and a perfect day to do outreach about war tax resistance.
On the one hand, I can't say it was the best event I'd ever been to. I tire of endless speakers speaking mostly to the converted — a full two hours of that before the march to Trump Tower, so the crowd of some hundreds steadily dwindled before the march began.
On the subway on the way home I was thinking of other things I could have been doing that afternoon. At 14th Street two guys got on the train next to me. They had about 8 bags that seemed to contain food they were delivering to some Brooklyn event. They weren't saying much, mostly looking at their smartphones. Then, just as I was approaching my stop, one of these young men, certainly from an Arab country originally, looked at the button on my jacket and, much to my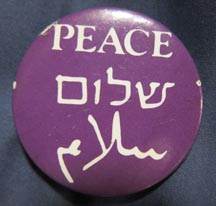 surprise, looked at me and said "Salaam." I responded "yes, we need it" or something and he said, "Were you at that rally today?" As I had to make my way off the train, he put his hand on his heart and said a sincere "thank you for what you are doing."
I suddenly felt 100% glad I went.
Twenty-five of us turned out for our annual tax day picket at the IRS offices in downtown Manhattan. I've gotten over being disappointed at the numbers, it's just something we feel we must do, and even for that hour or so something always makes it feel worthwhile. This year was it:
the guy who rushed by and looked at us on his way to lunch,  then  returned an hour later with a tray of coffee and hot chocolate (THANKS if you are reading this!)
or the two students from nearby Borough of Manhattan Community College, who came by at different times and each asked "is this the protest?" which made me laugh as I guess we didn't look like much. Their political science class assignment was to attend a protest and analyze the speeches, and they had found ours on the internet
the man who stopped to talk to me about war, feeling that sometimes military action is necessary, but then again he had read A Bright and Shining Lie, which changed his mind about the Vietnam

War; we talked about the current wars, and he mentioned that his family was originally from Pakistan, but he was still thinking about it all. When he had to leave he said "thank you for talking. I don't get to talk about these issues much."

• and especially the guy who stopped to sing a rousing rendition of "What's So Funny About Peace, Love, and Understanding" with Bud Courtney and Anthony Donovan, and then said he had to go back to his job — which turned out to be at the IRS.
I know that many people in our networks have given up on street protest, feeling it does not accomplish anything. As impatient as I am for radical change tomorrow, these smaller moments of outreach where you are maybe planting seeds or touching one person are everything from fun to  hopeful to personally re-motivating at a time when things look rather bleak.
One of the many homeland security or Federal Protective Services people hanging around our IRS picket asked Ed Hedemann whether we had a permit (Ed replied, "First Amendment") and hadn't we been there in the past. Yes, Ed replied, and we'll be here next year unless the U.S. ends war and disbands the Pentagon and military. I'll hope for the latter but plan to push myself out the door once again on tax day 2019.
— Post by Ruth Benn
P.S. Please share your stories below, and check out and add to our page of tax day reports and photos.