Tax weekend actions, April 2019
• How to set up a Penny Poll and other action ideas • Chants for tax day •
For workshops and presentations around the country, see the gatherings page.
Read about and participate in Collective Redirection — see p.5 of our newsletter for info about Collective Redirection and a reporting form.
---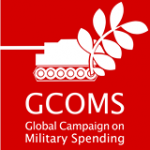 Also, see the Global Days of Action on Military Spending — US information and events list. NWTRCC supports this worldwide effort. International actions are listed here.
State By State NWTRCC network listings
California
Berkeley
Sunday, April 14, 3:00pm. Northern California People's Life Fund will gather at the BFUU Fellowship Hall (1924 Cedar St., Berkeley—Near North Berkeley BART) and distribute $15,000 in redirected taxes to amazing peace and justice organizations! The program includes a potluck dinner and the Granting Ceremony. For more information see, www.nowartax.org or contact nowartax@riseup.net.
San Diego Area
Saturday, April 13, 9:30am-2pm. Public Hearing by the People on the Immoral Budget & March to the Border. Event begins at Casa Familiar Civic Center (212 W Park, San Ysidro, CA). This event is the last stop on the Emergency Truth & Poverty Tour, Sponsored by the California Poor People's Campaign. For more information, see the Facebook event page.
Colorado
Colorado Springs
Friday, April 12, 11:45am-1pm. A penny-poll will be hosted downtown at the southwest corner of Pikes Peak and Tejon Street. For more information, contact Mary Sprunger-Froese at firststriketheatre@hotmail.com.
Delaware
Wilmington
Monday, April 15, Noon-1pm. Annual Tax Day Military Budget Demonstration at Rodney Square, Central Downtown Wilmington (

1000 N Market Street) M

eet at the civic center piece. Sponsored by Pacem in Terris Delaware.
Illinois
Chicago

Monday, April 15, 11:00am-1pm. "Don't Pay Any War Tax Demonstration." At Federal Plaza on the Corner of Dearborn & Adams. Will include a public act of Civil Disobedience. Sponsored by the War Resister League – Chicago Chapter. For more information, see www.wrlchicago.org.
Indiana
South Bend

Iowa
Des Moines

Monday, April 15, 1:30pm. Rally at the Des Moines Federal Building – 210 Walnut. A petition against taxes for war will be delivered to Senators Ernst and Grassley. Petition can found here. Feel free to sign. Sponsored by Catholic Peace Ministry, Iowa Citizen Action Network, Iowa Peace Network,  Methodist Federation of Social Action, Progress Iowa, STAR*PAC and Women's International League for Peace and Freedom.
Monday, April 15, 6:00-8:00pm. "Tax Justice, Where Should our Taxes Go? Presidential Candidate Forum" at Northwest Community Center (5110 Franklin Ave). Catholic Peace Ministry, Iowa Citizens Action Network, Progress Iowa, Methodist Federation of Social Action, STAR*PAC, and WILPF Des Moines have invited all presidential candidates to answer three questions,  one focused on reducing military spending, one on climate crisis priorities, and one on shifting the tax burden to the wealthy.  Tulsi Gabbard has committed to being there and Julian Castro will be letting them know.  Other candidates have been provided the questions, with the expectation they will respond by video.
Maine

Belfast

Wednesday, April 17, 6:00pm. Free Screening of "An Act of Conscience" at the Belfast Free Library (

106 High St

.) A post-film discussion will be led by former NWTRCC Administrative Committee member Jason Rawn. Sponsored by Waldo County Peace & Justice (https://www.facebook.com/WaldoPeaceandJustice/). For more information, contact Cathy Mink at (207) 323-5160.
Brunswick

Portland

Tuesday, April 16, 4:00pm. Let's talk taxes! Over Pizza: Presentation, Conversation & Action at Abromson Community Education Center, Room 216. Free and open to the public, to reflect on federal budget and values. Sponsored by Peace Action Maine, with Devon Grayson-Wallace, former FCNL lobbyist and board member of Peace Action Maine. For more information call 207-772-0680 or visit the Facebook event here.
Massachusetts

Boston

Missouri

St. Louis

Wednesday, April 17, Noon-1pm. Penny Poll and Distribution of WRL Piechart Budget 2020 at 4 South Central Clayton. Sponsored by Women's International League for Peace and Freedom, & Peace Economy Project. For more information, contact Chrissy Kirchhoefer at 314.660.2300 or outreach@nwtrcc.org.
New York

Manhattan
Monday, April 15, Noon-1pm. Vigil and leafleting outside the IRS office, 290 Broadway at Duane Street, across from the Federal Building. War tax redirections may be announced. Info: Sponsored by NYC War Resisters League, NYC Catholic Worker, Kairos Community, Peace Action NYS, Brooklyn For Peace, Veterans for Peace/Chapter 34, CodePink NYC, Raging Grannies, Pax Christi Metro New York, Granny Peace Brigade, Peace Action Bay Ridge, Bronx Peace Action, Samidoun: Palestinian Prisoner Solidarity Network, NYC Democratic Socialists of America Anti-War Working Group, World Can't Wait. For more information: https://www.facebook.com/events/2350470898539532/ or www.nycwarresisters.org/demonstrations or call (718) 768-7306.
Oregon

Eugene

Monday, April 15, 3pm. Taxes for Peace Not War, along with Community Alliance of Lane County, 350 Eugene, Oregon Women's Action for New Directions, & Extinction Rebellion will rally at the old Federal Building at 211 East 7th Ave (location of IRS office). At 4pm they will deliver a signed letter to the IRS. Then they will march to the new Federal building at 405 East 8th Avenue to deliver copies of the letter to federal representative Peter DeFazio and federal Senators, Jeff Merkley and Ron Wyden. The event will include signs, chants, songs, and speeches. People interested in signing the letter, helping to organize the event, or needing more information can call Sue Barnhart at 541-731-1189 or suebarnhart2@gmail.com.
Portland

Monday, April 15, 7:30-9am. Sign-holding on Portland bridges (Burma Shave Style). Meet at E. Burnside and MLK Jr. Blvd. Sponsored by War Resisters League – Portland. For more information, Email: jgrueschow@comcast.net.
Pennsylvania

Philadelphia

Monday, April 15, 11:30am-1pm. Leafleting & Penny Poll at the Corner of Broad and Sansom Streets. Results of the poll will be sent to local representatives. (In case of inclement weather the event will move indoors to the Suburban Station transit complex in front of the underground Post Office near the 15th Street stairway entrance.) Sponsored by the Granny Peace Brigade Philadelphia. For more information see www.grannypeacebrigadephiladelphia.org/upcoming-events.html or email GPBP03@gmail.com.
Vermont

Brattleboro

Monday, April 15, 10am-3pm. WTR Information Tabling outside of the Brattleboro Food Coop, 2 Main Street. Sponsored by Pioneer Valley War Tax Resistance. For more info, contact Daniel Sicken at 802-387-2798 or dhsicken@yahoo.com.
Washington

Seattle

Wisconsin

Madison

Monday, April 15, Noon-1pm. Peace Vigil in front of the Dane County courthouse in Madison (

215 S Hamilton St

.). This is collaboration with Madison's Monday Peace Vigil, which has been hosting a weekly Monday Vigil for Peace for the last 38 years.
Milwaukee

Saturday, April 13, Noon-1pm. Vigil to protest federal tax dollars for war and environmental harm, U.S. Army Reserve, 5130 W. Silver Spring Dr. Sponsored by Milwaukee War Tax Resistance, Casa Maria Catholic Worker, & Peace Action of Wisconsin. For more info, contact Lincoln or Mikel, Casa Maria at usury_sucks@hotmail.com or (414) 344-5745.
Let us know what you are doing — any time of year — and we'll post your war tax resistance actions and events on our website.