Interest in war tax resistance is the highest I have ever seen it. (I will give the caveat that I was born after the Vietnam War and became a war tax resister in 1998.) I know that the NWTRCC office was bombarded with calls following the US invasion of Iraq after 9/11, but the interest in war tax resistance seems greater to me now. Perhaps the internet is playing a role in this.
Before the massacre began in Gaza a few weeks ago, NWTRCC was struggling to stand out and get its message to people who may be interested. Since then, people have been finding us through their internet searches to find ways to withdraw financial support for the massacre happening in Gaza. Not including new funding, the US provides Israel over $3 billion every year, with almost the entire amount being used to support the Israeli military. Since World War II, the US had dedicated more foreign aid to Israel than any other country.
Normally, the week after a NWTRCC conference I take a break and relax… but not this time. When I returned home from the conference in New York on Monday November 6, I had a pile of emails and phone calls to return.
NWTRCC Joins TikTok
Just over one week ago, on a Zoom call with a couple younger activists who are interested in a launching a war tax resistance campaign, they made the comment that NWTRCC should be on TikTok.
I've been skeptical of TikTok as a tool for spreading war tax resistance. About a year ago, I created a TikTok account for NWTRCC, but never posted any videos after seeing that other anti-war groups had started and given up on TikTok after posting a few videos that did not receiving much of a reaction. (Code Pink is the exception. They have a very active account.) TikTok seems more geared for sharing cat videos, dance moves, and recipes.
But after that phone call last week, I signed back into our TikTok account to see that we had 250 subscribers even though we had no content posted. In the last week, the short 60 second videos that we have posted have had total views nearing 100,000. Our TikTok account can be found here: tiktok.com/@wartaxresister
Increased Website Traffic
After posting the first couple videos last week on TikTok, traffic to our website increased so greatly that our site crashed. It's back up for now, but we've been told by our web host that if this new level of traffic is permanent, we would need to move to another host site because this traffic is beyond their long-term capabilities. Normally, the most unique visitors we will have to the NWTRCC website in one month is 6,000 as Tax Day nears. November is a little more than half over and we already have had  nearly 18,000 unique visitors this month.
Our Instagram traffic has also skyrocketed (instagram.com/wartaxresister/). Before the NWTRCC conference in early November, we had about 400 followers. Now we have over 5,400. Twitter and Facebook have seen less of an increase, but those social media platforms are used more by older people while TikTok and Instagram have a younger audience.
Last week, I was asked by a woman connected with a Philadelphia Quaker meeting to host a WTR 101 on Zoom. That session took place on Thursday night. Over 2,400 people registered. The problem with Zoom is that it maxes out at 300 participants. So the change was made to stream it on YouTube. There were some technical glitches that did not allow everyone to get this last minute info, but we did have a large audience and that video has now been seen by over 900 people on YouTube.
Before the NWTRCC conference, I had received a call from a woman in Los Angeles who wanted to host a WTR 101 session for some people she knew… maybe a couple dozen. Cathy Deppe will be leading that session in a public park in Los Angeles later today. As of last weekend, 140 folks had registered for that session. I'm sure it is more now.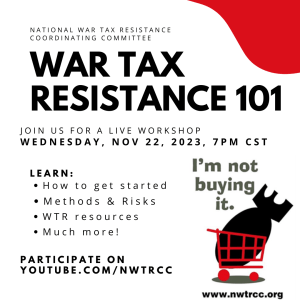 I have also received emails and phone calls from war tax resistance counselors in our network who have begun receiving calls and wanted to follow up on a piece of information that they were not sure of. If you have been receiving calls for counseling, please share about it in the comments.
This is also a great time to reach out to younger activists and local activist groups. Although many of these same groups may not have been interested in having a war tax resister speak to their group six months ago, the deployment of US weapons in Gaza has changed minds.
Lastly, I have been in contact with Joanne Sheehan of War Resister League (WRL). WRL has agreed to promote our next WTR 101 that we will be streaming over YouTube this upcoming Wednesday November 22 at 8p Eastern/ 5p Pacific. Please promote this event widely. To join this livestream, people just need to go to youtube.com/nwtrcc when the session is set to begin!
~Post by Lincoln Rice