Dear friends,

This tax season, NWTRCC will host several online events and creating new online resources. We hope this will be useful to local groups and individuals in promoting war tax resistance. For example, the following events are planned for January: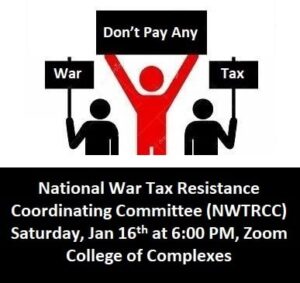 NWTRCC is Leading a Session for College of Complexes
Saturday January 16, 2021 (7pm Eastern/ 4pm Pacific). The College of Complexes is a Chicago group that refers to itself as a "playground for people who think." NWTRCC Coordinator Lincoln Rice will lead a session on the war tax resistance and the work of NWTRCC. Spread the word! Here is the Zoom info:
https://us02web.zoom.us/j/81216467150
Passcode 094136
By phone: +1 312 626 6799
Meeting ID: 812 1646 7150
WTR Panel to Kick-Off Tax Season 2021
Sunday January 24, 2021 (4p Eastern/ 1p Pacific)
This session will be hosted by NWTRCC and geared toward people that are considering war tax resistance or have recently started war tax resistance. The panel will feature five long-time war tax resisters: Kathy Kelly, Erica Leigh, Sam Yergler, Maria Smith, and Charlie Hurst.
The event will be streamed on Facebook. Just go to NWTRCC's Facebook page when the session begins: www.facebook.com/nwtrcc
Each month of tax season has been given a theme:
January: Four More Years of Militarism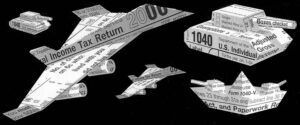 February: Defund Militarism Here & Abroad
March: The Military v. Health Care
April: Climate Crisis & the Pentagon
In February, we will be launching a new web page that will more explicitly connect the militarism of local law enforcement in the United States with federal budget spending and priorities. February will also feature an online War Tax Resisters Counselors Training (Saturday February 20 at 11a Eastern/ 8a Pacific). This intense six-hour training will help us add to the list of wonderful counselors. Counselors are war tax resisters who volunteer to support existing and potential resisters by helping them to understand the motivations and methods of war tax protest, resistance, refusal, and redirection, and to understand the consequences of the choices they make. If you are interested in this training, contact the office at nwtrcc@nwtrcc.org.
Throughout this tax season, we also plan on posting short videos on four themes listed above. If you would be interested in creating a 2-5 minute video that connects your war tax resistance to one of the above themes, let us know! Also, let us know if you have any other ideas for the campaign or resources to share.
Lastly…
Mark your calendars: Our Spring National Conference will be online (April 30-May 2, 2021). We hope to return to in-person conferences in November.

Post by Lincoln Rice