Sunday, Feb 24 – Since Cat was nowhere in sight, and not responding to texts, Julie and I headed over to check out the nearby AJA Project while we waited. Located in the City Heights neighborhood, the young artists at AJA Project use art as the medium for young people dealing with systemic oppression to express the inexpressible. This San Diego neighborhood is known for its diversity, large refugee populations, and tense police-community interactions. The notorious local Curfew sweeps ignited complaints about racially motivated stops as more and more young people were swept up, handcuffed, and in some cases "documented" for being brown and black.
No surprise that Cat was busy filming police in a nearby parking lot. Cat and Aaron had heard police request for "back-up on 44th" on their scanner and grabbed their equipment.

Julie and I headed over to 44th and University to learn how they do it.  We saw seven police officers, 3 police cars surrounding the entrance, and one civilian forced to sit up against the smelly garbage dumpster while two other young men were being questioned.  Cat and her partner Aaron were filming from about 10 feet away, trying to reassure the guy against the dumpster. The CopWatchers worked quietly, with a business-like attitude, in de-escalation mode.  After about 30 minutes, the men were finally released – no ticket, no problem, no citation – just another cop stop for people living in black and brown communities.
The couple have been filming police in the area for about five years now, with police scanners and cameras their tools of mass education.  Both have their own stories of police aggression. There are about 8,000 videos of police stops posted on their YouTube Channel. The stop we watched was posted within hours, with a title "Loitering in Parking Lot and a musical score.  
The San Diego Police Department calls it "loitering" – basically an excuse to "officially" stop and detain any one, regardless of the 4th Amendment. The guys in the parking lot just call it "hanging out".
I got into copwatching after witnessing numerous "over-policing" actions at local trolley stops and neighborhoods "south of the 8." This is San Diego code for communities that are black and brown. The trolley stops are "Lemon Drops" – over a dozen fully-geared up officers from different agencies team up to surround and question anyone they want. I have never been questioned – older white woman that I am.* I learned to keep my camera fully charged – to document what I was witnessing.
At the May 2017 NWTRCC Gathering, we had the opportunity to talk with David, one of the conveners of the St. Louis version of CopWatch, which sprang out of the Ferguson rebellion and subsequent militarized police invasion. This conversation galvanized me to reach out when I got home. Several groups in San Diego had been working around doing local cop watch; United Against Police Terror had been doing it the longest and best. They got me a police scanner and I now am listening where I live in East County.
Just how militarized is San Diego?  San Diego is a military town, so much that the army thought it was a great idea to give a local high school a real MRAP (Mine-Resistant Ambush Protected) vehicle.  Well, the community shut that down in no time!
Cop Watch is also having an impact in City Heights – where officers seem to feel they are at war with the people they are "sworn to protect and serve" rather than public servants – from their video posts. The police now accept their presence instead of trying to intimidate them to stop. Cop Watch stood its ground and is growing the movement here.
*Full Disclosure: Ok, I was questioned once by a transit cop – I was coming back from the garden soiled, sweaty, in raggedy clothes and with my shopping cart full of garden buckets. I did get questioned for about a minute – what was my name, where was I going, etc. I simply smiled at the cop, without answering. That was my WW privilege playing out – he walked away rather than handcuffing me.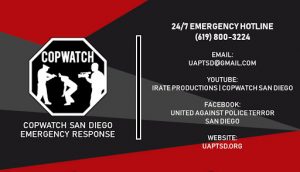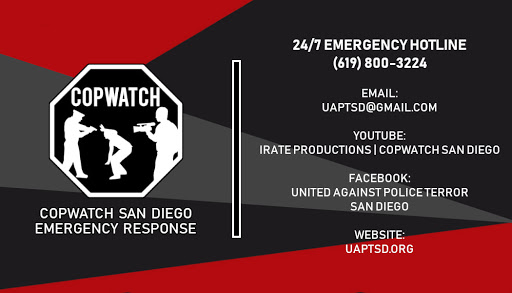 References
Copwatch | Loitering in Parking Lot | Cited for Open Container
https://www.youtube.com/watch?v=ewPLXH4dGzU
Post by Anne Barron