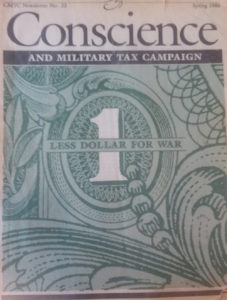 Recently, former NWTRCC coordinator Ruth Benn, as part of her ongoing effort to finally clear the NWTRCC archives out of her house, sent me a stack of old issues of Conscience. This was the newsletter of the Conscience and Military Tax Campaign (CMTC), which promoted what was then called the World Peace Tax Fund and ran an escrow account for resisted war taxes. (More news to come about the closing of CMTC this year – its funds are being transferred to two other alternative funds.)
Conscience began in 1980, before NWTRCC was founded in 1982, and lasted in one form or another through 2007. I have most of the issues between #22 and #52 in my possession, spanning 1986 through 2001.
This publication is an absolutely fascinating snapshot of the topics that animated war tax resisters and peace tax fund supporters at the time. I plan to write several more blog posts about things I'm reading in Conscience, so stay tuned for more Conscience and History subjects, including coverage of the tax resistance in Beit Sahour, other nuggets of NWTRCC history, and the major debates within the war tax resistance movement.
In issue #22, an accounting of the January 1986 NWTRCC meeting in Los Angeles contained this slightly snarky quote: "For the first time in NWTRCC's history, the meeting completed its agenda ahead of time, allowing greater opportunity for networking and strategy discussions." It seems that NWTRCC has developed a greater sense of timeliness in our business meetings over the years, which regularly now run three hours. 🙂
The article also notes, "Of the twenty or so people attending, nearly half were from the Southern California War Tax Resistance group which hosted the meeting. The remaining people represented a variety of groups from all over the country." Our LA meeting this May was attended by a larger group, including the Friday night event with attendance of over 40, including many local folks. NWTRCC events have never been large, per se, but I'm at least pleased to see that we aren't shrinking in attendance.
The article notes that by January 1986, NWTRCC was beginning to explore creating an Administrative Committee, which is today a main source of decision-making support for NWTRCC consultants.
The primary focus within NWTRCC at this time was on telephone tax resistance, an issue that occupies relatively little time today due to changing phone technology and taxation (it only applies to local landline service). However, we still have information on our website for those who wish to refuse the federal excise tax on local landlines.
Resisters active in NWTRCC at this time and mentioned in the article included Ed Hedemann, Randy Kehler, and Karl Meyer.
At the time, NWTRCC was also considering expanding its Network News newsletter, but wasn't sure if there was too much overlap between Conscience and Network News that would make this expansion redundant. Eventually, however, NWTRCC's newsletter became the only periodical primarily covering war tax resistance, and that's still true today.
Post by Erica Leigh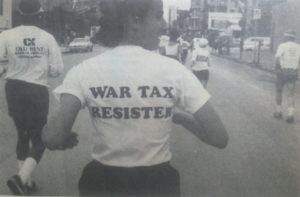 P.S. I also enjoyed this picture from Elizabeth Richter in the issue's letters section. She ran the 1985 Chicago Marathon in a shirt that said "War Tax Resister" on the back.