Disclaimer: This blog post about Sam's college tour is best to be watched, not read. Watch it in its true format here!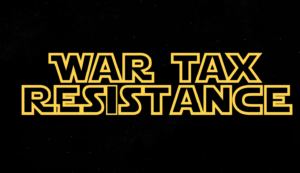 A long time ago (not so long actually, it was only in October of this year) in a galaxy far, far away (called "The Northeast"), it is a period of civil war. A lone rebel spaceship, striking from a hidden base (Philadelphia), won their first victory against the evil Galactic Empire. Rebel spies managed to steal secret plans to the Empire's ultimate weapon, the DEATH STAR, an armored space station with enough power to destroy an entire planet (the Military Industrial Complex, funded by hundreds of billions of taxpayer dollars).

Pursued by the Empire's sinister agents (cops be everywhere), Princess Leia (Sam) raced aboard her starship (rental car), custodian of the stolen plans (War Tax Resistance literature) that can save people and restore freedom to the galaxy….

Leia (Sam) took a number of stops while on her way to deliver the secret stolen plans, including refueling and delivering secret messages on a few important planets (Haverford, Amherst, and Bates Colleges). She took time to explain the plans for resistance against the Empire and insure that everyone understood the plan. The Jedi Initiates and Padawans (college students) were eager to learn about the force behind War Tax Resistance and how they could get involved in the struggle against the Dark Side.
While the future of the resistance's plans are ultimately in the hands of R2-D2 (interpret how you see fit…), it was clear that the relationships Princess Leia (Sam) built with people along the way would carry the resistance forward on these small yet important planets. For many facing the empire's strong presence taking over their small communities throughout the galaxy, this truly felt like A NEW HOPE.
Aight…. Now for the non-star wars fans out there, here's a brief summary of my last organizing trip in perhaps a more clear yet *clearly more boring* fashion…. In the middle of October, I did three back-to-back presentations at colleges in the Northeast as part of a whirlwind self-dubbed Tax Resistance Education And Power-up Tour (TREAPT, another catchy acronym like NWTRCC…).
The first one was at Haverford College, hosted by Grace Brosnan and the Anti-capitalist group at Haverford. We ended up having a blast, with lots of good conversations and about twenty students trickling in as the night went on. It was clear that people were thirsty for concrete resistance steps in a time of so much societal oppression. Students were particularly excited about trying to get more money from their rich institution and rich people at the college to be redistributed to community organizers in Philadelphia.
The next presentation was at Amherst College as part of a panel discussion on divestment strategies and regional campaigns for justice. Other panelists included Anthony Tallow and Susan Theberge from All Nations Rising and the Sugarshack Alliance. The two groups have brought native and non-native people together in resistance to the proposed pipelines in the Western Massachusetts region. Another panelist talked about the ongoing campaigns at UMass Amherst and Amherst College to get their colleges to divest from prisons and fossil fuel companies. I talked about when I was a student activist and how to not get co-opted by administrators, and how maintaining radical politics and direct action is important for ourselves and others. The other panelists and many of the students there were stoked about tax resistance and wanting to learn more.
The last presentation I did was at the Queer and Trans Youth Conference of Maine at Bates College. This was a group of high school and college students. My talk and following discussion, Resisting False Solutions: How trans liberation is being defined by our participation in state violence, drew on my blog post about the "Trans Military Ban" and engaged people in an honest discussion about how we as trans and queer people could refuse to assimilate and resist all oppression instead.
All told, it was a dope college tour. It's clear we need to do more of these, and that we should have young folks doing the presentations. Being able to bond over being young and wanting to resist was important. I still have a lot of follow-up to do that has slipped behind with getting ready for the NWTRCC gathering and all, but now I am able to catch up a bit. There were a number of students that were interested in interning with us over the summer, so we'll see where it goes from here!