Tax day is behind us now — but tax season 2018 will be here before we know it! Northern California War Tax Resistance used their time and energy in the Tax March San Francisco to inform participants (who were mostly calling for Trump to release his taxes) about W-4 resistance and to get them thinking about resisting next year. They created this flyer (with matching banner) to hand out during the march: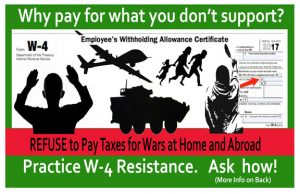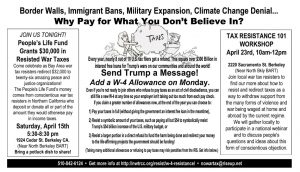 Not only were they referring people to the website for more information, but the group has arranged for a War Tax Resistance 101 live webinar and in-person gathering on Sunday, April 23, to follow up on the march. Follow that link for details and to register; be sure to note that the times are Pacific time so adjust for your time zone!
The Northern California People's Life Fund (NCPLF) also gave $32,000 in redirected taxes as grants to 26 organizations. That's an impressive amount for one group to redirect. Other groups held similar ceremonies around the country. You can see some of those reports on our Tax Day photos and reports page, but we're still tallying all the redirection numbers. A future blog will have more on that.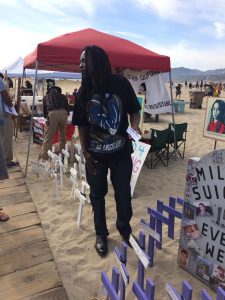 Many groups made a special effort to make new connections with their tax day organizing this year. Southern California War Tax Resistance and Alternative Fund (SCWTR) held their redirection ceremony at Arlington West, a project of Veterans for Peace, where crosses are placed to mark the deaths of U.S. military members in the endless wars. SCWTR gave away $6,000 in resisted war taxes to six local peace and justice organizations, but made a special connection with the Youth Justice Coalition. Phillip Lester (photo right) from the group placed a memorial cross for Christopher Murphy, a 30-year-old veteran of the Afghanistan War who committed suicide just a few months ago in Concord, Massachusetts. His cousin is an organizer with the Youth Justice Coalition and one of SCWTR's grants went to that group.
In New York City, war tax resisters turned out for the big April 15 Tax Day march and handed out WRL pie charts and a flyer about our April 18 Tax Day vigil, but in Boston, Eugene and San Diego, war tax resisters were active with the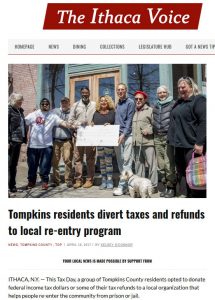 planning and co-sponsored the April 15 marches and rallies. Sue Barnhart in Eugene and Anne Barron in San Diego both secured spots in the speakers' line up to tell the crowds about their resistance and redirection.
All in all it's been a big year for war tax resistance. We got more media attention than we can remember. See the articles linked on here on our site (we're still adding to that list) and the radio or video interviews with war tax resisters here. You'll also find lots of photos and reports on our Facebook group page and Facebook organizational page.
So for now we'll catch our breath and then prepare for the war tax resistance gathering in St. Louis, May 5-7. Please join us! A lot of our time in St. Louis will be spent evaluating this past tax season and strategizing for the coming months in preparation for January to April 2018. We'll have a virtual connection too, so watch our website for more details on that if you can't come to St. Louis.
— Post by Ruth Benn