Here in New York City there are a lot of war tax resisters and people who support war tax resistance. It should be a big, active community, but over the years and from experience, we've found it exceedingly hard to get people together.
There are about 125 people on the email list for NYC resisters. Some have moved out of the city by now, but a lot of those 125 are still here. A couple years ago an informal support session attracted the host and the two of us long-timers who initiate most of the workshops or meetings in NYC.
There gets to be a point when you think it's more detrimental to try to have a meeting if only a couple people show up, because if one of them is a new-ish person it is not energizing. I think many of them keep resisting, but it becomes a more personal act than part of a wider or more organized effort.
The same goes nationally actually. Although NWTRCC's twice-a-year gatherings do bring together 30-40 people each time, it is very hard to draw attendees from the community or region where we meet — which is the point of us moving the meetings around the country. War tax resistance (WTR) is not easy, and most everyone who does come to one of these events finds the information and support and shared stories really helpful. But how to build on that?
Nonetheless, we did have a get together in NYC last week, thanks to the interest and energy of one of our newer WTRs. Her communal house with room for a backyard barbecue was a perfect place to meet, and 13 people came (despite the very hot and humid weather). Of those 13, only three were new or new-ish WTRs, so the dilemma remains as to how to bring out the younger and newer resisters or potential resisters in this vast city. I know they're here because I've met with many of them over the past few years and continue to answer their questions by phone and email.
Before we launched into an amazing dinner, we did spend some time in discussion. On different color sticky notes, we responded to three categories of questions: How do you resist? What "feedback" have you had from the IRS? What questions do you have today? Then we did a go-round to introduce ourselves and answer questions. For the answers….well, you'll have to come to the next WTR get-together or organize one in your community!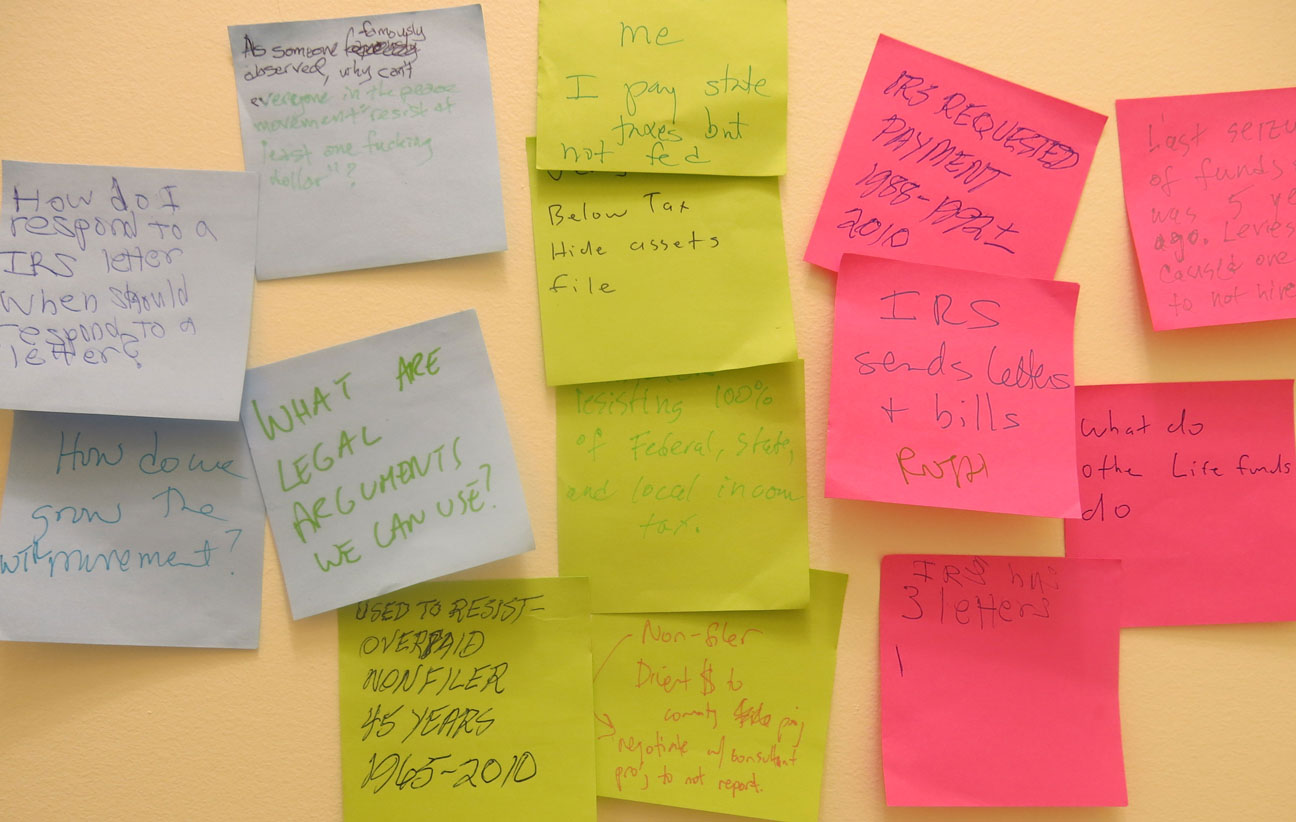 — Post by Ruth Benn