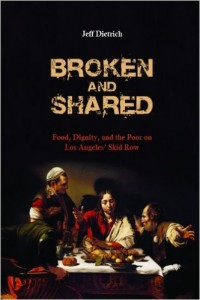 Book review:
Dietrich, Jeff. 2011. Broken and Shared: Food, Dignity, and the Poor on Los Angeles' Skid Row. Marymount Institute Press / Tsehai Publishers.
In 1970, Jeff Dietrich was a young draft resister who had just returned to the United States from traveling in Europe. He heard about the Catholic Worker movement at a Peacemakers conference in St. Louis, and set out for the Los Angeles Catholic Worker to learn more.
For the last 45 years, he has been dedicated to the various projects of the Los Angeles Catholic Worker (LACW). Community members live on low incomes in solidarity with the poor. LACW, in keeping with the teachings of Dorothy Day, does not have tax-exempt status. LACW is noted for its enormous soup kitchen program, sheltering of the homeless, medical programs, and political/social agitation (such as buying shopping carts for homeless people whose carts were confiscated by the police).
Dietrich has been an editor of the house's Catholic Agitator newspaper during all this time. Broken and Shared is a collection of his writings in that newspaper (he has subsequently published another collection, The Good Samaritan). Notably, the book begins with a foreword by Martin Sheen and a preface by Daniel Berrigan.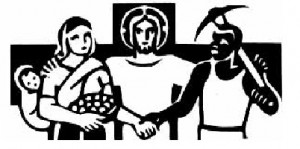 Dietrich excels at a variety of styles of writing, whether it's storytelling, Biblical analysis, letter-writing, philosophy, and political analysis. Occasionally, he adds a wry sense of humor to his writing:
I am more convinced than ever that [Dorothy Day's] program is not just some simple-minded response, but is, in fact, a sophisticated recognition that authentic social transformation begins with personal transformation. Only by enfleshing Christ's kingdom in our own lives, only be personally feeding the hungry, clothing the naked, and sheltering the homeless, rather than calling upon the 'holy mother' of the state to do it, do we create the conduit for God's transforming grace to enter the world. In this context, her admonition against voting, against taking government funds, and against filing tax deductible status makes perfect sense.

However, I must confess that like the disciples James and John, I long for the deliverance of a political Messiah who will reorder our political structures, kick out the bad guys, and usher in a millennium of justice while appointing myself and Daniel Berrigan to the posts of the Secretary of State and Attorney General respectively. [from "A Theology of Non-Power," April 1992]
I also appreciated Dietrich's incisive August 2009 article in which he ties together racism, classism, the drug war, and foreign policy. For example:
Though conceived by Richard Nixon and the Republicans, politicians of both parties over the decades realized that fear and scapegoating and veiled racism, in short, demonizing drug addicts and poor people, was a very effective election strategy. In the process, we have created powerful vested interests among law enforcements and prison bureaucracies, and enhanced the wealth and power of drug cartels while destabilizing nation states throughout Latin America (and Afghanistan and Pakistan). [from "Declaring a Ceasefire in the Drug War"]
One of Dietrich's overarching themes is that the Bible describes a Christianity in which decentralization and suspicion of empire are central. I've also encountered aspects of this theme in the book The Irresistible Revolution by Shane Claiborne. If that theme interests you, pick up this book! (Conversely, if Catholic theological talk is not your thing, this might not be the book for you, or you might want to flip past some of the most theological essays.)
I also particularly liked the essays on the Catholic Worker's protests against the injustice of spending hundreds of millions of dollars on a new Catholic cathedral. I often find myself similarly aghast at the justifications for government spending so much on military, space exploration, or tax breaks or incentives for the wealthy, while the poor get poorer.
Broken and Shared most certainly deepened my understanding of and appreciation for the Catholic Worker movement, for Jeff Dietrich, and for all our friends in the war tax resistance movement who are Catholic Workers.
Post by Erica