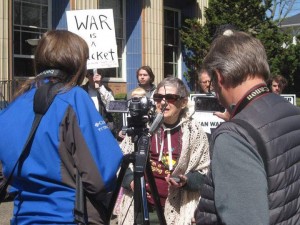 The NWTRCC network lost one of its stalwart activists and friends on Saturday. Peg Morton of Eugene passed away peacefully at her friend's home after deciding to end her life through intentional fasting. (You can read this article about her life in Eugene in the Register-Guard's obituaries section.)
I actually first met Peg in 2008 when I was part of a bike ride that stopped in Eugene. We volunteered on a raised bed garden project and she was one of the volunteers. Her energetic personality was so memorable. Three months later I came to Eugene again for my first NWTRCC conference and was delighted to see Peg there, singing some songs with a group to help kick off the weekend.
Since then, I've spent time with Peg at other NWTRCC conferences. I also went down to Eugene last April to speak at an economic disobedience event she organized. She was working on downsizing her possessions in preparation for moving to a senior housing apartment, so she gave me two of her books, both by war tax resisters: Kathy Kelly's Other Lands Have Dreams and the late Charles Gray's self-published book on his project of living on a "world equity income."
I was reading Peg's memoir, Feeling Light Within, I Walk, over the past couple of weeks. Learning more about her work with SOA Watch and other Latin American solidarity organizations, as well as her life and struggles, at the same time as she was making her final journey was very comforting and illuminating.
I came across this amazing quote, a closing message from Peg to all of us (though written a few years ago):
"It will be hard to leave the war tax resistance movement behind when I move out of this life, but I will hover lovingly and supportively over it and hopefully not be too disruptive!"
Personally, I hope Peg keeps disrupting us in the best way possible, encouraging us to take risks and care for others. May we all feel Peg's influence in our future work.
-Post by Erica