War tax resisters, supporters, and friends gathered for the 30th time in 30 years — an impressive record in our circles. A persistent if changing group of war tax resisters has planned gatherings large and small over a fall weekend each year since 1985. To many the themes, topics, and discussions will sound repetitive — how do we build nonviolent resistance to war; how do you resist war taxes; what's the best way to sustain resistance; what kind of street actions have you done; etc. etc. But each year offers up a new angle on these discussions also.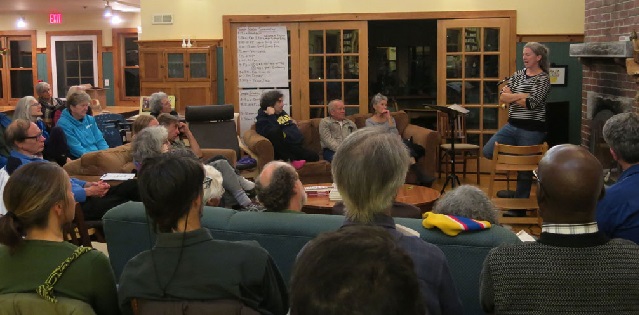 This year Frida Berrigan started the weekend off on Friday night. She read from her book, It Runs In The Family: On Being Raised by Radicals and Growing Into Rebellious Motherhood, and the discussion tended toward parenthood, the ups and downs of radical activism and raising children in a consumer (and war) culture. She and her two siblings never rebelled from growing up in a household where war resisting parents periodically spent months at a time in jail — sometimes over major holidays. (Frida notes that if she or her siblings had rebelled and chosen careers in corporate America they would probably be famous; the media loves that kind of story.)
Despite being deprived of fancy toys and clothes and family vacations to Disney World, and instead having to spend time writing her dad in prison or protesting at the Pentagon, Frida always understood that "it was part of something bigger, there was a serious reason why we lived this way." "Living your values" is an important message to relay to hesitant resisters who worry about marriage and children.
The turnout for Saturday and Sunday was small but committed. Some of the most lively discussion involved making plans for the 2016 gathering with elements designed to increase attendance such as partnering with other organizations and having the keynote talk on Saturday night so that more people would come for the day on Saturday. We learned about a new program at the University of Massachusetts – Amherst, Resistance Studies Initiative, and hope to find a way to support and link to this program. We also had plenty of time to talk about our war tax resistance, respond to Q & A, offer a workshop for newly interested people, and take some walks.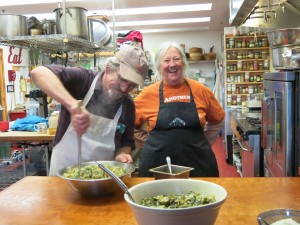 As usual we had great food, provided by Joanne and Rick of Pacifeast Catering. And the beautiful location — nearly at the height of leaf-peeping season  — was the community building at Pioneer Valley Co-Housing (Massachusetts).  Thanks to Henry Lappen and the community for hosting the gathering, and to Daniel Sicken and Jason Rawn for their work in pulling it together.
—Post by Ruth Benn
You can read Frida Berrigan's column "Little Insurrections" on Waging Nonviolence.