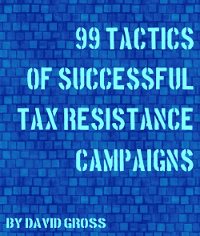 "The heart of any tax resistance campaign is the resisters themselves. A successful campaign does what it can to encourage, support, and sustain these resisters and to facilitate their resistance."
-David Gross, 99 Tactics of Successful Tax Resistance Campaigns
NWTRCC network member David Gross has been working for several months on a book about tactics of tax resistance campaigns, and that book is finally published (free sample chapter available). Jason Rawn has done a couple of workshops based on material from David's book, including most recently at the November NWTRCC conference in NYC. 99 Tactics details numerous examples of historical and modern tax resistance, with many examples from war tax resistance campaigns, and includes worksheets and other practical process materials to help you think through your campaign tactics. If you're interested in the topic of tax resistance in general, I also recommend following @99Tactics on Twitter.