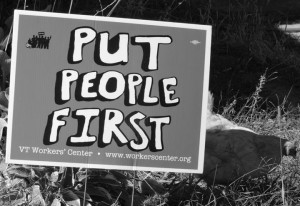 The chickens were busy scratching and pecking for bits to eat, while war tax resisters were busy putting people over weapons at the 28th Annual New England Regional Gathering of War Tax Resisters and Supporters at the Amazing Planet! Farm & Justice Center in Vermont, September 27-29. The location was amazingly beautiful, with the leaves just turning and the clear sky and bright stars at night. It's also totally amazing that a loose connection of war tax resisters in New England has managed to pull off a gathering every year since 1985, if I am counting that right. At the end of each gathering they ask for volunteers to work on the next year's get-together, and somehow, over all these years, some collection of resisters comes together and pulls it off. Daniel Sicken and Susan Lannen are among those who get special credit for hard work and worry this year.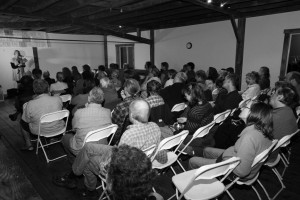 Cindy Sheehan spoke to a good crowd on Friday night about her life of activism since her son, Casey, was killed in Iraq in 2004. Her war tax resistance began right then and there and has continued despite collection efforts and being taken to court by the IRS. You can find some links to her story by scrolling down to the "Great News" item on this page, which will also take you to her blog to find out about her books and  her latest activities, which include running for governor of California. She's indefatigable, and challenges each of us to work faster and harder for a world of peace, justice, environmental sustainability and economic equality.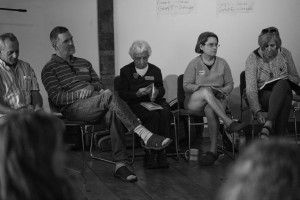 On Saturday morning Cindy joined a panel of war tax resisters who talked about the challenges of being a resister (and activist) in their personal lives and in relation to the people around them. Family members and friends do not always understand this act, and economic pressures can bring up unexpected entanglements. The various panelists spoke of quitting jobs, dealing with adult children who are concerned about an aging parent, relationship problems — and, how they've dealt with many of these issues and why they persist.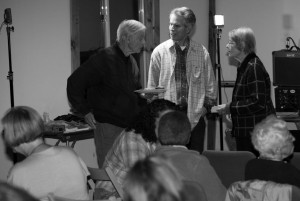 Small groups explored how we can be more supportive of each other given some of the struggles we heard about and those that we each have faced. Randy Kehler (center) noted afterwards that one of the most supportive things to do was to come to the gatherings. No matter what the agenda is and how many workshops or panels are planned, the best part is seeing old friends, meeting new ones, sharing stories, and finding our way through these challenges together.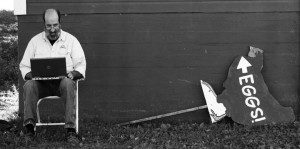 The weekend was not free of dangers. We had to watch out for falling eggs, and despite the rustic setting, it is not always possible to leave the outside world behind. News of the day creeps in, which is most likely to strengthen the resolve of a group like this rather than bring us down.
Thanks to everyone who made this a great weekend, and to Rick Gaumer and Joanne Sheehan for the excellent meals once again.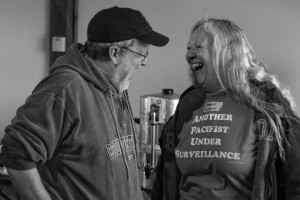 And in the midst of all the serious talk — and despite whoever was out there watching and listening and surveilling — there was lots of laughing too.
 — Post by Ruth Benn. Photos by Ed Hedemann.