From Now to Tax Day, Tuesday, April 18, 2017
This list is in formation. Add your event by filling out the form or email us the details.
How to set up a Penny Poll and other action ideas.
For workshops and presentations around the country, see the gatherings page.
Read about and participate in Collective Redirection 2017.
---
Arizona
Tucson — Contact Nuclear Resister or (520) 323-8697
Tuesday, April 18, 7 a.m.–8 a.m. Tax Day vigil at Raytheon Missile Systems, Hermans Road entrance to the plant (3rd traffic light south of Valencia on Nogales Highway, the extension of South 6th Avenue).  Join the Raytheon Peacemakers as we demonstrate against war and those who profit from it.  Survival demands better ideas, not better weapons. Park off Nogales Highway, between railroad tracks and highway at the Hermans Road entrance.  Signs provided, or bring your own!
California
Berkeley — Contact No. Calif. War Tax Resistance/People's Life Fund, (510) 842-6124, Email
Saturday, April 15, 6 pm – 8 pm.  People's Life Fund Granting Ceremony, BFUU Fellowship Hall, 1924 Cedar St., Berkeley. See the Facebook page or website for more information.
Colorado
Boulder — Rocky Mountain Peace & Justice Center, (303) 499-9456 or Email
 Sunny days in April, midday. Look for Gary Erb out tabling and leafleting on the downtown mall with war tax resistance materials.
Indiana
South Bend — Contact Michiana War Tax Refusers
Monday, April 17, 4:30 p.m. Vigil with signs demanding "Divest from War, Invest in People" outside the Federal Building.
Maine
Statewide — Contact Maine WTR Resource Center or by Email or (207) 221-2818.
March 31 – April 18, leafleting at many locations and times around the state including: March 31 – Bar Harbor College of the Atlantic Cafeteria (breakfast & lunch); April 4 – UMaine/Machias (10 am – 2 pm); April 8 – UMaine/Orono, Hope Fest (11 am – 3 pm), and, Waterville Castonguay Square (Noon – 5 pm); April 15 – Belfast Food Coop (11 am – 5 pm), and Blue Hill Food Coop (Noon – 2 pm) and Brunswick Post Office (11 am – 1 pm); April 15-16 – Rome Youth Activism Gathering (all weekend); April 17 – UMaine/Farmington, Student Center (10 am – 2 pm); April 17-18 – Damariscotta Post Office (11 am – 4 pm); April 18 – UMaine/Orono, Memorial Union (11 am – 2 pm) and Portland – Monument Square ( 8 am – 5:30 pm). Contact the Resource Center if you would like materials for leafleting or a literature table. See press release for the all the details.
Missouri
St. Louis — Contact Women's International League for Peace and Freedom – St. Louis Branch
New York
New York City — Contact NYC War Resisters League, (718) 768-7306
Tuesday, April 18, Noon–1 p.m. Vigil and leafleting outside the IRS office, 290 Broadway at Duane Street, across from the Federal Building. War tax redirection by the NYC People's Life Fund at 12:30. Sponsored by NYC War Resisters League.
Oregon
Eugene — Sponsored by Taxes for Peace! or call (541) 342-1953
Saturday, April 15, 1-4 pm. Alton Baker Park.  Resist Taxe$ Supporting War on our Planet! Rally/March/Speakers/Activist Booths. This event is co-sponsored by CALC, ESSN, WAND, Indivisable, Women's March, and others TBA. See the Facebook page for updated information.
Portland — Sponsored by War Resisters League of Portland/Oregon Community of War Tax Resisters, Email or phone (503) 249-6343
Saturday, April 15, 3-5 pm. Tax Day Redirection Program at the 18th Ave. Peace House, 2116 NE 18th Ave. Join us as we divest from war and invest in people and the earth.
Pennsylvania
Philadelphia — Brandywine Peace Community or (484) 574-1148
Tuesday, April 18, Tax Day: Line of resistance in front of Philadelphia Federal Building Courthouse, 601 Market Street, illustrating what Trump is doing to us: sacrificing human needs and the environment for the sake of war, militarism, and nuclear weapons. The resistance line will feature a 25-foot graph of the breakdown of the federal budget and a equally long banner reading: YOU PAY; LOCKHEED MARTIN PROFITS.
Vermont
Brattleboro — Contact Pioneer Valley War Tax Resistance or call (802) 387-2798
Saturday, April 15, 2017, 10am-3pm. War tax resistance literature and friendly explanation of WTR, plus music appropriate for these times, directly outside of the Brattleboro Food Coop, 2 Main Street.
Washington
Spokane — Peace and Justice Action League of Spokane (PJALS)
Saturday, April 15th 12-2pm. Location TBA. Invest in People, Not the Pentagon! A budget is a moral document. Does Trump's budget reflect your values? Continuing our tradition of tax day actions that link out of control military spending with cuts to safety net programs for struggling families, we will be holding a Rally & Teach In to connect the dots between Trump's proposed $54 billion increase in military spending and cuts to many vital social and environmental programs. Location and speakers to be announced. Please save the date and watch for updates or call (509) 838-7870.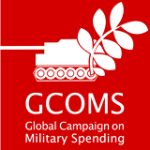 Also, see the Global Days of Action on Military Spending information and events list. NWTRCC supports this worldwide effort.
---
Add Your Event