From Now to Tax Day, Tuesday, April 18, 2017
Events listed below — add yours by filling out the form or email us the details.
2017 Tax Day Press Release – "Tax Day Protests Highlight Refusal to Pay for War"
Join our Facebook event for Tax Day and share it with your friends around the country to help spread the word.
How to set up a Penny Poll and other action ideas. Chants for tax day.
For workshops and presentations around the country, see the gatherings page.
Read about and participate in Collective Redirection 2017.
---
Arizona
Tucson — Contact Nuclear Resister or (520) 323-8697
sign saying "Tax Dollars for Health Care Not Missiles"
Tuesday, April 18, 7 a.m.–8 a.m. Tax Day vigil at Raytheon Missile Systems, Hermans Road entrance to the plant (3rd traffic light south of Valencia on Nogales Highway, the extension of South 6th Avenue).  Join the Raytheon Peacemakers as we demonstrate against war and those who profit from it.  Survival demands better ideas, not better weapons. Park off Nogales Highway, between railroad tracks and highway at the Hermans Road entrance.  Signs provided, or bring your own!
California
Berkeley — Contact No. Calif. War Tax Resistance/People's Life Fund, (510) 842-6124, Email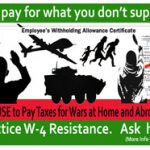 Saturday, April 15, 1 pm — Leafleting at the Tax March in San Francisco with flyer about W-4 resistance.
Saturday, April 15, 6 pm – 8 pm.  People's Life Fund Granting Ceremony, BFUU Fellowship Hall, 1924 Cedar St., Berkeley. See the Facebook page or website for more information.
Los Angeles — So. California War Tax Alternative Fund — (323) 299-0737, Email
San Diego — Peace Resource Center of San Diego, Email for info on tax resistance teach-in
Colorado
Boulder — Rocky Mountain Peace & Justice Center, (303) 499-9456 or Email
 Sunny days in April, midday. Look for Gary Erb out tabling and leafleting on the downtown mall with war tax resistance materials.
Colorado Springs — Contact Mary Sprunger-Froese,  (719) 471-3405
Friday, April 14, Noon–1 p.m. Vigil, bannering and leafleting at the downtown post office. Sponsored by the Bijou Community.
Denver — Warm Cookies of the Revolution or see the Facebook event
Thurday, April 13, 6 pm – 8 p.m. "Pie, Pie, & Pie Charts", McNichols Building, 144 W Colfax Ave. Come enjoy slices of pizza, yummy pies á la mode, and learn all about where your tax dollars go and what kind of say you have in the process. Program includes NWTRCC network counselor Shirley Whiteside from Denver War Tax Boycott, who will explain the reasons and process for not paying for war. We'll also explore Participatory Budgeting and creating your own version of our budgets (including a make your own budget button machine). As always we have delicious cookies, Spanish/English interpretation, and childcare (if requested). $5 suggested donation (no one is turned away for lack of funds). Follow the links for all the details.
Illinois
Chicago — Chicago War Resisters Support Group, (773) 324-0654
Tuesday, April 18, 11:00 am–1:00 p.m. Rally with speakers and leafleting at  Federal Plaza in downtown Chicago. Join us and participate in the new, improved "penny" poll using "democracy dollars" to show where you want your money to go.

Indiana
South Bend — Contact Michiana War Tax Refusers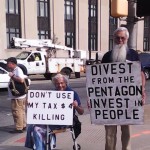 Monday, April 17, 4:30 p.m. Vigil with signs demanding "Divest from War, Invest in People" outside the Federal Building.
Maine
Statewide — Contact Maine WTR Resource Center or by Email or (207) 221-2818.
March 31 – April 18, leafleting at many locations and times around the state including:
March 31 – Bar Harbor College of the Atlantic Cafeteria (breakfast & lunch)
April 8 – UMaine/Orono, Hope Fest (11 am – 3 pm), and, Waterville Castonguay Square (Noon – 5 pm)
April 11, 18 – UMaine/Machias (11 am – 2 pm)
April 15 – Bangor Federal Building (2 pm – 4 pm); Belfast Food Coop (11 am – 5 pm); Bethel Post Office (10 am – 12:30 pm), sponsored by Take Action Bethel; Blue Hill Food Coop (Noon – 2 pm) and Brunswick Post Office (11 am – 1 pm)
April 15-16 – Rome Youth Activism Gathering (all weekend)
April 17 – UMaine/Farmington, Student Center (10 am – 2 pm)
April 17-18 – Damariscotta Post Office (11 am – 4 pm)
April 18 – UMaine/Orono, Memorial Union (11 am – 2 pm) and Portland – Monument Square (8 am – 5:30 pm). Contact the Resource Center if you would like materials for leafleting or a literature table. See press release for the all the details.
Massachusetts
Boston — New England War Tax Resistance — Email
Saturday, April 15, 1:00 pm — Tax Day Mobilization Against Trump "Death" Budget and Tax Policies, calling for President Trump: Release Your Tax Returns; Stop the new "big, big" tax cuts for corporations and the 1%; Oppose Trump's "Death Budget" released on March 16; Re-direct money from the Pentagon back to families and climate protection; Support the Peoples Budget in Congress. Sponsored by the Budget for All campaign; Mass. Peace Action; The Mass. Alliance of HUD Tenants; The New England Independence Group; and the American Friends Service Committee with the support of Progressive Massachusetts and New England War Tax Resistance. For Information call 617-354-2169
Missouri
St. Louis — Contact Women's International League for Peace and Freedom – St. Louis Branch
New York
Ithaca — Contact (917) 601-5010 or (607) 277-6932
Tax resisters plan to deliver a check in the amount of $1,350 to the Ultimate Reentry program, an initiative working on systemic change for people returning from jail and prison, at 12:30 on April 18th. $1200 of that money is redirected tax dollars. $150 of that money is donations from tax refunds. See the press release for all the details.
New York City — Contact NYC War Resisters League, (718) 768-7306
Tuesday, April 18, Noon–1 p.m. Vigil and leafleting outside the IRS office, 290 Broadway at Duane Street, across from the Federal Building. War tax redirection by the NYC People's Life Fund at 12:30. Sponsored by NYC War Resisters League or see the Facebook event.
Oregon
Eugene — Sponsored by Taxes for Peace! or call (541) 342-1953
Saturday, April 15, 1-4 pm. Alton Baker Park. Resist Taxe$ Supporting War on our Planet! Rally/March/Speakers/Activist Booths. This event is co-sponsored by CALC, ESSN, WAND, Indivisable, Women's March, and others TBA. See the Facebook page for updated information.
Tuesday, April 18, 11:00 a.m.–1:00 p.m. Taxes for Peace! holds their annual tax day tabling and rally giving away resisted tax dollars to local good causes at the main post office in downtown Eugene at 5th and Willamette.

Portland — Sponsored by War Resisters League of Portland/Oregon Community of War Tax Resisters, Email or phone (503) 249-6343
Saturday, April 15, 10 am-1 pm. Annual "Burma Shave" style signs on the bridges demanding no taxes for war. For where and when and what you can do, contact John Grueschow.
Saturday, April 15, 3-5 pm. Tax Day Redirection Program at the 18th Ave. Peace House, 2116 NE 18th Ave. Join us as we divest from war and invest in people and the earth.
Pennsylvania
Lehigh Valley – Contact LEPOCO Peace Center or (610) 691-8730
Tuesday, April 18, 10:00 a.m.–2:00 p.m. Tax Day leafleting at local post offices with War Resisters League "Where Your Income Tax Money Really Goes". Various locations including, Allentown, Bethlehem, Easton, etc. See the website or call LEPOCO for the location nearest to you.
Philadelphia — Granny Peace Brigade
Tuesday, April 18, Tax Day, 11:30 – 1:30: Tax Day Demonstration, Broad and Sansom Street, Philadelphia, PA (Post Office). Penny Poll and leafleting with special emphasis on nuclear weapons spending. Co-sponsored by Brandywine Peace Community (484) 574-1148.
Texas
Austin
Monday, April 17, 6 – 8 pm, weather permitting. Vote for you budget priorities at the annual Human Penny Poll, 2nd Street and Lavaca Street near the Willie Nelson statue. Contact Susan at (512) 467-2946 or email for more information.
Vermont
Brattleboro — Contact Pioneer Valley War Tax Resistance or call (802) 387-2798
Saturday, April 15, 2017, 10am-3pm. War tax resistance literature and friendly explanation of WTR, plus music appropriate for these times, directly outside of the Brattleboro Food Coop, 2 Main Street. Read about it in the Valley Post. The Tax March Brattleboro will also be marching through the downtown to "remind Trump that he works for us now."
Burlington — Contact Peace & Justice Center of Vermont, e-mail Kyle, or call (802) 863-2345 x6.
Monday & Tuesday, April 17th-18th. Tax Day Penny Poll on Church Street in Burlington. Stop by our Tax Day Penny Poll table on Church Street and tell us how you think your taxes should be spent! What would you prioritize? Health care? Agriculture? Education? The Penny Poll is your chance to distribute ten pennies into the programs that YOU care about! Once you've put your pennies into the programs (err… jars) you'll find out how our national discretionary budget is actually allocated. You may be surprised at what you learn. You'll also be entered into a raffle to win a fabulous prize. Also check back in a week or so after this event and we will show what everybody decided to do with their pennies!
Virginia
Lynchburg and online – Facebook event
Tuesday, April 18, 2017. Massive tax redirection of $128,005 by Larry Bassett, who says, "This is an event for people to do within themselves at some point in the day when the United States government officially gathers income taxes that will be predominantly used for war and war preparation. Many of us would prefer for our taxes to be used to meet human needs rather than on war. Some of us resort to nonviolent civil disobedience by not paying our federal taxes because we cannot in good conscience pay for killing. Please think about this with us."
Washington
Seattle — Seattle War Tax Resistance (SeaWater)
Tuesday, April 11, 2017, 6:30-8:30pm. Resisting Taxes for War. Pipsqueak Art Gallery, 173 16th Ave.

Should we continue to pay taxes to a government that declares war on immigrants? That militarizes the border? That for decades has colonized and destabilized other countries? That helps create the refugee crisis and conditions that cause immigration, and then demonizes refugees and immigrants? There are many different ways to resist war taxes, with varying risks and benefits. Join local war tax resisters to discuss reasons for and ways to engage in a Tax Day revolt against Trump's (or any president's) militarist, anti-immigrant agenda. Although Tax Day 2017 is April 18, and many have already paid taxes, it's just the right time to start considering resistance for next year.
Seattle — Veterans For Peace or info@vfp92.org

Tuesday, April 18, Tax Day, 11:30 – 1:30. Federal Building, Downtown Seattle. Join Veterans For Peace for its annual Tax Day Action to raise awareness of how our government spends our tax dollars and the outrageous amount that goes to the military. There is no better way to inform the public about where our tax dollars end up in the federal budget than in a pie chart that graphically shows how Congress decides where to distribute  tax revenue in the annual discretionary budget. We'll be handing out this budget at the federal building. This action is also part of the Global Day of Action on Military Spending, which is a world wide effort to expose the enormous amount of money the U.S. and other nations spend on their military. See the Veterans For Peace website Seattle or email them at info@vfp92.org.
Spokane — Peace and Justice Action League of Spokane (PJALS)
Saturday, April 15th 12-2pm. Location TBA. Invest in People, Not the Pentagon! A budget is a moral document. Does Trump's budget reflect your values? Continuing our tradition of tax day actions that link out of control military spending with cuts to safety net programs for struggling families, we will be holding a Rally & Teach In to connect the dots between Trump's proposed $54 billion increase in military spending and cuts to many vital social and environmental programs. Location and speakers to be announced. Please save the date and watch for updates or call (509) 838-7870.
Wisconsin
Milwaukee — Milwaukee War Tax Resistance, (414) 344-5745

Saturday, April 15th 12-1pm. — Tax Day Vigil and Civil Disobedience at the military base on 51st & Silver Spring Drive. No more training our young to fight and harming their neighbors and contributing to the violence, bloodshed and misery in the world. Move the money from bullets to bread! Sponsored by Milwaukee War Tax Resistance & Casa Maria Catholic Worker. For more information, contact Lincoln Rice or by phone at (414) 344-5745.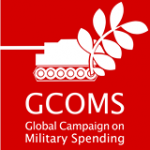 Also, see the Global Days of Action on Military Spending information and events list. NWTRCC supports this worldwide effort.
---
Add Your Event