National Gatherings
Regional and Local Events — Workshops, meetings, conferences
International Conferences
National Gatherings and Coordinating Committee Meetings

NWTRCC sponsors two gatherings each year, usually over the first full weekends in November and May. Each national gathering includes a business meeting along with how-to workshops and strategy discussions and is open to everyone with an interest in war tax resistance. The location shifts regionally in the U.S. depending on invitations from local host groups.
Next gathering: St. Louis, Missouri, May 2017.
Watch this page for details after the new year.
Most Recent Gathering: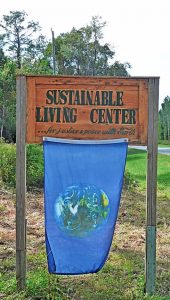 "Individual Resistance and Collective Power in an Era of Endless War"
November 4 – 6, 2016 • Sustainable Living Center of North Florida, Hampton, Florida
About 20 NWTRCC network members came together at the Sustainable Living Center (SLC) in North Florida to take stock of where war tax resisters are at, get to know our new field organizer Sam Koplinka-Loehr, learn about the militarization of the southern US, and enjoy some community time around a bonfire. We were joined during different sessions by Florida friends, most of whom were involved with the Florida Coalition for Peace and Justice.
Blog report      Photos          Notes from sessions       Business meeting minutes
Previous Gatherings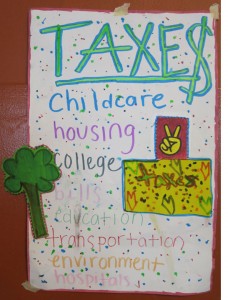 "Divest from the Pentagon, Invest in People!"
Lansdowne Friends Meeting and Lansdowne Friends School in Lansdowne, Pennsylvania, May 13-15, 2016. Photos.  Report.  Notes from sessions.
"Divest from Weapons and Warmaking"
Hosted by Las Vegas Catholic Worker • Las Vegas, Nevada • Nov. 6-8, 2015. Report.
Video of Jennifer Carr's talk on "Complicity and Collection – Religious Freedom and Tax"
---
Regional and Local Events • War Tax Resistance Workshops and More
Watch this space for workshops and events in your area, or if you are planning a workshop or action in your area email the information, and we'll list it here.
Asheville, North Carolina — "Why Look for Peace When You're Paying for War" workshop and discussion • Sat., Jan. 14, 6-8 pm • Firestorm Books, 610 Haywood Rd.
How to organize your life so you don't have to pay federal taxes. Presenter Redmoonsong has been a lifelong war tax resister and has lots of practical information to share about practicing this philosophy.
See Firestorm web calendar or the Facebook event page.
Philadelphia, Pennsylvania — Escalating Political Resistance
Sat., Jan. 28, 11 am – 1 pm • 4029 Market St.
A workshop with Philly Movement Leaders On Tactics for Racial Justice with Erica Mines
Philly Coalition For REAL Justice; Shani Akilah & Abdul-Aliy, Muhammad, Black and Brown Workers Collective; Ari Rosenberg & Sam KoplinkaLoehr, Philly War Tax Resistance. See up on the Facebook event page or the downloadable flyer. For more information email Sam Koplinka-Loehr.
Inauguration protests and Women's Marches around the country, Jan. 20-21, 2017. If you want to connect with war tax resisters for these events, please email Sam Koplinka-Loehr.
Past Events and Actions
2016 Maine Peace Walk: Stop the War$ on Mother Earth
Oct. 11-26, 2016 •  From Penobscot Nation on Indian Island to York Beach to Kittery Naval shipyard.
Shut Down School of the Americas (SOA-WHINSEC) • Oct. 7-10, 2016. International Convergence  at the very militarized US-Mexican Border at Nogalas, Arizona and Nogalas, Mexico
Muslim Voices in an Election Year: Compassionate Listening • St. Francis Day Celebration • Saturday, October 1, Agape Community, Ware, Massachusetts
New England Gathering of War Tax Resisters and Supporters, Agape Community, Ware, Massachusetts  • October 14-16, 2016. Report and video links soon.
International Conferences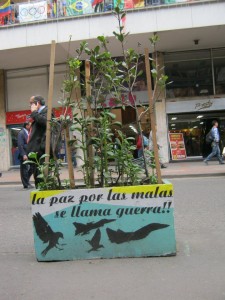 World Congress on Military and Social Spending in Berlin, Germany September 30 – Oktober 3, 2016 • Sponsored by the International Peace Bureau

NWTRCC's representative Cathy Deppe participated in the conference and public demonstrations, tabled for NWTRCC, and joined members of Conscience and Peace Tax International for a workshop about military spending and peace tax campaigns.  served as  to the congress. Read her report.
*********
The first International Conference on War Tax Resistance and Peace Tax Campaigns was held in Tübingen, Germany, in 1986. Conferences are held every-other-year, most often in Europe with a few exceptions: India in 1998; U.S. in 2000; and Colombia in 2013. While the conferences are organized by the local groups, Conscience and Peace Tax International (CPTI) was founded at the conference in Hondarribia, Spain, in 1994, to connect the groups working on legislative campaigns and to track legal issues internationally. The CPTI website includes reports from meetings, links to groups, court documents, and more.
The conferences offer a time to exchange information and experience gained by individuals and groups during their local campaigns; learn about legal issues in individual countries; increase the effectiveness by which our groups offer peace tax legislation and/or war tax resistance as a means for civilians to object against war and war preparation; and investigate the need for an international platform for the national groups to make our efforts more visible on an international level.
After the 2013 conference, CPTI moved from Belgium to England. Re-organizaiton within the international network has taken some time, and there is hope that the next conference will be held in 2016.
NWTRCC has sent a representative to each meeting, and reports appear in our newsletter, More Than A Paycheck.