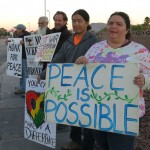 The first International Conference on War Tax Resistance and Peace Tax Campaigns was held in Tübingen, Germany, in 1986. Conferences are held every-other-year, most often in Europe with a few exceptions: India in 1998; U.S. in 2000; and Colombia in 2013. While the conferences are organized by the local groups, Conscience and Peace Tax International (CPTI) was founded at the conference in Hondarribia, Spain, in 1994, to connect the groups working on legislative campaigns and to track legal issues internationally. The CPTI website includes reports from meetings, links to groups, court documents, and more.
The conferences offer a time to exchange information and experience gained by individuals and groups during their local campaigns; learn about legal issues in individual countries; increase the effectiveness by which our groups offer peace tax legislation and/or war tax resistance as a means for civilians to object against war and war preparation; and investigate the need for an international platform for the national groups to make our efforts more visible on an international level.
After the 2013 conference, CPTI moved from Belgium to England. Re-organizaiton within the international network has taken some time, and there is hope that the next conference will be held in 2016.
NWTRCC has sent a representative to each meeting, and reports appear in our newsletter, More Than A Paycheck.