National Gatherings
Regional and Local Events
International Conferences
National Gatherings and Coordinating Committee Meetings

NWTRCC sponsors two gatherings each year, usually over the first full weekends in November and May. Each national gathering includes a business meeting along with how-to workshops and strategy discussions. The location shifts regionally in the U.S. depending on invitations from local host groups.
The next gathering will be November 4-6, 2016.
Location to be determined. Watch this space!
---
Most Recent Gathering • May 13-15, 2016
Divest from the Pentagon, Invest in People!
Lansdowne Friends Meeting and Lansdowne Friends School in Lansdowne, Pennsylvania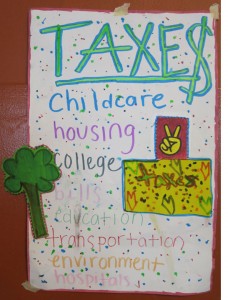 THANKS to the Lansdowne Friends Meeting and Lansdowne Friends School in Lansdowne, Pennsylvania, for hosting our recent war tax resistance gathering.

And to Cheri Honkala and Galen Tyler of the Poor People's Economic Human Rights Campaign for the reality tour of the Kensington neighborhood of Philadelphia on Saturday afternoon. Being there reminded us once again why we say "Invest in People"!
**********************
Previous Gatherings
Divest from Weapons and Warmaking
Hosted by Las Vegas Catholic Worker • Las Vegas, Nevada • November 6-8, 2015
Read about the weekend on our blog.
Video of Jennifer Carr's talk on "Complicity and Collection – Religious Freedom and Tax"
---
Regional and Local Events
You will find war tax resisters and maybe our literature table at these events, or email if you want to help carry a banner or table or participate with other resisters.
Faithful Witness in a Time of Endless War: Drone Warfare and God's Call to Peacemaking • June 24-25, 2016 • Lansdale, PA  19446
People's Justice and Peace Convention  • July 15-17 , 2016
Counter RNC 2016 July 15 -18, 2016 • Cleveland, Ohio
March for Our Lives • Monday, July 25, 2016, 3:00pm
Opening Day of the Democratic National Convention • Philadelphia, Pennsylvania
Cannabis Festival, Starks, Maine August 20-21, war tax resistance tabling, talk and workshop
Campaign Nonviolence (CNV) Action Week • National • September 18-25, 2016, Organize an action in your community
2016 Maine Peace Walk: Stop the War$ on Mother Earth
Oct. 8-22, 2016 •  For more information, contact the Global Network Against Weapons & Nuclear Power in Space, PO Box 652, Brunswick, ME  04011, (207) 443-9502, globalnet@mindspring.com.
Shut Down School of the Americas (SOA-WHINSEC) • Oct. 7-10, 2016
International Convergence  at the very militarized US-Mexican Border at Nogalas, Arizona and Nogalas, Mexico
New England Gathering of War Tax Resisters and Supporters, Agape Community, Ware, Massachusetts, and some events in Amherst • October 14-16, 2016. Watch this space for details.
---
International Conferences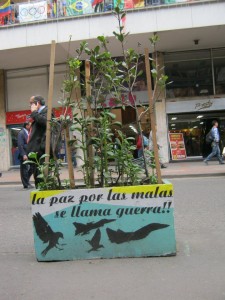 World Congress on Military and Social Spending in Berlin, Germany • September 30 – Oktober 3 •  http://demilitarize.org/congress-2016
NWTRCC expects to send a representative. If you are intereseted, please email the NWTRCC office.
*********
The first International Conference on War Tax Resistance and Peace Tax Campaigns was held in Tübingen, Germany, in 1986. Conferences are held every-other-year, most often in Europe with a few exceptions: India in 1998; U.S. in 2000; and Colombia in 2013. While the conferences are organized by the local groups, Conscience and Peace Tax International (CPTI) was founded at the conference in Hondarribia, Spain, in 1994, to connect the groups working on legislative campaigns and to track legal issues internationally. The CPTI website includes reports from meetings, links to groups, court documents, and more.
The conferences offer a time to exchange information and experience gained by individuals and groups during their local campaigns; learn about legal issues in individual countries; increase the effectiveness by which our groups offer peace tax legislation and/or war tax resistance as a means for civilians to object against war and war preparation; and investigate the need for an international platform for the national groups to make our efforts more visible on an international level.
After the 2013 conference, CPTI moved from Belgium to England. Re-organizaiton within the international network has taken some time, and there is hope that the next conference will be held in 2016.
NWTRCC has sent a representative to each meeting, and reports appear in our newsletter, More Than A Paycheck.