National Gatherings 
Regional and Local Events — Workshops, meetings, conferences
International Conferences
Always available on YouTube — view yourself or with a group!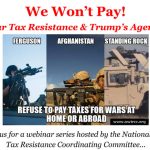 War Tax Resistance 101 with David Gross – April 23, 2017
We Won't Pay:  War Tax Resistance 101 with Erica Weiland (Feb. 18, 2017)
Redirecting Taxes to Black, Brown, and Indigenous Resistance with Sam Koplinka-Loehr (Feb. 25, 2017)
National Gatherings and Coordinating Committee Meetings

NWTRCC sponsors two gatherings each year, usually over the first full weekends in November and May. Each national gathering starts with dinner on Friday and includes a mini-conference format on Friday evening and all day Saturday with panel discussions, action reports and analysis, how-to workshops, and strategy discussions. NWTRCC's business meeting is held on Sunday morning. The gathering is open to everyone with an interest in war tax resistance. The location shifts regionally in the U.S. depending on invitations from local host groups.
————————————————
Next National War Tax Resistance Gathering:


Voices of Resistance: Making a Living While Working for Justice




November 3-5, 2017 • Amherst, Massachusetts
32nd New England Regional Gathering of War Tax Resisters & Bi-Annual Gathering of the National War Tax Resistance Coordinating Committee
Co-sponsored by the Resistance Studies Initiative, University of Massachusetts Amherst
Resistance is the new operative word in these very politically charged times. This word may have even been co-opted by those we are trying resist!
The 2017 Voices of Resistance New England War Tax Resisters Gathering will focus on supportive environments for building resistance movements and working as resisters of all kinds. We are bringing all types of resisters together to share stories, experience and lessons learned, utilizing the focal point of war tax resistance.
The weekend begins with registration and dinner on Friday afternoon at Pioneer Valley Cohousing, 120 Pulpit Hill Road in Amherst. Delicious meals will be provided by Pacifeast caterers Joanne Sheehan and Rick Gaumer. The NWTR Coordinating Committee meeting will be Sunday morning from 9 am – Noon. After lunch we plan to have a WTR Counselor Training from about 1-5. Click here for more logistics and link to the brochure or online registration form.
The core program takes place at Goodell Hall at UMass, Amherst, on Friday night (11/3/17) and Saturday (11/4/17). We will address ways activists can survive economically while resisting. We will hear from local, regional and national activists about the resistance they are waging and how they are waging it, how they keep the momentum going, keep up the strength for the longer haul, and how they are connecting with like-minded movements. We are focusing particularly on the economic survival of resisters as students and as new graduates. Workshops and table materials will address student loans and debt, work for activists, and how war tax resistance fits into the mix. Opportunities for networking with activists locally and nationally will abound.
The closest airport is Bradley International Airport (BDL), about 1 hour from Amherst*. Please take travel time to and from the airport into account for arrivals and departures. Amtrak (the Vermonter or some Northeast regional lines) stops in Northampton (closest) or Springfield, Massachusetts. Peter Pan Bus Co. has the most frequent service to UMASS, or check for buses to Amherst, and again, as next choice, Northampton.
We look forward to seeing you there!
Logistics and Registration Form (online or downloadable brochure)
* Some travelers may be flying into Boston or other airports and renting cars, and there will be drivers from around New England, so if you are hving trouble finding flights, please contact NWTRCC for help.
---
*** Report and Photo Links from Previous Gatherings ***

"Raising the Stakes: Resistance and Community Survival in Troubled Times" • St. Louis, Missouri • May 5-7, 2017

Hosted by the Dick Gregory Catholic Worker House & co-sponsored by Veterans for Peace and WILFP-St. Louis Chapter
Blog post: Highlights: War tax resisters in St. Louis
Minutes from the Coordinating Committee Meeting
Photos from the weekend
"Individual Resistance and Collective Power in an Era of Endless War"
November 4 – 6, 2016 • Sustainable Living Center of North Florida, Hampton, Florida
Blog report
Photos
Notes from sessions
Business meeting minutes
"Divest from the Pentagon, Invest in People!"
Lansdowne Friends Meeting and Lansdowne Friends School in Lansdowne, Pennsylvania, May 13-15, 2016.
Photos
Report
Notes from sessions
"Divest from Weapons and Warmaking" Hosted by Las Vegas Catholic Worker • Las Vegas, Nevada • Nov. 6-8, 2015.
Report
Video of Jennifer Carr's talk on "Complicity and Collection – Religious Freedom and Tax"
Regional and Local Events • War Tax Resistance Workshops and More
Watch this space for workshops and events in your area, or if you are planning a workshop or action in your area email the information, and we'll list it here. If you would like to schedule a workshop or presentation for a group, please use the linked form.
Upcoming Outreach and Community Meetings 2017
NWTRCC Field Organizer Sam Koplinka-Loehr is headed on the road in Oct/Nov:
Wednesday, October 11 • Haverford College, Pennsylvania • "Fighting For Our Lives & Defunding The State"
5-6:30 PM Presentation, 6:30-8 PM Dinner Discussion
Bryn Mawr Room, Dining Center, Haverford College
(RSVP REQUIRED FOR DINNER, email gbrosnan@haverford.edu to RSVP)
Presentation description: Our lives are on the line, whether you realize it or not. Now is the time for building stronger movements than we have ever built before. Please join us for this powerful conversation and bring your questions! See you there! Sam Koplinka-Loehr lives in Philadelphia where she is a trans activist, parent, and nanny. She is involved with many campaigns against state violence. Her latest work supports people who refuse to pay income taxes and want to redirect that money instead!
Friday, October 13 • Amherst College, Massachusetts • Panel Discussion on Divestment
Hosted by Direct Action Coordinating Committee
5 pm – Watch for details
Saturday, October 14  • Bates College, Maine • "Resisting False Solutions: How trans liberation is being defined by our participation in state violence" at The Maine Youth Summit & Queer Trans Conference
Session II Workshop, 11:15 a.m.: Across the board, trans people are facing intense levels of transphobia, systemic discrimination, and violence. In 2017, twenty-three of our trans sisters and brothers have been murdered so far, most of them black trans women targeted by the intersection of racism, sexism, and transphobia. We are also seeing the same ol tactics of attacking our jobs and housing by our so-called "elected officials." Amidst these levels of state and personal violence, the response on the left has glorified our ability to partake in systems of state violence. Our liberation will not come through being accepted into the same institutions that are trying to kill us, we need system change not a green light to join in killing others.
Thursday, November 2 • Middlebury College, Vermont • "Fighting For Our Lives"
Watch for details
Contact Sam for more info or to host a presentation: organizer@nwtrcc.org or (607) 592-7650.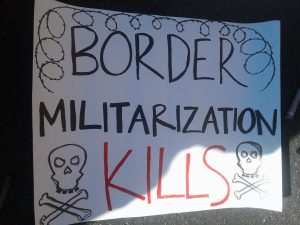 U.S./Mexico border – Arizona – Nogales – Sonora, November 10-12, 2017. School of the Americas Watch Border Convergence. Look for the NWTRCC table (and maybe a workshop) while you act to end US economic, military and political intervention in Latin America; Demilitarization and divestment of the borders; An end to the racist systems of oppression that criminalize and kill migrants, refugees and communities of color. Actions begin Friday morning and include Vigil at Eloy Detention Center, Gathering and Welcome in ambos Nogales, Veteran-led March to the border wall, Rally at the U.S./Mexico border, Forums & Workshops, Puppetistas!, Speakers & Musicians.
Past Outreach and Community Meetings 2017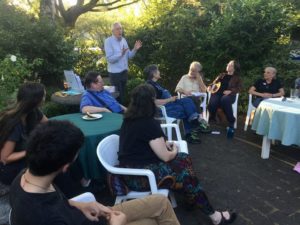 Ed Hedemann, photo left, has something to say about war tax resistance organizing to the group at a potluck in Portland, Oregon, August 16. War tax resisters and new-comers gathered in the garden at the Peace House  for good food and and informal an presentation and discussion about war tax resistance when New Yorkers Ruth Benn  and Ed Hedemann were visiting the area.
Photo by Michael Sonnleitner.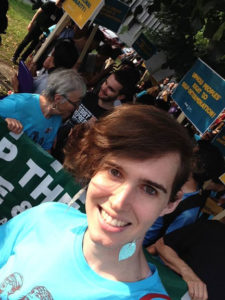 NWTRCC Field Organizer Sam Koplinka-Loehr traveled to Western Pennsylvania, Minneapolis, Toronto, Buffalo, and Rochester in late July and early August. A highlight of the trip was the "Solidarity and Fightback: Building Resistance to US-led War, Militarism, and Neofascism" conference in Toronto (photo left of Sam at the street action during the conference). See Sam's full report of the trip  on the NWTRCC blog. Sam will be speaking at colleges in Pennsylvania and New England in October and November and traveling to Arizona in mid-November for SOAW convergence and possibly on to talks in California. Contact her if your group or college would like to host an event: 607-592-7650 or email Sam
Thanks to our tablers at the Veterans for Peace Convention in Chicago, August 9-13, and to Kathy Kelly for this photo of the penny poll at the NWTRCC table during the convention.
Please be in touch with the NWTRCC office if you are willing to table or hand out some war tax resistance materials at an event near you or a conference that you are attending. We will ship you literature for the table and may be able to help pay the conference fees. Just ask!
International Conferences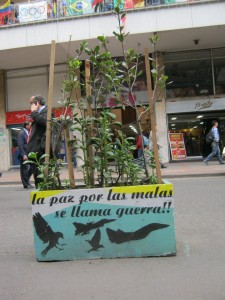 World Congress on Military and Social Spending in Berlin, Germany September 30 – Oktober 3, 2016 • Sponsored by the International Peace Bureau

NWTRCC's representative Cathy Deppe participated in the conference and public demonstrations, tabled for NWTRCC, and joined members of Conscience and Peace Tax International for a workshop about military spending and peace tax campaigns.  served as  to the congress. Read her report.
*********
The first International Conference on War Tax Resistance and Peace Tax Campaigns was held in Tübingen, Germany, in 1986. Conferences are held every-other-year, most often in Europe with a few exceptions: India in 1998; U.S. in 2000; and Colombia in 2013. While the conferences are organized by the local groups, Conscience and Peace Tax International (CPTI) was founded at the conference in Hondarribia, Spain, in 1994, to connect the groups working on legislative campaigns and to track legal issues internationally. The CPTI website includes reports from meetings, links to groups, court documents, and more.
The conferences offer a time to exchange information and experience gained by individuals and groups during their local campaigns; learn about legal issues in individual countries; increase the effectiveness by which our groups offer peace tax legislation and/or war tax resistance as a means for civilians to object against war and war preparation; and investigate the need for an international platform for the national groups to make our efforts more visible on an international level.
After the 2013 conference, CPTI moved from Belgium to England. Re-organizaiton within the international network has taken some time, and there is hope that the next conference will be held in 2016.
NWTRCC has sent a representative to each meeting, and reports appear in our newsletter, More Than A Paycheck.