National Gatherings
International Conferences
Regional and Local Events — 2018 Workshops, meetings, conferences
Webinars – WTR 101 and more
National Gatherings and Coordinating Committee Meetings
NWTRCC sponsors two gatherings each year, usually over the first full weekends in November and May. Each national gathering starts with dinner on Friday and includes a mini-conference format on Friday evening and all day Saturday with panel discussions, action reports and analysis, how-to workshops, and strategy discussions. NWTRCC's business meeting is held on Sunday morning. The gathering is open to everyone with an interest in war tax resistance. The location shifts regionally in the U.S. depending on invitations from local host groups.
---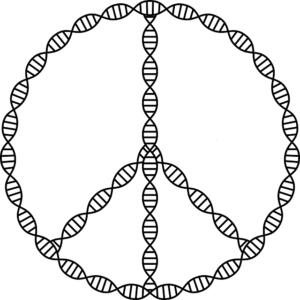 National War Tax Resistance Gathering & Coordinating Committee Meeting
The Science of Peace
, Cleveland, Ohio
The Mission House, 3601 Whitman Avenue, Cleveland 44113
Join us the first weekend in November for "The Science of Peace," with a mini-conference on Friday evening and Saturday. The program will include introductory war tax resistance workshop, update sessions for current resisters, and a counselors' training; reports from the Cleveland Catholic Worker & the Cleveland Nonviolence Network about the Cleveland Airshow & the campaign to create a science exhibit on peacemaking at the local Great Lakes Science Center; plus great meals courtesy of Food Not Bombs! and other local folks. There is also an opportunity on Sunday evening to attend the annual commemoration of the four church women martyred in El Salvador in 1980, which is organized by the InterReligious Task Force on Central America. The National War Tax Resistance Coordinating Committee meeting is held on Sunday morning.
Arrival and registration begin ; Dinner , Program Friday evening
Housing, travel and other logistics + online registration form
See you in Cleveland!
---
*** Reports and Photo Links from Previous National Gatherings ***
May 4–6, 2018 • Los Angeles, California
Hosted by members of Southern California War Tax Resistance and Alternative Fund and co-sponsored by Veterans For Peace LA Chapter, LA Catholic Worker, and NWTRCC.
Minutes from our business meeting are here • Photo Reflection by Ruth • Erica's Report of the Weekend
"Voices of Resistance: Making a Living While Working for Justice" • Amherst, Massachusetts • November 3–5, 2017
Videos are online from some of the talks and workshops during this gathering. Go to our YouTube account to see panels and workshops including: panel with young activists working on immigrant rights, prisons, climate change, and refusing to pay for war; Loretta Ross's keynote address on white supremacy and sustaining activism; the workshop on divesting from war with Jason Rawn and Paki Wieland; and the border militarization workshop with Anne Barron.
Photos from the weekend are here •  Minutes from our business meeting are here • Notes from Workshops and other discussions are here
"Raising the Stakes: Resistance and Community Survival in Troubled Times" • St. Louis, Missouri • May 5-7, 2017

Hosted by the Dick Gregory Catholic Worker House & co-sponsored by Veterans for Peace and WILFP-St. Louis Chapter
Blog post: Highlights: War tax resisters in St. Louis
Minutes from the Coordinating Committee Meeting
Photos from the weekend
"Individual Resistance and Collective Power in an Era of Endless War"
November 4 – 6, 2016 • Sustainable Living Center of North Florida, Hampton, Florida
Blog report
Photos
Notes from sessions
Business meeting minutes
Regional and Local Events • War Tax Resistance Workshops and More
Watch this space for workshops and events in your area, or if you are planning a workshop or action in your area email the information, and we'll list it here. If you would like to schedule a workshop or presentation for a group, please use the linked form.
Taking Back Our Tax Dollars from War Makers – Using Our Money for Our Priorities
Annual Maine War Tax Resistance Gathering
Saturday, October 27, 2018
Noon – 4pm (please BYO Lunch)
University of Southern Maine – Luther Bonney Hall
Workshops at noon; Panel discussion of Maine activists at 1:45
Colrain After 25 Years: Looking Back and Looking Forward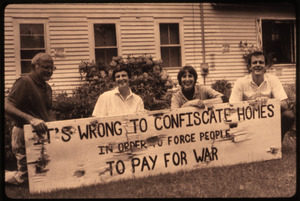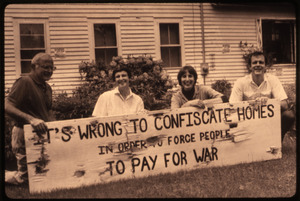 The 34th New England Regional Gathering of War Tax Resisters
Friday 6pm – Sunday 1pm, November 16–18, 2018
Woolman Hill Retreat Center, Deerfield, Massachusetts (directions)
Between 1989 and 1993, hundreds of people flocked to Colrain, MA, to voice their opposition to war and military spending by supporting the war tax resistance of the Corner-Kehler household. As this year marks 25 years since the end of the Colrain action, we are inviting as many of these participants (and interested others) as possible to gather at the Woolman Hill Retreat Center in Deerfield, MA, November 16–18, 2018, to revisit that experience.
Cost for the entire weekend, which includes 6 meals: $60 per adult; Saturday only: $30; Cost with meals but without housing: $45 (These amounts are suggestions.  No one will be turned away for lack of funds.)
Full brochure with many pictures from Colrain
Register online by using this link
Registration deadline: November 1st.  No deposit necessary. Questions/Ride Share/Airport pickup:  Contact Bob Bady at bobbady@gmail.com or 802-258-7750, or call Aaron Falbel at 413-397-8976.
Past Outreach and Community Meetings 2017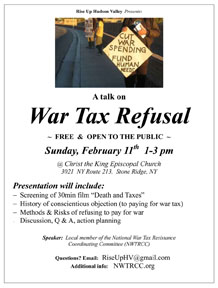 Stone Ridge, NY, February 11, 2018, 1-3 pm: Rise Up Hudson Valley presents a Talk on War Tax Refusal. Program includes 30-min. introductory  film "Death and Taxes, Methods & Risks of refusing to pay for war with an experienced war tax resister, followed by discussion, Q & A, action planning.  The program will be held at Christ the King Episcopal Church, 3021 NY Route 213. Questions? Email: RiseUpHV@gmail.com.
Print out a flyer.
A New Hope: Sam's October College Tour to Haverford College (Penn.), Amherst College (Mass.), and Bates College (Maine) — read or watch her report on our blog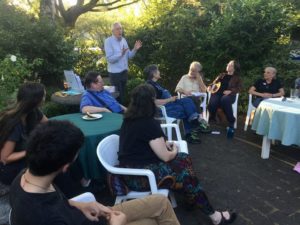 Ed Hedemann, photo left, has something to say about war tax resistance organizing to the group at a potluck in Portland, Oregon, August 16. War tax resisters and new-comers gathered in the garden at the Peace House  for good food and and informal an presentation and discussion about war tax resistance when New Yorkers Ruth Benn  and Ed Hedemann were visiting the area. Photo by Michael Sonnleitner.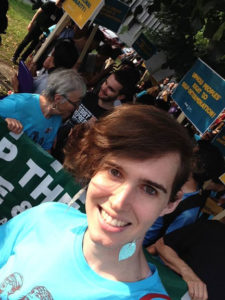 NWTRCC Field Organizer Sam Koplinka-Loehr traveled to Western Pennsylvania, Minneapolis, Toronto, Buffalo, and Rochester in late July and early August. A highlight of the trip was the "Solidarity and Fightback: Building Resistance to US-led War, Militarism, and Neofascism" conference in Toronto (photo left of Sam at the street action during the conference). See Sam's full report of the trip  on the NWTRCC blog. Sam will be speaking at colleges in Pennsylvania and New England in October and November and traveling to Arizona in mid-November for SOAW convergence and possibly on to talks in California. Contact her if your group or college would like to host an event: 607-592-7650 or email Sam
Always available on YouTube — view yourself or with a group!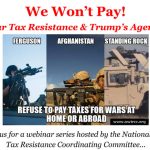 War Tax Resistance 101 with David Gross – April 23, 2017
We Won't Pay:  War Tax Resistance 101 with Erica Weiland (Feb. 18, 2017)
Redirecting Taxes to Black, Brown, and Indigenous Resistance with Sam Koplinka-Loehr (Feb. 25, 2017)
Please be in touch with the NWTRCC office if you are willing to table or hand out some war tax resistance materials at an event near you or a conference that you are attending. We will ship you literature for the table and may be able to help pay the conference fees. Just ask!
International Conferences
The first International Conference on War Tax Resistance and Peace Tax Campaigns was held in Tübingen, Germany, in 1986. Conferences were held every-other-year, most often in Europe with a few exceptions: India in 1998; U.S. in 2000; and Colombia in 2013. While the conferences are organized by the local groups, Conscience and Peace Tax International (CPTI) was founded at the conference in Hondarribia, Spain, in 1994, to connect the groups working on legislative campaigns and to track legal issues internationally. The CPTI website includes reports from earlier conferences, links to groups, court documents, and more. After the 2013 conference, CPTI moved from Belgium to England, and the reorganization put conference organizing on hold. We hope to see them restarted by 2019.
In 2016 representatives from many of the groups that attended the international conferences met at the World Congress on Military and Social Spending in Berlin, Germany, which was sponsored by the International Peace Bureau. NWTRCC's representative Cathy Deppe participated in the conference and public demonstrations, tabled for NWTRCC, and joined members of Conscience and Peace Tax International for a workshop about military spending and peace tax campaigns.  served as  to the congress. Read her report.
NWTRCC has sent a representative to each meeting, and reports appear in our newsletter, More Than A Paycheck.