The Pentagon Papers at 50 is getting a lot of attention and giving Daniel Ellsberg another chance to tell his story as well as talk about more recent releases of secret documents including his own. Ellsberg says he's ready to go to jail again for his use of classified information in his 2017 book The Doomsday Machine: Confessions of a Nuclear War Planner. He copied those papers in 1969 at the same time as he copied the documents behind the Pentagon Papers.
A couple things have struck me in hearing the story again. The first is the web of individual actions that can lead to such a historically significant event as the release of the papers. Ellsberg himself writes eloquently about the influence of activists, and particularly the speech by Randy Kehler, also a long time war tax resister, who was about to head to prison for resisting the draft. This Waging Nonviolence piece covers that background well.
But what led Randy to that day was a whole other set of influencers, and it made me think of one story that Randy shared last year. Back in 1963 at about age 20, Randy got on a bus at the Harlem CORE office to head to the March on Washington. Traveling on his own, Randy ended up sitting next to an older man who thrust a small publication at him saying, "Read this!" It was a profile of a resister named "Max Sandin" who had left his native Russia in 1910 rather than join the Czar's army, then refused to join the U.S. army in WWI for which he was sentenced to be shot, then refused to register in the WWII "older man's draft," and also refused to pay war taxes for decades despite regular government harassment.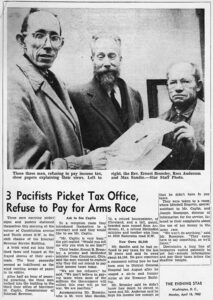 Randy quickly discovered that he was actually sitting next to Max Sandin, and he was reading Max's profile in that year's War Resisters League Peace Calendar, thus introducing Randy to WRL and a lifelong path of war resistance.
I love to think that we can trace Ellsberg's action back to Sandin's 1910 resistance in Russia. Of course, not all our acts of resistance will lead to one that becomes famous and worthy of tributes 50 years later. Still, you never know. Interestingly, The New York Times June 13, 2021,  special section on the Pentagon Papers includes a reference to a 1990 poll where 25% of those asked said they wished they had "made a stronger effort to protest or demonstrate against the Vietnam War." An action you take might push another person in that 25% to act on their conscience.
The more down side of this 50th anniversary that sticks in my mind is the quote, "In war, truth is the first casualty." It's not that truth is not there; it's getting the powerful to listen and take their own risks to use it. Part of the story of the Pentagon Papers is the year Ellsberg spent trying to find a congressperson or high official to look at the documents and act on what the papers revealed. NY Times' journalists report that they were shocked when the first excerpts appeared in print and the immediate reaction was silence. The effort to squelch the publication was what made the content famous.
I just got around to reading Mohamedou Ould Slahi's Guantanamo Diary, after seeing the film The Mauritanian. In the prison, Slahi learns stories of the random arrests of his fellow prisoners, and he himself tries over and over to get his interrogators to believe him when he says he is innocent of involvement in 9/11. Slahi quotes a German proverb that came to his mind, which he translates as "When the Military sets itself in motion, the truth is too slow to keep up, so it stays behind."
Our job is to keep speaking and acting on our truth and revealing the lies that keep this dirty rotten system going — no matter the consequences.
— Post by Ruth Benn
And a couple more links, just because:
There's this nice newspaper interview with Randy Kehler from a couple years ago, "Colrain's Kehler played role in release of Pentagon Papers"
And I see that Ed Hasbrouck on the WTR listserve reminded us that there are on-camera interviews with Daniel's son Robert Ellsberg and Randy Kehler about the Pentagon Papers back story in the fairly new film, The Boys Who Said No, which is well worth your viewing for all kinds of reasons if you get a chance.