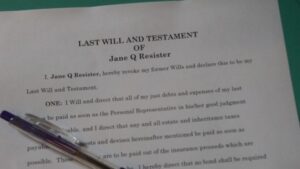 Unless you attend NWTRCC's bi-annual business meeting or check out our annual reports, you might not be aware of NWTRCC's financial situation. NWTRCC runs on a shoe-string budget. Our expenses last year were just over $58,000. Around 70% of our expenses—or about $42,000—were used to pay for NWTRCC's two consultants. The remainder of the expenses were used to fund our biannual meetings, newsletter, website, and to keep our materials up-to-date. The website has definitely become our most highly utilized resource, with over 38,000 unique visitors checking out the NWTRCC site so far in 2020. (The average visitor looks at 9 different pages on our website.)
To help meet these expenses and make NWTRCC as helpful as possible to war tax resisters (WTRs), NWTRCC is embarking on a bequest campaign. Currently, more than half of our income ($35,500) is generated from the generous donations of folks in our network. Because NWTRCC provides all of its resources and publications for free on our website, NWTRCC would not exist without the generosity of our donors. NWTRCC has received some grants, but most grantors shy away from NWTRCC because we promote breaking the law.
We realize that some folks find it difficult to regularly donate to NWTRCC. Many war tax resisters try to live simply or have limited budgets. Nevertheless, we hope that you may consider putting NWTRCC into your will. NWTRCC has recently created a webpage dedicated solely to making a bequest. Some of the advantages of making a bequest include:
A bequest costs nothing now, yet gives you the satisfaction of knowing you have provided for NWTRCC in the future.
You retain control of and use of your assets during your lifetime.
You may modify your bequest if your circumstances change.
If you let NWTRCC know of your plans, we will be able to thank you now!
As part of our bequest campaign, a few of our NWTRCC members will be sending out personal invitations to folks in our network about making a bequest to NWTRCC. In most cases, we will send an email with an option to also discuss the topic over the phone.
Until recently, NWTRCC was receiving a sizable grant each year from the Craigslist Charitable Fund. Unfortunately, its funding priorities changed a couple years ago. Because NWTRCC has always been frugal, we had placed a large part of those grants into a reserve fund. We are still drawing from that reserve fund each year, but may need to make more drastic spending cuts in the near future if other sources of income are not found.
It is our hope that this bequest campaign will lead to an increase in funding that will ensure NWTRCC's fiscal sustainability until the time comes when militarism ends and NWTRCC is no longer needed.
If you are interested in making a bequest to NWTRCC or have any questions, please contact the office at nwtrcc@nwtrcc.org or 262-399-8217.
— Lincoln Rice