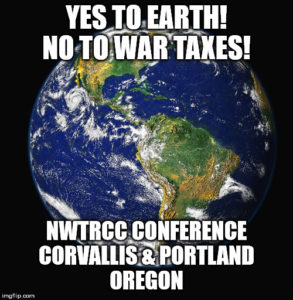 "Yes to the Planet! No to War Taxes!" This was the theme for our semiannual NWTRCC conference in Oregon the first weekend of November. The conference brought together war tax resisters and environmental activists to lay some groundwork for future collaboration.
Friday Night Panel
Friday evening featured a panel of war and environmental activists from Eugene, Oregon. The evening was hosted by the Peace House in Portland. Susan Cundiff (former national board of Women's Action for New Directions) examined the expanding military budget using a visual aid that spanned half the room! Susan Macomson (Pentagon vs Planet) spoke of the environmental harm caused by military bases in Washington State, including bombs being dropped in nature areas for target practice. Cody Urban (Code Pink) spoke of his experience marching with thousands of students in Portland for the School Strike for Climate on September 20 and the need to strike for war and U.S. military aggression. Susan Barnhart (NWTRCC & Extinction Rebellion) spoke on the poor treatment non-U.S. citizen military veterans, who have been deported for failing to fill out the proper citizenship forms after their service ends. Ironically, they can return to the United States to be buried after they die. Michael Carrigan (Community Alliance of Lane County & Planet vs Pentagon) spoke on funding on the Green New Deal by cutting 5% of the military budget and the enormous carbon footprint of the U.S. military. He closed with stating, "If you want peace on the earth, you must be at peace with the earth."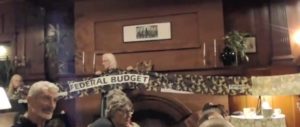 Saturday Workshops & Peace Vigil
The events on Saturday and Sunday shifted to Corvallis, Oregon, which is roughly equidistant between Portland and Eugene. On Saturday morning and afternoon, Jill McAllister, pastor of the Unitarian Universalist Fellowship of Corvallis, guided a collaborative workshop process that elicited priorities and opportunities for collaboration between war tax resisters and environmental activists. One suggestion to emerge from the process was the possibility of local WTR and environmental groups organizing a week of actions in April 2020 that capitalized on the fact that Tax Day and Earth Day are only one week apart. For Tax Day 2019, the Eugene's Taxes for Peace Not War, organized an event along with Community Alliance of Lane County, 350 Eugene, Oregon Women's Action for New Directions, and Extinction Rebellion.
Additionally, the next global climate strike days will be Fridays November 29th (aka Black Friday) and December 6. Participants at the conference viewed these as great opportunities to connect with student climate activists. NWTRCC is also in the process of updating a palm card and our Peace Tax Return to more strongly connect the horrendous effects of militarism on the climate crisis. NWTRCC already has a web resource page dedicated to war-making and environmental connections, but we plan to build on it.
Late Saturday afternoon, there was an art build in preparation for joining the Daily Peace Vigil in Corvallis in front of the Benton County Courthouse, which has been a daily event since 2001 with the U.S. Invasion of Iraq. Also, during this time, WTR 101 & 102 sessions were held. The WTR 101 session had eleven folks in attendance.
Afterward, we all joined the Daily Peace Vigil, the highlight of which was a visit from the Red Rebel Brigade of Eugene's Extinction Rebellion. Dressed in red to symbolize the common blood we share with all species, this brigade moved in eerie silence up and down the street. Their credo of sorts is as follows:
"The red brigade symbolises the common blood we share with all species, that unifies us and makes us one.
As such we move as one, act as one and more importantly feel as one.
We are unity and we empathise with our surroundings, we are forgiving.
We are sympathetic and humble, compassionate and understanding.
We divert, distract, delight and inspire the people who watch us.
We illuminate the magic realm beneath the surface of all things and we invite people to enter in, we make a bubble and calm the storm.
We are peace in the midst of war.
We are who the people have forgotten to be!"
That evening, we returned to the Friends Meeting House to have pizza and socialize. The next morning, we held our business meeting. After which, we all said our goodbyes. Some were remaining in Corvallis, some were returning to Eugene, and a large group of us were returning to Portland to catch flights home until our next meeting in May 2020. The weekend was full of hope and possibility for future collaboration with climate activists, but the most immediately satisfying aspect of the weekend was the newly formed connections and friendships.
Post by Lincoln Rice