I am among the many war tax resisters who got into this form of resistance after becoming aware of the horror of nuclear weapons, the damage done by every step of the process to build them, and the incredible waste of trillions of dollars over seven decades. Surely the world would look very different if there was such a dedication to feed the hungry, house the homeless, and develop alternative energies (the non-nuclear ones).
Thus with August 6-9 — Hiroshima and Nagasaki days — approaching I wanted to post a reminder to get out to a vigil or action during that time. Humans created weapons of mass destruction and we are responsible for getting rid of them. NWTRCC  has a couple street flyers online that you can use for leafleting — or make your own of course and send us a copy.
But another reason to write on this topic came with news of the July 22 death of the former Archbishop of Seattle Raymond Hunthausen at age 96. He led the Seattle Archdiocese from 1975 to 1991, and over the years his outspoken support for nuclear disarmament, gay rights and an expanded role for women in the church kept him at the center of controversy in the church and beyond. He died in his home state of Montana, and I'm glad to see that the obituaries mention his announcement in 1981 that he would refuse to pay half his federal income taxes to protest nuclear weapons. Eventually, the IRS took note and garnished his wages, bringing more attention to the story.
Kansas City peace activist Charles Carney wrote of Hunthausen's influence in NWTRCC's newsletter in 2012:
I still remember clearly the day when I read about a Catholic Archbishop named Raymond Hunthausen. He spoke out publicly and courageously. He said, as Catholics, our faith impels us to be the ones to disarm first. But this wasn't just some irrelevant encyclical that is often put out by the church, never reaches the pews, and then gathers dust in some archive. Because what Hunthausen did after he called for unilateral disarmament was truly memorable. He put his money where his body was. As Archbishop, he then said that he hoped 500, 5000, a half a million Catholics would refuse to pay all or part of their war taxes as a  way of ending nuclear proliferation. He also courageously stated that he himself was going to refuse to pay half of his taxes in the coming years. That was the day, really, when I knew that I must find a way to withhold my taxes from the military-industrial complex. (More Than a Paycheck, Dec. 2011/Jan. 2012)

Picket Line blogger/resister David Gross rounded up five pieces about Hunthausen's tax resistance in a blog he posted in 2012. Those pieces from In These Times, Colman McCarthy, Mary McGrory and others serve as a wonderful tribute to someone who was critically important to the 1980s antinuclear movement and a highlight of war tax resistance. While Hunthausen remains a hero for so many reasons, I see in the obituaries that he also takes criticism for not doing more to stop abusive priests in the Catholic Church.  So I want to acknowledge that but remember and promote Raymond Hunthausen for his powerful leadership for peace and against nukes.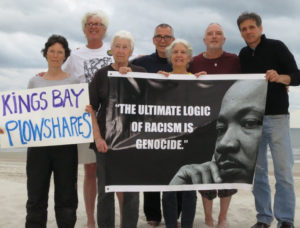 There are many ways to resist nuclear weapons, and today we have seven activists — friends and comrades — who face years in prison for their Plowshares disarmament action at the Kings Bay Naval Submarine Base in Georgia. The Kings Bay Plowshares chose April 4, 2018, the 50th anniversary of Martin Luther King Jr.'s assassination, to enter the base with hammers, crime scene tape and their own blood to symbolically disarm the nuclear-armed submarines at the base and bring renewed attention to the desperate need to abolish nukes.
Pictured are Clare Grady, Patrick O'Neill, Liz McAlister, Stephen Kelly, Martha Hennessy, Mark Colville, and Carmen Trotta, all longtime antiwar/antinuke activists, motivated by faith, and many are part of Catholic Worker communities. Liz, Stephen and Mark are being held in Brunswick Georgia; the others are home and under house arrest. You can learn about their action, the legal case, and ongoing support actions (including a walk sponsored by Voices for Creative Nonviolence) on their website. Carmen and Martha were interviewed by Amy Goodman on Democracy Now! on July 23.
Until these weapons are abolished, there is nothing to do but keep up the resistance. You can find more resources on the website of the Nobel Prize winning organization International Campaign to Abolish Nuclear Weapons. So, make some flyers and get out on August 6-9!
— Post by Ruth Benn