I've been at three different activist events recently – or at least parts of all of them. For various reasons I didn't stay for the full programs, but each provided some food for thought.
This was a day-long forum in Brooklyn sponsored by Pioneer Works, Creative Time, and the Yes Men and defined as a time to "reflect on a year of incredibly bad politics, and to gather energy, develop clarity, and make plans for the long fight ahead." It was all day on a Sunday, which is really my time to gather energy catching up at home, so I got through about half the program.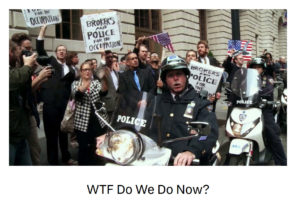 Still, it was a young crowd, mostly artists and artist/activists, and not folks I knew from other circles. My take-away from this forum was something one of the speakers said – ah, but which one? It appears I did not take good notes. One speaker was Avram Finkelstein, who had an interesting talk about symbols, being a member of the AIDS art collective and a factor in creating the Silence=Death pink triangle. His talk became for me an argument for upgrading our war tax resistance symbols — but at meetings we can never seem to agree on a design.
But actually, the other take away might have been something Michael Premo said. He's also an artist and described as a documentary storyteller. He told the story of Alice Paul, which was fun to hear in this new circle of folks, but I think he's the one who talked about forces of nature and change, and he said it is really the folks cheering Trump who are "the resistance" — resistance to change, which is bound to happen no matter their fears and their desires for some strange vision from the era of coal mining, segregation, and women in the kitchen to  "make America great again." We are the ones with the vision that is compatible with nature and evolution — human and ecological — ready and willing to make change.
I kind of liked that even though I have been a "resister" for so many years now.
Vietnam War 50 Years Later
Then I went to Washington, DC, and showed up at two events to maybe give war tax resistance some promotion. "From Protest to Resistance" was organized by the Vietnam Peace Commemoration Committee and was something of a reunion of people who were at the October 1967 March on the Pentagon, clearly one of those defining moments for those who shared their stories.
You can find many of the remembrances online (including our own Bill Ramsey). But the talks also emphasized that the war is not over for veterans who were injured mentally and physically, like the thousands who still suffer from the effects of Agent Orange. As the speaker from Vietnam said, the US government and military took the wrong lessons from the US War on Vietnam (preferred to "Vietnam War"); ever since they've been strategizing how to have wars not on TV, with fewer troops, employing drones, etc.
My take away was from Vietnam era resister Robert Levering, who noted that, in the PBS Vietnam series, soldiers and politicians talked of their regrets. But as someone who refused to go to Vietnam he has had no regrets, and he knows that other resisters feel the same.
Divest from the War Machine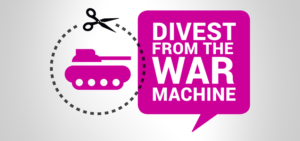 Then I bounced over to CodePink's summit to launch their new campaign, Divest from the War Machine. They were beginning the strategizing for a national campaign to encourage universities, religious organizations, retirement funds, mutual funds, private investors, and other financial institutions in the U.S. to move their money from companies that make a killing on killing. A series of speakers on Saturday laid out the facts of the profiteers, the consequences of war, and then examples of current divest campaigns, including fossil fuel divestment and the Palestinian-led BDS campaigns. I have to admit I feel a bit full-up on information, so I do not regret missing some of these panels and speeches. However, Vijay Prashad's fiery indictment of U.S. wars and militarism was a refreshing blast, and Garik Ruiz's strategic overview of the BDS campaign was valuable. I expect these talks will eventually be online – look at codepink.org/divest.
While NWTRCC recently endorsed the CodePink campaign, our focus on individual tax paying and our own "divest from war/invest in people" effort feels more like a parallel path than one that will be enveloped into this campaign. War tax resisters might be interested in joining it in their area and finding out for themselves how our approaches can overlap.
—Post by Ruth Benn