The Trump administration released a new travel ban on Sunday, September 24, 2017. This new travel ban includes majority-Muslim countries covered under previous travel bans (Somalia, Iran, Syria, and Yemen), but also includes provisions preventing certain kinds of travel to the US from Libya, Chad, North Korea, and Venezuela.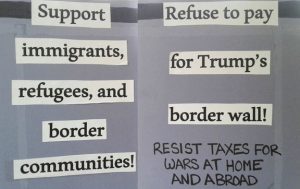 People are worried that this expansion of the travel ban may be harder to challenge in court, as it no longer targets majority-Muslim countries exclusively. Nevertheless, as I mentioned in a February blog post on border militarization, these travel bans increase the punishment of civilians in countries already targeted by the US.  Yemenis are suffering a cholera epidemic and catastrophic war waged by a US-supported Saudi-led coalition. The US has provided support to Syrian opposition groups linked to al-Qaeda. Trump has repeatedly threatened military intervention in Venezuela and the total destruction of North Korea. Obama, the US military, and NATO targeted Libya to overthrow its government…
I could go on for a while.
The granularity of the travel restrictions is one reason this extension of the US wars abroad may not be easily challenged in court. The Washington Post reports,
The new restrictions will be phased in over time, officials said, and the restrictions will not affect anyone who already holds a U.S. visa. For those visitors affected by the changed restrictions, the new rules will go into effect Oct. 18, according to the proclamation.

The new rules vary per country, barring entry into the United States of immigrants and nonimmigrants from Chad, Libya and Yemen, on business, tourist or business-tourist visas. It bars entry of Iranian citizens, as immigrants or nonimmigrants, but provides an exception for Iranian students, provided they receive extra screening. The proclamation bars immigrants and nonimmigrants from North Korea and Syria. It bars immigration by citizens of Somalia.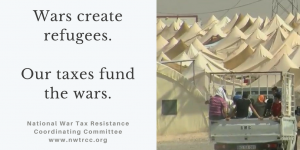 The travel ban is just an extension of US war – it's not a stretch to say so and we ought to point it out at every opportunity. Combine this with the Department of Homeland Security's plan to collect social media information about all immigrants, and it's clear that the US government regards immigrants primarily as potential public enemies.
Immigrants are not the enemy.
Refugees are not the enemy.
Citizens are not the enemy.
At these times, although I am glad to be a war tax resister, I am reminded that withholding my consent (taxes) from this system is just, but not sufficient.
Post by Erica Leigh