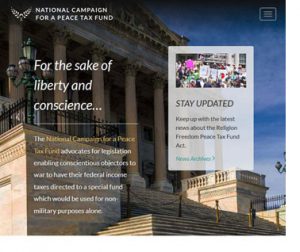 I started to write about something else until I ran into the new website for the National Campaign for a Peace Tax Fund (NCPTF). It looks great! Maybe this facelift will give new life to the decades old legislative campaign to allow conscientious objectors to war redirect their federal income taxes to a special fund for non-military purposes alone.
NCPTF is a NWTRCC affiliate, and many people in our network actively lobby for the bill. It's remarkable how often new people suggest to the NWTRCC office the idea of a legislative campaign and are surprised to hear that such a campaign already exists. More widely, a flurry of articles on this topic appeared when the Supreme Court made the health care provider allowance for Hobby Lobby in 2014. Why not an allowance for those who don't want to pay for war?
As in any coalition, not everyone in the war tax resistance network supports the bill, sometimes because of their lack of faith in the legislative process, sometimes because of the specifics of the bill, and also because there is a strong anarchist trend in our network. NWTRCC encompasses a range of a range of opinions and approaches but unites us in our refusal to voluntarily turn our money over to the war machine.
When people ask me if there is any hope of success for this kind of legislative campaign, I usually respond that I think the chances are higher in Europe, where there are similar campaigns in various countries. If one of them managed to pass such a bill, it would give a boost to the efforts in other countries.
Lately I've been interested to read the news of Conscience: Taxes for Peace in Britain. They have not won but they have had, per their reports, a "fantastic year": the Peace Tax Bill was read in Parliament; Oscar-winning actors Sir Mark Rylance and Emma Thompson publicly endorsed the campaign; they have strong collaborations with other organizations like the Campaign for Nuclear Disarmament, Campaign Against The Arms Trade, the Stop the War Coalition; and (maybe most amazing) a longtime Conscience supporter, Jeremy Corbyn MP, has had a surge in popularity that gives him a chance at being prime minister one day. Corbyn has called for a Minister for Peace and promises a government that would focus on peace and diplomacy over military intervention.
Like NCPTF, Conscience UK has been around for decades. There's a similar group in Norway, The Peace Alliance, which is a network of seven organizations working for a law to give citizens the right to redirect their taxes from supporting a military defense to a nonviolent solution. In a June report to a meeting of Conscience and Peace Tax International, they said, "Recently we have taken a good hard look at the way we work and have to admit that we are not much nearer out goal than we were 20 – 30 years ago. We needed to rethink our strategy."
We'll look forward to watching how things develop with facelifts and strategizing — and continue to do the same ourselves. The world desperately needs more peace, diplomacy, and success in dismantling the war machine.
— Post by Ruth Benn, NWTRCC Coordinator