This past weekend at our war tax resistance gathering in rural Florida, we had a discussion about post-election organizing. Before I knew it, emotions were rising about whether people should vote Clinton or third party, whether Clinton was better than Trump, and other such topics. These topics have set anti-war folks against each other throughout the election season. We refocused, knowing that the discussion was not going to be productive, by pointing out that no matter who was elected, we were going to have some work to do on militarism. The question is – how should that work be done? And we didn't get very far in the limited time we had.
I quite frankly did not believe that Trump would win. Even as I didn't vote for any presidential candidate (for a variety of reasons), I was also confident that enough other voters supported Clinton. I thought that while Clinton would continue US militarism that would cause the deaths of many people outside the US, she would not also escalate racism, homo/transphobia, and general bigoted violence in the US. Now I am concerned for an escalation of militarized violence here and abroad.
Trump's calls for "law and order," crushing ISIS, ending the nuclear deal with Iran, and "not apologizing to our enemies" are chilling for everyone who believes in peace.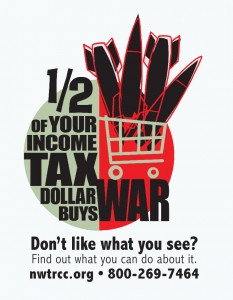 But peace is not what the military establishment gives us under any president, and so this is not what Trump will give us. (Although Trump has also questioned the widespread presence of US military bases in other countries, who knows whether he genuinely wants to close them. This leaves aside entirely the question of whether closing any bases would result in a decrease in military spending or death/destruction, or only a reallocation toward other "more effective" uses of the money…)
As we discussed many times during our gathering, war tax resistance will grow as a movement if we work in solidarity with people most affected by militarization. We'll have more on this issue in upcoming reportbacks from the gathering, but I couldn't go ahead with writing a blog post about that today.
What are you thinking about the election results – presidential or otherwise? Will it change anything for you in how you approach anti-militarism work?
Post by Erica