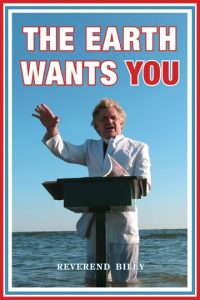 Reverend Billy has a new book out called The Earth Wants You, published by City Lights Books (San Francisco). It's a quick read, but all about breaking out of our busy-ness, and listening to Earth as a call to get involved in some new kinds of activism — and fast.
At a recent book talk, Billy said he ran across this information by accident one day:
At one point recently more than half of the counties in the country were in federally certified states of emergency, and yet the American media machine was so silent on the matter that you had to ask yourself, "Who's the censor?" If the Earth is indeed speaking to us, we've chosen to demote that talk into tabloid scandal, teleprompter speechifying, and the local Eyewitness News.
But as anyone who's heard Reverence Billy and the Stop Shopping Choir, you will know that it's really consumerism he blames for the censorship. We censor ourselves from the earth's cries because, "We have 78 things to do today, and if we have any real choice left, it's which of these eight kinds of milk will we buy?"
Reverend Billy (or, Billy channeling for the Earth) exhorts us to get up and away from the computer screen and out to save the earth. So, here are some upcoming activities discussed and/or endorsed at the recent National War Tax Resistance Gathering in Pennsylvania. In all cases, war tax resisters will be present. Contact NWTRCC if you would like to be hooked up with other WTRs, or if you want materials to hand out at these or any other event.
Speakers include Medea Benjamin, Shane Claiborne, Ray McGovern, The Rev. Robert Moore, Titus Peachey, and a spoken word piece by Blew Kind. The conference culminates with a public witness on Saturday afternoon at the Horsham Drone Command Center, County Line & Easton Road, Horsham, PA 19044.
Counter RNC 2016
July 15 -18, 2016
Cleveland, Ohio

Events include a People's Justice and Peace Convention, July 15-17, Olivet Church (Fri/Sat) and Masonic Auditorium on Sunday. A collaborative of peace and justice groups is hosting this alternative convention to challenge both parties to propose real solutions to the often ignored hurting in our world and call upon them to implement a political climate, foreign policy, economic approach, and environmental policy that is neither imperialistic nor militaristic, that protects the environment, and that nurtures inclusion, genuine security, nonviolence, and peace and prosperity for everyone. War tax resisters could submit a plank and send delegates.
March for Our Lives
Monday, July 25, 2016, 3:00pm
Opening Day of the Democratic National Convention
South Side of Philadelphia City Hall, marching down Broad Street
Join us in demanding an end to unemployment, hunger and homelessness; money for education; affordable, accessible housing; living wages; and an end to the prison industrial complex.  Money for the poor not for WAR! Join us in this important march. As we march for our very lives!!
Initiated by the Poor People's Economic Human Rights Campaign.
Campaign Nonviolence (CNV) Action Week
September 18 – Sept. 25, 2016, including on the International Day of Peace, Wednesday, September 21.
CNV organizers set a goal of 500 marches for a culture of peace and nonviolence in cities and towns in all 50 states and in nations around the world. Campaign Nonviolence will march against violence and for a world of  peace, justice and sustainability.  During Campaign Nonviolence Week, we will connect the dots between war, poverty, racism, climate change, and all forms of violence —and join forces to work for a culture of peace. Include information about war tax resistance in your local action.
2016 Maine Peace Walk: Stop the War$ on Mother Earth
Oct. 8-22, 2016, Maine
We come together out of our deep concern about the many different wars being waged on Mother Earth, ranging from over-fishing, deforestation, and human-caused extinctions, to climate disruption and endless war. For more information, contact the Global Network Against Weapons & Nuclear Power in Space, PO Box 652, Brunswick, ME  04011, (207) 443-9502, globalnet@mindspring.com.
Shut Down School of the Americas (SOA-WHINSEC) – Border Action
Oct. 7-10, 2016
International Convergence   at the very militarized US-Mexican Border at Nogalas, Arizona and Nogalas, Mexico
Moving from Ft. Benning, Georgia, to the border, the change of the location goes along with the broadening of the issue and the expanded fight against U.S. militarization at home and abroad.
Post by Ruth Benn
Be sure to get in touch with NWTRCC if you want to join with other
war tax resisters at these or other events in the coming month.