For math lovers, 3-14-15 holds special significance. It's the annual Pi Day, but not just any Pi Day: "In the year 2015, Pi Day will have special significance on 3/14/15 at 9:26:53 a.m. and p.m., with the date and time representing the first 10 digits of π. That same second will also contain a precise instant corresponding to all of the digits of π." (Wikipedia)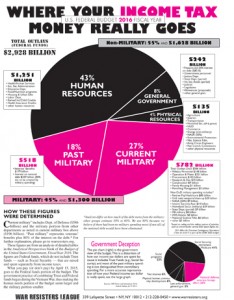 We peace activists have our own significant — in this case — "pie." That's the pie chart that shows how the federal government spends U.S. income tax dollars and the shocking priority on war represented by the pie. War Resisters League began producing a pie chart in 1977 for the first edition of the Guide to War Tax Resistance. Since then WRL has produced a flyer every year, both to help war tax resisters and potential resisters determine their level of resistance and as a tool for public outreach.
With Pi Day falling a month before tax day, it's an excellent time to get hold of some flyers and head out to the streets. You can download the flyer or order bulk quantities from WRL.
If you don't feel like leafleting, there are other ways to participate in "pie" day and "pie" actions between now and Tax Day, April 15: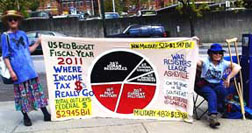 The weather is getting warmer. Make a banner, grab a friend, and hang out in a park or at a busy intersection for a while like Judy and Clare did in Asheville, North Carolina.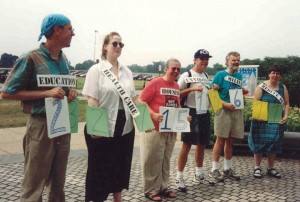 Or how about a human pie chart to attract attention to your leafleting? That group was on the mall in Washington, DC, while others leafleted the pie chart nearby.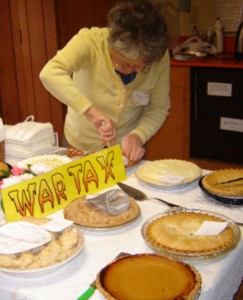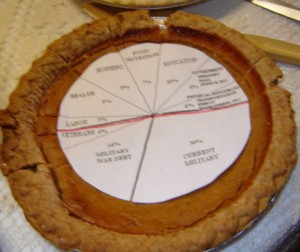 Like food? Have a pie potluck, like the Peace and Social Action Committee of the Palo Alto Friends Meeting did a while back. They served homemade pies — lemon custard, banana cream, apple, blueberry, pumpkin, and others — that were all sliced with a template following WRL's pie chart. As pie eaters requested a slice, they were asked to identify their favorite government program or priority. If they were unhappy with a small slice, they were asked if they'd like to take a portion out of the military budget.
Or, what better day for a Pizza Party for Peace than tax day? The folks at Richmond Peace Education Center had their party right in front of the post office on tax day.
Be sure to have a stack of our pie chart cards at all your events.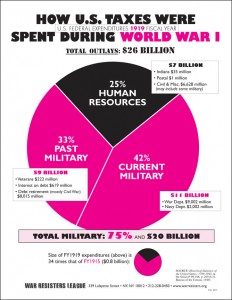 Pi Day brings to mind some fun actions, but a more somber commemoration is the ongoing attention to the centenary of World War I, the war to end all wars…. And yes, this connects to pies, because activist Ed Hedemann researched military spending back then and came up with a 1919 pie chart. He also looked back to 1915, before the U.S. geared up for war — that's the tiny little circle on top of the bigger pie pictured here. The federal budget exploded as the U.S. entered the war, and so did the government's demand for more revenue. Follow the link above or on the pie graphic to read his full analysis and see larger version so the 1919 pie.
—Post by Ruth Benn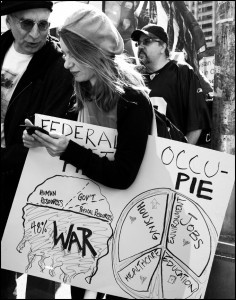 P.S. I forgot about Occu-Pie!
Other groups with "where your income taxes go" analysis include:
National Priorities Project – click on "Where Your Tax Dollars Went"
Friends Committee on National Legislation – look for the "Where Do Our Income Taxes Go" factsheet link
To help answer questions about confusing federal budget breakdowns among peace groups, see Pies, Graphs, and Income Taxes.