I admit to having been somewhat ambivalent about the climate march in advance, and truthfully, I remain somewhat ambivalent after. Was this the launch of a united and more powerful demand for changing the way things are and protecting the earth, or were we just numbers in the publicity for some of the big groups behind this march?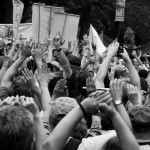 Still, I was surrounded by lots of energy and hope; lots of people with lots of creative signs, banners, artworks, costumes, displays; lots of children seriously worried about their future; lots of grandparents seriously worried about the future for those children; and lots of attention to the issues of indigenous people, islanders, and low income communities who have been and will be hardest hit by pollution, rising waters. Those groups were at the front of the march.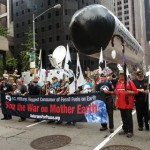 The antiwar contingent was pretty far back, and our group of war tax resisters and War Resisters League activists were just in front of Veterans for Peace, who had an enormous missile with the words "U.S. Military, Largest Consumer of Oil, Largest Emitter of CO2," so the connection was pretty clear.
War tax resisters were in the crowd. Daniel Sicken came down on a bus with a big Vermont contingent: "If we are going to speak out and take action on climate change, it's also necessary that U.S. militarization and nuclear weapons policy be an integral part of the forces that we will have to confront. I believe that war tax resistance is one of the most important ways to disconnect ourselves from the warmaking process while simultaneously connecting to the climate change movement."
We never ran into each other, but war tax resister Heather Snow came up from North Carolina. In advance she said, "I feel the need to DO something. I doubt the powers that be are listening, but it can't hurt. All our dirty little practices are harming our environment, war being the worst." From what I saw, she is one of the few in major media stories who managed to get in a mention of war as a factor in climate change.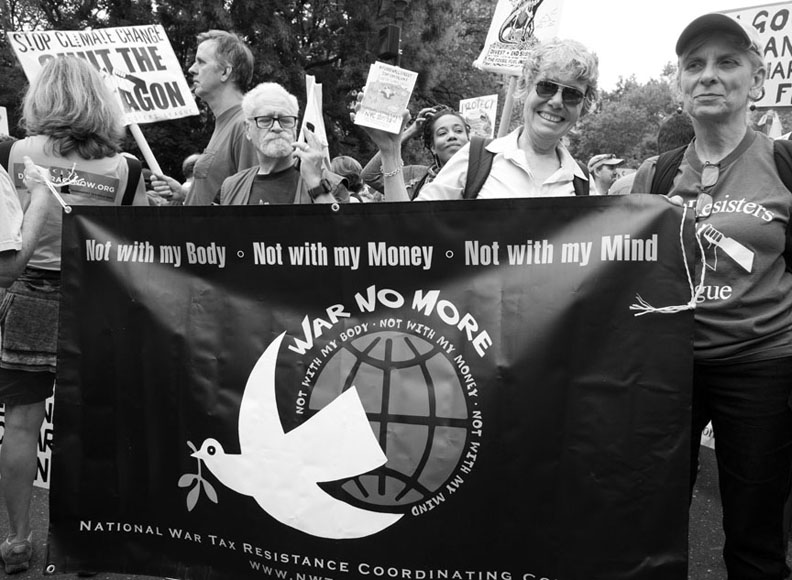 We carried our banner for much of the march, but the member of our group who was stopped most often for photos was Elspeth, who carried the sign with the Haig quote. That quote seemed to touch the nerve for people who maybe shared some of the ambivalence, which was reflected in an article by Arun Gupta before the march also. I haven't read his post-march comments as yet.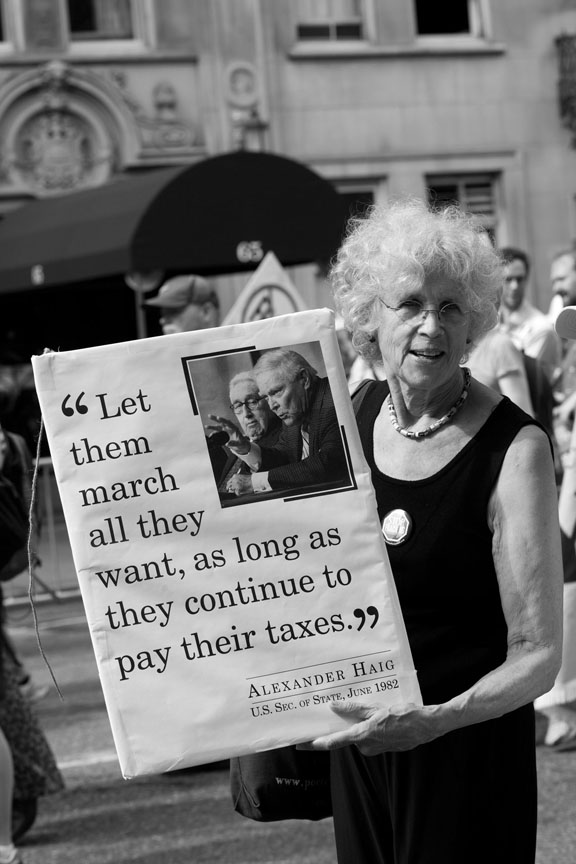 My favorite chant of the day was "po-lar bear, po-lar bear" when a person costumed with a polar bear head came through the crowd as we waited to march. Now I still chant "pol-ar bear, po-lar bear" after seeing the photos from Monday's Flood Wall Street civil disobedience action of the polar bear being arrested.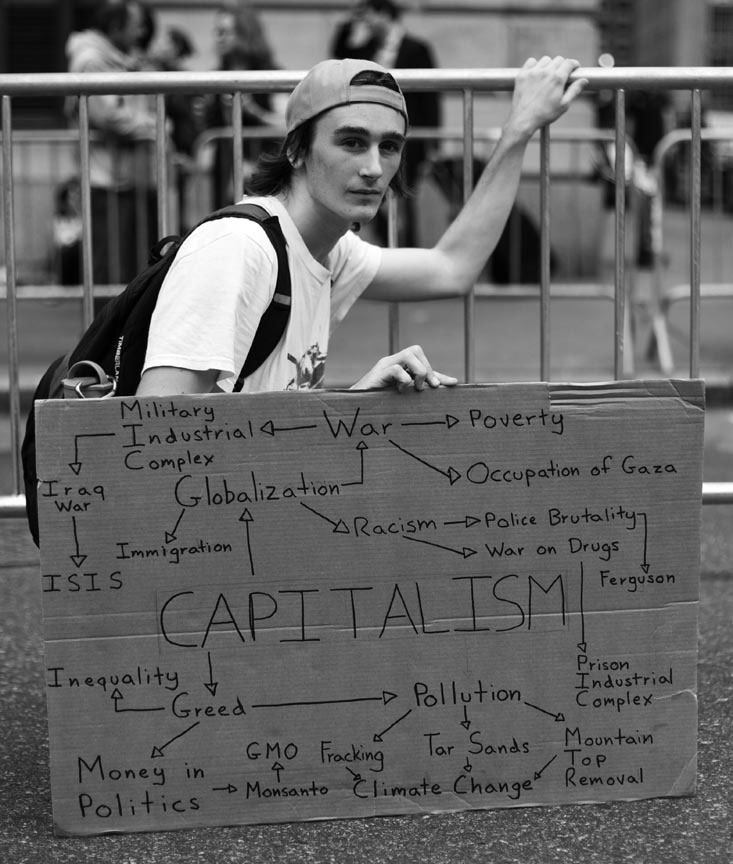 The creativity of the human species is a wonderful thing to behold. You'll find tons more photos on the internet from this march and the simultaneous marches in cities around the world. Now we must devote that creativity to the next steps for real change. As this young man's flow chart demonstrates, there are lots of connections to be made and more than a march is needed to create real change.
—Ruth Benn
—Black and white photos by Ed Hedemann