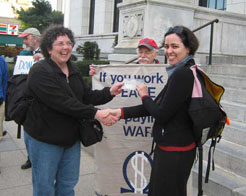 Tax Day, April 15, is in just seven short weeks. Every year, NWTRCC network affiliates take action to bring attention to the United States' military budget and to the tactic of war tax resistance (here's last year's Tax Day report). Common actions include distributing the War Resisters League's federal budget pie chart, conducting penny polls, holding events to draw attention to war tax resistance, publicly redistributing resisted war taxes, and protesting at IRS offices. Don't feel restricted to those types of activities though!
If you're not connected with a local war tax resistance group, check out our list of affiliates or start your own. If you don't know any other resisters in your area, tabling or handing out flyers only takes one person. NWTRCC has literature you can buy or download to print out.
Each year, NWTRCC makes a list of planned Tax Day actions and lists them on our website. Are you planning a war tax resistance action, leafletting, or other activity on or around Tax Day? Email us with the details at: nwtrcc [at] nwtrcc [dot] org, and we'll get them up on the website. And report back to us on or after Tax Day on how it went (pictures and video encouraged!).
We're also planning some social media and online organizing efforts, so stay tuned to this blog and to our Twitter and Facebook pages for more information.
A closely related event that occurs every year is the Global Day of Action on Military Spending. This year, GDAMS is on April 14, but different organizations may hold GDAMS events on different days. It looks like they still have a lot of materials up from last year, which may not be up to date but might still be useful for organizing!
Best wishes for a fruitful and energizing Tax Day in your town.
-Post by Erica