On February 7, Ed Hedemann and I headed up to Rochester, New York, from Brooklyn, on the bus to facilitate a Friday night/Saturday war tax resistance workshop. We've had quite a winter, so heading 300 miles north, where the cold and snow was bound to be worse, left us wondering if the workshop would be cancelled at the last minute. However, Greyhound and the weather cooperated and a wonderful group showed up — some new, some long timers — to spend part of a weekend talking and learning about war tax resistance/witness/refusal (terminology varies with personal preferences).
Ithaca activist and NWTRCC Network contact Tom Joyce and his Quaker colleague Karen Reixach from Rochester organized and publicized the workshop, which was held at the M.K. Gandhi Institute for Nonviolence. Everyone who attended was glad to learn about the great work of the Institute and admire the rehabbed house (abandoned for 17 years) that is now the Institute's base. Founded by Arun and Sunanda Gandhi in Memphis in 1991, the Institute moved north in 2007.
I loved many things about the weekend (including new contacts and seeing old friends), but I also really liked getting to write on the wall — my first encounter with paint that allows you to have a whole dry erase wall. We started the workshop by going over styles of resistance, difficulties, and fears outlined on a chart that Ed had created. Then everyone headed to the wall to write their personal thoughts or concerns about WTR around the chart.
The comments on the wall gave us food for thought and questions to answer during the why, how, and what happens sessions on Saturday. Those new to war tax resistance asked to hear stories, and small group time allowed for more personal sharing. The size of the group and the fairly even split between experienced resisters and "newbies" also meant we could spend some time Saturday afternoon in one-on-one counseling sessions after being immersed through the morning in the ins and outs of refusing to pay taxes for war.
One theme that emerged from those approaching the weekend was "matching my actions to my beliefs." Participants who were not active war tax resisters came because they have been troubled knowing what the government is doing – and not doing – with the tax money it takes in. (Active resisters said they came "just to be with people who share this concern and take this action.")
Coming together in a workshop (or at NWTRCC Gatherings) gives all of us a boost to do more. The tough thing is keeping the momentum going while staring alone at a 1040 form between now and April 15. Organize locally. Hold a workshop. But if you have not found local support, NWTRCC's email and Hotline (800-269-7464) are always available.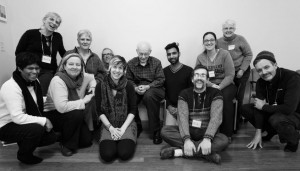 Thanks to everyone who participated and to our organizers and hosts!
—Post by Ruth Benn
—Photos by Ed Hedemann
Here's another write up from the weekend by Shannon, who works with NWTRCC affiliate Episcopal Peace Fellowship.